Outstanding Alumni Award
university of louisville political science department outstanding alumni award

2022 Outstanding Alumni Award winner Phillip M. Bailey (BA, '07)
Phillip M. Bailey is a Pulitzer Prize and Peabody Award winning journalist, and a proud 2007 graduate of UofL, where he majored in political science and minored in Pan African Studies. He has covered city, state and national politics for almost two decades. He started his career at LEO Weekly, an alternative newspaper where he first began as a City Hall reporter. From there he later worked on award winning documentaries and stories as the political editor for the Louisville NPR station, where he also hosted a weekly talk show at one time.
In 2015, Phillip joined the Courier Journal as its city hall reporter breaking stories on the LMLD Explorer sex abuse scandal before becoming its head political writer in 2018. Phillip was part of the CJ team that received the 2020 Pulitzer Prize for its investigative reporting of more than 600 pardons and commutations that former KY Governor Matt Bevin issued during his final weeks in office. The next year he was part of the CJ team that partnered with ABC News to win a Peabody Award on a groundbreaking documentary on the killing of Breonna Taylor. Phillip currently serves as a national political correspondent with USA Today, where he has done in-depth reporting on voting rights, critical race theory, police reform and hosted its 2020 political vodcast "States of America" which reached up to 20 million viewers during that presidential contest.
---
2019 Outstanding Alumni Award winner Caroline "Carrie" May (BA, '91)
Caroline "Carrie" May has been with the United States Department of Treasury, Alcohol and Tobacco, Tax and Trade Bureau since June 2008, serving as Assistant Chief Counsel Field Operations since July 2013. A Northern Kentucky native, Carrie attended the University of Louisville, graduating with a B.A. in Political Science in 1991, magna cum laude. After Louisville, Carrie attended law school at the University of Virginia. In September 1994, Carrie joined the Washington, D.C. law firm then known as Patton Boggs where she stayed for nearly three years. Carrie left Patton Boggs in 1997 to take a job as a trial lawyer with the United States Department of Justice Tax Division, where she represented the United States in federal District Court and Bankruptcy court in connection with civil tax matters.
---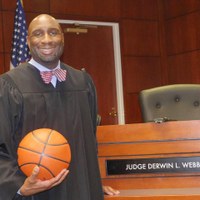 2018 Outstanding Alumni Award winner the Honorable Judge
Derwin L. Webb
(BA, '92)
Derwin L. Webb is the first African-American male Family Court Judge in the history of the Commonwealth of Kentucky. The former University of Louisville Men's Basketball player, now a Jefferson County Family Court Judge, received this award as a direct result of his tireless contribution to the community. After graduating, he attended the Louis D. Brandeis School of Law at U of L. He then returned to his alma mater to work as an Assistant Athletic Director where he assisted the athletic department in areas involving compliance, academics, and diversity. Judge Webb returned to his "legal roots," opening the Webb Law Offices, where he quickly earned the reputation as one of the hardest working young defense attorneys in Kentucky and Indiana.  He has represented the interests of several high-profile cases throughout both states, fighting for the rights of individuals that need assistance as private counsel and in the capacity as a public defender. After representing clients for close to twenty years, he was appointed to preside over the Jefferson County Circuit Court, Family Division 10. He is a pillar of the community.
---
2017 Outstanding Alumni Award winner Mary Ellen Weiderwohl (BA-Minor, '96)
Mary Ellen Wiederwohl joined Louisville Mayor Greg Fischer's administration in 2012. In 2014 Fischer tapped her to lead Louisville Forward, the city's new, integrated approach to economic and community development.  She has provided leadership for Mayor Fischer's major initiatives, including his Strategic Plan, the Vision Louisville 25-year advanced plan, the Move Louisville strategic multi-modal transportation plan, the city's first sustainability plan, the Global Louisville Action Plan and the Vision Russell Initiative.  Her role with the city includes serving as President of the Metro Development Authority, which facilitates development and redevelopment projects. Before joining the Fischer administration, Mary Ellen worked in public affairs in the public and private sectors, as Assistant Director for MML&K Government Solutions,  Director of Legislative and Public Relations for the Education Professional Standards Board in Frankfort, and as Legislative Aide to the State Senate Majority Leader.
---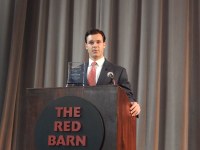 2016 Outstanding Alumni Award winner
David Yates
(BA, '03)
David Yates is a well-known figure in Louisville politics. As a practicing attorney in Louisville, he serves on the city council where he was also a two-term President. Here, on the council, he has gone above and beyond to serve the city working on projects as the Chair of  Metro Council's Public Safety and Intergovernmental Affairs Committees, the Vice Chair of Labor, Economic Development and Contracts Committee, and on other committees. One need not look far to see the fruits of his labors.
---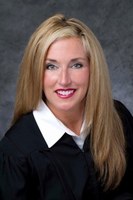 2015 Outstanding Alumni Award winner the Honorable Judge Angela McCormick Bisig

  (BA, '87)
 Judge Angela McCormick Bisig is well-deserving of outstanding alumni award. Her illustrious career includes being a member of the Kentucky Judiciary for 14 years, first as a Jefferson County District Judge and currently as a Jefferson County Circuit Court Judge. Additionally she served as the Chief Judge of District Court in 2012, and in 2013 was voted the "Judge of the year" by the Louisville Bar Association. If that's not enough, her service to the community includes being the Chair of the Board of Directors for Restorative Justice Louisville, serving on the Disproportionate Minority Confinement Committee of the juvenile court, and she has worked for years on the Chief Justice's Racial Fairness Task Force. The list of service and accolades for this political science alumna goes beyond the space we have here.  
---

2013 Outstanding Alumni Award winner 
J. Scott Jennings
 (BA, '00)
What can we say about J. Scott Jennings, other than the department is greatly honored to count him among our alumni. His list of  accomplishments is extensive. Scott's career has taken him across the country as part of four presidential campaigns and U.S. Senate, congressional, state, and local races. He served in key roles in both of President Bush's campaigns, before becoming Special Assistant to the President and Deputy White House Political Director in 2005. At the White House, Scott served as a liaison to members of Congress, political and community leaders nationwide, and his office advised the president. In 2017, he signed a contract with CNN to become a Political Commentator. Scott was named a Resident Fellow to the Harvard Institute of Politics in 2018, where he will teach seminars in the Kennedy School of Government. Scott is also the co-founder of RunSwitch, which provides senior level communications, public affairs, political and crisis communications counsel for national and international clients.