Overview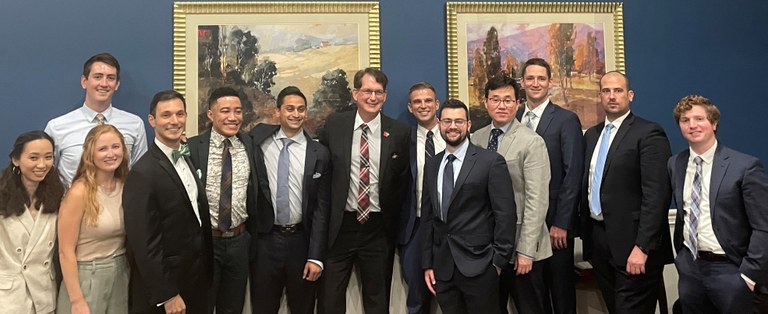 The Division of Plastic and Reconstructive Surgery program is at five affiliated hospitals of the University of Louisville clustered into a medical center complex in Louisville, Kentucky. Our academic faculty is comprised of six full-time members, three full-time researchers, and an active volunteer clinical faculty of approximately 30 members.
Our program is noted for the breadth, depth, and balance of clinical experience and for the challenging clinical complexity of case material.
 Our laboratory research program has become widely acclaimed and adopted many microsurgical techniques. We have pioneered and developed many new flaps and have pioneered composite allograft transplantation, including the world's first successful hand transplantation.
At this time, our Plastic Surgery Division offers both the Independent & Integrated Models. The Independent model is a three-year program after completing prerequisite training in General Surgery or ENT. The Integrated Model is a six-year program, with 3 years in General Surgery and 3 years in Plastic Surgery. Both programs are designed to provide graduating residents with a comprehensive clinical experience and knowledge of the basic principles of Plastic and Reconstructive Surgery. The mission of this teaching program is to train conscientious, compassionate, careful, thoughtful, and competent plastic surgeons that are also well versed in scientific analysis and research principles.
The University of Louisville Plastic Surgery Program was founded by Leonard Weiner in 1973. Since then, more than 70 Plastic Surgery residents have graduated from our program. University of Louisville is known for pioneering many advances and techniques in Plastic Surgery, including: liposuction, microsurgery, muscle flap physiology, hand surgery, and surgical anatomy. Dr. Weiner brought suction-assisted lipoplasty to the United States after touring with the first ASPS expedition that investigated its use abroad.
Dr. Weiner also developed and initiated the implementation of the match system we use in Plastic Surgery for independent programs. Dr. Robert Acland is well-known for his pioneering work in the field of microsurgery and surgical anatomy, and he still directs our Fresh Tissue Anatomy Lab. Dr. Gordon Tobin was the first to describe and publish many muscle flaps and their modifications that we commonly use today. Dr. Morton Kasdan has many publications and books, including the first thumb revascularization procedure with Dr. Kleinert. Dr. Bradon Wilhelmi became Leonard Weiner Professor and Chief of the Division in 2007. He has transitioned the program to emphasize training through education with direct input from fellows and residents on the design of the curriculum, rotations, and conference schedule (300 conferences per year). Dr. Wilhelmi has served as chairman of Plastic Surgery Research Committee, hosting the meeting at University of Louisville in 2011 and committed to research almost 150 peer reviewed publications. For his commitment to education, Dr. Wilhelmi has received both the UofL and KMA education achievement awards in 2018 & 2020.