Pediatric Clinical Research Unit
Pediatric Clinical Research Unit
The Pediatric Clinical Research Unit (PCRU) is the region's first state-of-the-art clinical facility dedicated solely to conducting inpatient and outpatient pediatric clinical pharmacology studies.The primary mission of the PCRU, which opened in May 2002, is three-fold: research (clinical and translational), clinical service, and education/training. Over 1,000 subjects have been enrolled in clinical trials since 2002.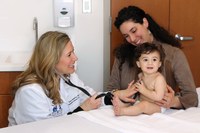 The clinical facilities of the PCRU (approximately 4,000 square feet) are located on the second floor of Norton Children's Hospital. There are three private inpatient rooms dedicated solely for infants, children and adolescents participating in clinical pharmacology and device research studies.The fully-equipped nursing unit has facilities for phlebotomy and urine collection. The unit also contains a specimen processing laboratory, satellite research pharmacy, patient kitchen and playroom equipped with age-appropriate toys, books and games.The PCRU also has several core laboratories that support the translational science mission of the center. These include the Bioanalytical and Pharmacogenetics Core Facilities within the Department of Pharmacology and Toxicology and the Proteomics Core Laboratory within the Department of Medicine.
Why join a clinical research study?
There are frequent questions asked about conducting research in children. Children and Clinical Studies is a website that provides parents and children with the information they need to understand clinical research and make informed decisions about participating in a study. It can also assist primary caregivers in answering patients' questions about research as it provided key concepts of pediatric clinical research. The NIH has also created a video about Children and Clinical Studies that you can view here.
If you want to learn more about current or past clinical trials across the United States, please visit www.ClinicalTrials.gov.
And if you want to learn more about pediatric trials, please visit the Pediatric Trials Network  or NIH Clinical Research Trials and You. 
PCRU studies

These studies are conducted by a multi-disciplinary team within the UofL Department of Pediatrics and represent the collaboration and commitment to Pediatric Clinical Pharmacology research among basic and applied scientists within and external to the Department of Pediatrics. Approximately 150 – 200 subjects are enrolled into PCRU clinical/translational research trials annually.
Children are being enrolled in genotyping and phenotyping studies to evaluate the effect of genetics on drug metabolizing enzymes and key pathogenic mediators of disease.
We are also studying medication for:
Sedation
Pain Control
Infections
Hypertension
Septic shock
Asthma
Platelet inhibition
Gastric esophageal reflux (GERD)
Post operative nausea/vomiting
Juvenile Rheumatoid Arthritis
Autism
Diabetes
To search all current studies click here
What is Clinical Research?
Clinical research looks for answers to specific medical questions. Some clinical research simply involves collecting information about patients or having them take a survey. Other clinical research involves testing new medicines or vaccines. These studies are called "clinical trials." They are carefully supervised and designed to test the new treatments in the safest way possible. Participation in any research study is strictly voluntary.
Why Should Families Consider Participating?
Our understanding of health and our ability to treat and prevent diseases would never move forward if families didn't participate in clinical research. Doctors would have no way of knowing if a new medication is better than an old one, or if a new vaccine could protect children from an infection. They would not be able to predict the course of a disease or understand parents' attitudes regarding the care of their children. Our ability to make health care better depends on careful research—and on children and families who volunteer to participate.
One possible benefit to participating in research is that the child may be one of the first patients to have medications and vaccines that are not yet available to the general public. But the main thing is that supporting clinical research is one way families can help all children.
Are There Downsides to Participating in Clinical Research?
Sometimes clinical research involves getting extra information that is not normally collected for routine care. For example, a clinical trial may require an extra blood test.
There is also the possibility that a new medicine will not be effective, or that it will have an unexpected side effect. This is why the studies need to be done—to see if the new medicines are better and to prove that they are safe.
However, before any study is done, researchers are especially careful to have a good reason to believe that the new medicine will be safe and effective. Every study is strictly regulated and closely supervised by teams of doctors, scientists, and lay people as well.
Participating in a study may mean extra time and inconvenience. Because of this, some studies may pay families who participate.
Pediatric Clinical Research Unit
231 E. Chestnut, N-97 Louisville, KY 40202
Phone: (502) 629-5820
Fax: (502) 629-5285    
24/7 pager: (502) 620-0000
Email: KCPCRU@louisville.edu
Office Hours: Monday through Friday  8:00am – 4:30pm
Research Regulatory Documents: Sarah King, BSBA, (502) 629-2721, slpenn03@louisville.edu
Pre-award Research Contract Issues: Sarah King, BSBA, (502) 629-2721, slpenn03@louisville.edu
Post-award Research Contract Issues: (502) 629-6364
To refer patients or discuss subject-related issues: (502) 629-5820, and ask for a research nurse.
Faculty
Janice E. Sullivan, M.D., FAAP, FCCM, CPI, CIP, Chief and Medical Director, research biography
Kyle Brothers, M.D., Endowed Chair, Pediatric Clinical and Translational Research
Administrative Staff
Taymie Collins, Research Grants Coordinator
Jeannine Barron, Research Grants Coordinator
Katie Weber, BA, Administrative Assistant
Katelyn Thomas, Administrative Assistant
Sarah King, BSBA, Regulatory Manager/Start-Up Specialist
Terri Boles, Regulatory Coordinator
Maria Bruner, Regulatory Coordinator
Morgan Logsdon, MA, Regulatory Coordinator
Ashlie Mills, BA, Regulatory Coordinator
Missi Thomas, RN, BSN, CCRC, Feasibility Coordinator
Clinical Team Leaders
Jen Comings, RN, BSN
Kristen Lee, BS, CCRC
Jackie Boyd, RN, BSN, CHPE
Research Nurses
Beth Campbell, RN
Sarah Deans, RN, BSN
Stephanie Houston, BSN, RNC-NIC
Andrew Michael, RN, BSN, CCRC
Jennifer Nason, RN, BSN
Karen Pate, RN
Gena Sayat, RN, BSN, CCRC
Terri Simeon, RN
Tonya Shaffer, RN, BSN
Clinical Research Coordinators
Julie Burmester, RRT, CCRC
Carla Rich, MA
Josie Timmons, BS
Penny Stewart
Michelle Wiseheart, BS
Trisha Aponte, BS
PRN
Laura Thomas, RN, BSN, CCRN
Luke Stephens, M.D., MS
ENVIRONMENTAL INFLUENCES ON CHILD HEALTH OUTCOMES 
(ECHO) PROGRAM
Understanding the effects of environmental exposures on child health and development is a priority for the National Institutes of Health (NIH). To advance knowledge in this area, NIH has launched a new seven-year initiative called the Environmental influences on Child Health Outcomes (ECHO) program. ECHO is designed to capitalize on existing participant populations, and support approaches that can evolve with the science and take advantage of the growing number of clinical research networks and technological advances.
ECHO will support multiple, synergistic, longitudinal studies using existing study populations, called cohorts, to investigate environmental exposures — including physical, chemical, biological, social, behavioral, natural and built environments — on child health and development. The studies will focus on five key pediatric outcomes that have a high public health impact:
Upper and lower airway
Obesity
Pre-, peri-, and postnatal outcomes
Neurodevelopment
Positive Health
  To learn more about the ECHO program, please visit the ECHO Children web page.
Current Studies
Now Enrolling!
Please see some of our current studies below:
Childhood Obesity in Children 10 to less than 14 year olds
IRB #13.0334
The UofL Kosair Charities Pediatric Clinical Research Unit at Norton Children's Hospital is conducting a research study to evaluate the effect of an investigational product on childhood obesity. White and African American male and female subjects 10 to less than 14 years old who are overweight, obese or normal weight may be eligible. If a child qualifies to participate, he or she will receive the product or placebo and study related care at no cost. Compensation will be provided for time/travel.
For additional information, contact Trish Aponte by email or at 629-5539 or 620-0000 (pager)
---
Treated or Untreated Hypertension in Children 6 to less than 18 years old
IRB# 14.1112
The Kosair Children's Pediatric Clinical Research Unit (KCPCRU) is conducting a clinical trial looking at the safety and effectiveness of a potential new medicine to treat high blood pressure in children 6-<18 years of age.  Eligible participants may be currently treated or untreated for hypertension and will be closely followed by University of Louisville physicians throughout the study. Participants will be compensated for their time and travel. For more information please contact: Jackie Perry at 502-629-5123 or email at jmperr02@louisville.edu
Fee Schedule
Pricing related to Federally Funded, Extension Studies, Registry and Specimen Collection only studies may differ.
Due to being located in a Norton's Healthcare Facility we must receive approval from their Norton Healthcare Research Organization (NHRO).  NHRO is not an IRB.  NHRO approval process is in parallel to IRB review and Contract negotiations.  NHRO also requires an agreement to be signed between them and the sponsor (such as a Letter of Indemnification or a Facilities Use Agreement) and additional fees related to the study being conducted in their facility.  We cannot submit contracts for review unless a template CTA and agreement for NHRO (either LOI or FUA) have been received.
Fee Schedule - effective November 1, 2019