Qingsheng Li, Ph.D.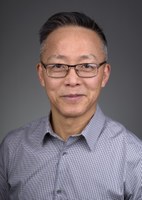 Assistant Professor
Immunity and nutrition in Lung Carcinogenesis
Address: CTRB, Room 652A
505 S. Hancock St.
Louisville, KY 40202
Phone Number: 852-502-4005
Email: qingsheng.li@louisville.edu

Research Interests
We study the role of dysfunctional T-cell immunity in lung carcinogenesis and resistance to immune therapy. Currently, our research combines use of genetically engineered mouse models (murine Kras lung tumor model) and human tumor samples with specific focus on the analysis of tumor-infiltrating T-cells that influence the responsiveness of tumors to immune checkpoint blockade therapy.  A second project focuses on the role of dietary fiber in the development and progression of lung cancer.
 Publications
Li Q, Anderson CD, Egilmez NK. Inhaled IL-10 Suppresses Lung Tumorigenesis via Abrogation of Inflammatory Macrophage - Th17 Cell Axis. Li Q, Anderson CD, Egilmez NK. J Immunol. 2018 Sep 26. pii: ji1800141. doi: 10.4049/jimmunol.1800141. PMID:30257887
Li Q, Harden JL, Anderson CD, Egilmez NK. Tolerogenic Phenotype of IFN-gamma-Induced IDO+ Dendritic Cells Is Maintained via an Autocrine IDO-Kynurenine/AhR-IDO Loop. J Immunol. 2016;197(3):962-70. doi: 10.4049/jimmunol.1502615. PubMed PMID: 27316681.
Li Q, Virtuoso LP, Anderson CD, Egilmez NK. Regulatory Rebound in IL-12-Treated Tumors Is Driven by Uncommitted Peripheral Regulatory T Cells. Journal of immunology. 2015;195(3):1293-300. doi: 10.4049/jimmunol.1403078. PubMed PMID: 26085681.
Rao RR, Li Q, Gubbels Bupp MR, Shrikant PA. Transcription factor Foxo1 represses T-bet-mediated effector functions and promotes memory CD8(+) T cell differentiation. Immunity. 2012;36(3):374-87. doi: 10.1016/j.immuni.2012.01.015. PubMed PMID: 22425248; PubMed Central PMCID: PMC3314246.
Li Q, Rao RR, Araki K, Pollizzi K, Odunsi K, Powell JD, Shrikant PA. A central role for mTOR kinase in homeostatic proliferation induced CD8+ T cell memory and tumor immunity. Immunity. 2011;34(4):541-53. doi: 10.1016/j.immuni.2011.04.006. PubMed PMID: 21511183; PubMed Central PMCID: PMC3083826.