Kim A. Williams Sr., M.D., MACC, MASNC, FAHA, FESC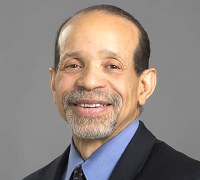 Professor of Medicine
Legacy Foundation of Kentuckiana Endowed Chair in Health Equity
UofL Physicians Outpatient Center
401 East Chestnut Street, Ste. 310
Louisville, KY 40202
502-852-5241 - Academic Office
502-588-7010 - Patient Appointments
---
Clinical Expertise
General Cardiology; Cardio-Nutrition; Cardio-Rheumatology; Cardio-Nephrology; Preventive Cardiology; Cardiovascular Radiology


---
Board Certifications
American Board of Internal Medicine -
Internal Medicine / Cardiovascular Disease
Education and Training
Medical School: University of Chicago Pritzker School of Medicine
Residency: Emory University Affiliated Hospitals
Fellowships: University of Chicago (Cardiology/Clinical Pharmacology/Nuclear Medicine); Cabrini Hospital (Cardiovascular Computed Tomography)
---
Get To Know Dr. Williams
---
Featured Publications
Cheung AK, Whelton PK, Muntner P, Schutte AE, Moran AE, Williams B, Sarafidis P, Chang TI, Daskalopoulou SS, Flack JM, Jennings G, Juraschek SP, Kreutz R, Mancia G, Nesbitt S, Ordunez P, Padwal R, Persu A, Rabi D, Schlaich MP, Stergiou GS, Tobe SW, Tomaszewski M, Williams KA Sr, Mann JFE. International Consensus on Standardized Clinic Blood Pressure Measurement - A Call to Action. Am J Med. 2023 May;136(5):438-445.e1. doi: 10.1016/j.amjmed.2022.12.015. Epub 2023 Jan 6. PMID: 36621637; PMCID: PMC10159895.
Huang C, Murugiah K, Li X, Masoudi FA, Messenger JC, Williams KA Sr, Mortazavi BJ, Krumholz HM. Effect of the New Glomerular Filtration Rate Estimation Equation on Risk Predicting Models for Acute Kidney Injury After Percutaneous Coronary Intervention. Circ Cardiovasc Interv. 2023 Apr;16(4):e012831. doi: 10.1161/CIRCINTERVENTIONS.122.012831. Epub 2023 Apr 3. PMID: 37009734.
Hage FG, Einstein AJ, Ananthasubramaniam K, Bourque JM, Case J, DePuey EG, Hendel RC, Henzlova MJ, Shah NR, Abbott BG, Al Jaroudi W, Better N, Doukky R, Duvall WL, Malhotra S, Pagnanelli R, Peix A, Reyes E, Saeed IM, Sanghani RM, Slomka PJ, Thompson RC, Veeranna V, Williams KA Sr, Winchester DE. Quality metrics for single-photon emission computed tomography myocardial perfusion imaging: an ASNC information statement. J Nucl Cardiol. 2023 Apr;30(2):864-907. doi: 10.1007/s12350-022-03162-7. Epub 2023 Jan 6. PMID: 36607538.
Luo S, Vasbinder A, Du-Fay-de-Lavallaz JM, Gomez JMD, Suboc T, Anderson E, Tekumulla A, Shadid H, Berlin H, Pan M, Azam TU, Khaleel I, Padalia K, Meloche C, O'Hayer P, Catalan T, Blakely P, Launius C, Amadi KM, Pop-Busui R, Loosen SH, Chalkias A, Tacke F, Giamarellos-Bourboulis EJ, Altintas I, Eugen-Olsen J, Williams KA, Volgman AS, Reiser J, Hayek SS; ISIC (International Study of Inflammation in COVID‐19) Group. Soluble Urokinase Plasminogen Activator Receptor and Venous Thromboembolism in COVID-19. J Am Heart Assoc. 2022 Sep 20;11(18):e025198. doi: 10.1161/JAHA.122.025198. Epub 2022 Aug 4. PMID: 35924778; PMCID: PMC9683642.
Kerolos MM, Ruge M, Gill A, Planek MI, Volgman AS, Du-Fay-De-Lavallaz JM, Gomez JMD, Suboc TM, Williams KA, Abusin S. Clinical outcomes of COVID-19 infection in patients with pre-existing cardiovascular disease. Am Heart J Plus. 2022 Aug;20:100189. doi: 10.1016/j.ahjo.2022.100189. Epub 2022 Aug 5. PMID: 35946042; PMCID: PMC9354393.
Aggarwal M, Ros E, Allen K, Sikand G, Agarwala A, Aspry K, Kris-Etherton P, Devries S, Reddy K, Singh T, Litwin SE, Keefe JO, Miller M, Andrus B, Blankstein R, Batiste C, Belardo D, Wenger C, Batts T, Barnard ND, White BA, Ornish D, Williams KA, Ostfeld RJ, Freeman AM. Controversial Dietary Patterns: A High Yield Primer for Clinicians. Am J Med. 2022 Jun;135(6):680-687. doi: 10.1016/j.amjmed.2022.01.028. Epub 2022 Feb 5. PMID: 35134371.
Budoff MJ, Lakshmanan S, Toth PP, Hecht HS, Shaw LJ, Maron DJ, Michos ED, Williams KA, Nasir K, Choi AD, Chinnaiyan K, Min J, Blaha M. Cardiac CT angiography in current practice: An American society for preventive cardiology clinical practice statement✰. Am J Prev Cardiol. 2022 Jan 20;9:100318. doi: 10.1016/j.ajpc.2022.100318. PMID: 35146468; PMCID: PMC8802838.
Ikram M, Williams KA Sr. Socioeconomics of coronary artery calcium: Is it scored or ignored? J Cardiovasc Comput Tomogr. 2022 Mar-Apr;16(2):182-185. doi: 10.1016/j.jcct.2021.10.003. Epub 2021 Oct 15. PMID: 34657819.
Rahman A, Ruge M, Hlepas A, Nair G, Gomez J, du Fay de Lavallaz J, Fugar S, Jahan N, Volgman AS, Williams KA, Rao A, Marinescu K, Suboc T. Hyperdynamic left ventricular ejection fraction is associated with higher mortality in COVID-19 patients. Am Heart J Plus. 2022 Feb;14:100134. doi: 10.1016/j.ahjo.2022.100134. Epub 2022 Apr 18. PMID: 35463197; PMCID: PMC9013697.
Ikram M, Williams KA. What is this image? 2021 image 4 result : Staying abreast of amyloid? J Nucl Cardiol. 2022 Feb;29(1):10-12. doi: 10.1007/s12350-021-02891-5. PMID: 34918234.