Marcus F. Stoddard, M.D., FACC, FAHA, FASE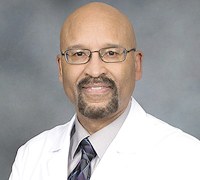 UofL Physicians Outpatient Center
401 East Chestnut Street, Ste. 310
Louisville, KY 40202
502-852-1837- Academic Office
502-588-4600 - Patient Appointments
---
Clinical Expertise
Cardiology; Echocardiography; Echocardiographically Guided  Resynchronization; TEE; Cardiac CT; Nuclear Cardiology
---
Board Certifications
American Board of Internal Medicine -
Internal Medicine / Cardiovascular Disease
American Board of Cardiovascular Disease
National Board of Echocardiography
Education and Training
Medical School: The Johns Hopkins University
Residency: Saint Louis University Hospital
Fellowship: Saint Louis University Hospital
---
Featured Publications
Kazemi A, Padgett DA, Callahan S, Stoddard M, Amini AA. Relative pressure estimation from 4D flow MRI using generalized Bernoulli equation in a phantom model of arterial stenosis. MAGMA. 2022 Feb 17. doi: 10.1007/s10334-022-01001-x. Epub ahead of print. PMID: 35175449.
Labovitz AJ, Rose DZ, Fradley MG, Meriwether JN, Renati S, Martin R, Kasprowicz T, Murtagh R, Kip K, Beckie TM, Stoddard M, Bozeman AC, McTigue T, Kirby B, Tran N, Burgin WS; AREST Investigators. Early Apixaban Use Following Stroke in Patients With Atrial Fibrillation: Results of the AREST Trial. Stroke. 2021 Apr;52(4):1164-1171. doi: 10.1161/STROKEAHA.120.030042. Epub 2021 Feb 25. PMID: 33626904.
Legg Ditterline BE, Wade S, Ugiliweneza B, Singam NS, Harkema SJ, Stoddard MF, Hirsch GA. Beneficial Cardiac Structural and Functional Adaptations After Lumbosacral Spinal Cord Epidural Stimulation and Task-Specific Interventions: A Pilot Study. Front Neurosci. 2020 Oct 22;14:554018. doi: 10.3389/fnins.2020.554018. PMID: 33192245; PMCID: PMC7643015.
Labovitz AJ, Stoddard MF. Echo Training Post-COVID: Response from the National Board of Echocardiography. J Am Soc Echocardiogr. 2020 Aug;33(8):1052. doi: 10.1016/j.echo.2020.05.025. PMID: 32762919; PMCID: PMC7396950.
Bottinor WJ, Soslow JH, Godown J, Stoddard MF, Osmundson EC, Lenneman CG, Friedman DL, Borinstein SC. Childhood cancer survivors: The integral role of the cardiologist and cardiovascular imaging. Am Heart J. 2020 Aug;226:127-139. doi: 10.1016/j.ahj.2020.05.008. Epub 2020 May 14. PMID: 32531502.
Ditterline BL, Wade S, Ugiliweneza B, Singam NSV, Harkema SJ, Stoddard MF, Hirsch GA. Systolic and diastolic function in chronic spinal cord injury. PLoS One. 2020 Jul 27;15(7):e0236490. doi: 10.1371/journal.pone.0236490. PMID: 32716921; PMCID: PMC7384657.
Callahan S, Singam NS, Kendrick M, Negahdar MJ, Wang H, Stoddard MF, Amini AA. Dual-Venc acquisition for 4D flow MRI in aortic stenosis with spiral readouts. J Magn Reson Imaging. 2020 Jul;52(1):117-128. doi: 10.1002/jmri.27004. Epub 2019 Dec 18. PMID: 31850597; PMCID: PMC7299789.
Vaidya GN, Salgado BC, Badar F, John A, Stoddard MF. Two-dimensional strain echocardiography-derived left ventricular ejection fraction, volumes, and global systolic dyssynchrony index: Comparison with three-dimensional echocardiography. Echocardiography. 2019 Jun;36(6):1054-1065. doi: 10.1111/echo.14362. Epub 2019 May 31. PMID: 31148242.
Singam NSV, Stoddard MF. The evolution of apical hypertrophic cardiomyopathy: Development of mid-ventricular obstruction and apical aneurysm 11 years after initial diagnosis. Echocardiography. 2019 May;36(5):987-991. doi: 10.1111/echo.14310. Epub 2019 Mar 13. PMID: 30868653.
Singam NSV, Gopinathannair R, Stidam JM, Solankhi NK, Bessen M, Stoddard MF. A curious case of an absent left atrial appendage. Echocardiography. 2018 Nov;35(11):1882-1884. doi: 10.1111/echo.14151. Epub 2018 Oct 18. PMID: 30338562.