Ashwani K. Singal M.D., MS, FACG, FAASLD, AGAF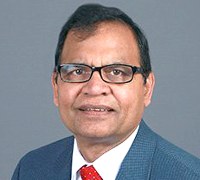 Professor of Medicine
Vice Chair, American Gastroenterology Association Council - Liver Biliary Section
Advisor, AASLD SIG Task Force
Chair, American Association for Study of Liver Diseases Special Interest Group on Alcohol-Associated Liver Disease (2019-2021)
UofL Physicians Outpatient Center
401 East Chestnut Street, Ste. 310
Louisville, KY 40202
502-852-6991 - Academic Office
502-588-4600 - Patient Appointments
Clinical Trials Unit MedCenter One
501 E. Broadway, Suite 210
Louisville, KY 40202
Clinical Trials Unit
401 E. Chestnut St., Suite 460
Louisville, KY 40202
---
Clinical Expertise
Alcohol-Associated Liver Disease and Alcohol Use Disorder, Mitochondrial Bioenergetics and Metabolism, Liver Transplant, Porphyria, NASH, Hepatorenal Syndrome
---
Board Certifications
American Board of Internal Medicine -
Gastroenterology / Transplant Hepatology
Education and Training
Medical School: University College of Medical Sciences (Delhi, India)
Residency: Mount Sinai Hospital / VA Bronx Healthcare
Fellowship: UTMB Galveston (Gastroenterology); Mayo Clinic (Transplant Hepatology)
---
Editorial Appointments
Associate Editor
Clinical Translational Gastroenterology (Journal of American College of Gastroenterology)
Journal of Clinical Translational Hepatology (Journal of Chinese Medical Association)
Digestive Liver Disease (Journal of Italian Gastroenterology Association)
Journal of Clinical Experimental Hepatology (Journal of Indian Association for Study of Liver)
Section Editor
Current Hepatology Reports
Guest Editor

Translational Gastroenterology Hepatology (2019)
Frontiers in Hepatology (2021)
JCEH (2022)
Metabolism Target Organ Damage (2022)
Clinics in Liver Disease (2023-24)
Editorial Board
Hepatology (leading liver journal of AASLD)
Liver Transplantation (leading liver transplant journal of AASLD)
Seminars Liver Disease
Clinical Gastroenterology Hepatology (leading GI and Liver journal of AGA)
JHEP Reports (one of the leading liver journals of European Association for Study of Liver)
---
Featured Publications
Xie C, Singal AK. Rifaximin-α in alcohol-associated liver disease. Lancet Gastroenterol Hepatol. 2023 Jun;8(6):495-497. doi: 10.1016/S2468-1253(23)00033-X. Epub 2023 Mar 6. PMID: 36893773.
Singal AK. Editorial: mitochondrial respiratory chain activity-a potential link with disease severity and treatment response in alcoholic hepatitis. Aliment Pharmacol Ther. 2023 May;57(10):1157-1158. doi: 10.1111/apt.17440. PMID: 37094306.
Yeoh A, Wong R, Singal AK. The Role Bariatric Surgery and Endobariatric Therapies in Nonalcoholic Steatohepatitis. Clin Liver Dis. 2023 May;27(2):413-427. doi: 10.1016/j.cld.2023.01.009. Epub 2023 Feb 26. PMID: 37024216.
Elfeki MA, Abdallah MA, Leggio L, Singal AK. Simultaneous Management of Alcohol Use Disorder and Liver Disease: A Systematic Review and Meta-analysis. J Addict Med. 2023 Mar-Apr 01;17(2):e119-e128. doi: 10.1097/ADM.0000000000001084. Epub 2022 Oct 8. PMID: 36259647.
Díaz LA, Fuentes-López E, Ayares G, Idalsoaga F, Arnold J, Valverde MA, Perez D, Gómez J, Escarate R, Villalón A, Ramírez CA, Hernandez-Tejero M, Zhang W, Qian S, Simonetto DA, Ahn JC, Buryska S, Dunn W, Mehta H, Agrawal R, Cabezas J, García-Carrera I, Cuyàs B, Poca M, Soriano G, Sarin SK, Maiwall R, Jalal PK, Abdulsada S, Higuera-de-la-Tijera F, Kulkarni AV, Rao PN, Salazar PG, Skladaný L, Bystrianska N, Clemente-Sanchez A, Villaseca-Gómez C, Haider T, Chacko KR, Romero GA, Pollarsky FD, Restrepo JC, Castro-Sanchez S, Toro LG, Yaquich P, Mendizabal M, Garrido ML, Marciano S, Dirchwolf M, Vargas V, Jiménez C, Louvet A, García-Tsao G, Roblero JP, Abraldes JG, Shah VH, Kamath PS, Arrese M, Singal AK, Bataller R, Arab JP. MELD 3.0 adequately predicts mortality and renal replacement therapy requirements in patients with alcohol-associated hepatitis. JHEP Rep. 2023 Mar 15;5(8):100727. doi: 10.1016/j.jhepr.2023.100727. PMID: 37456675; PMCID: PMC10339256.
Singal AK, Jalan R. Terlipressin for hepatorenal syndrome: opportunities and challenges. Lancet Gastroenterol Hepatol. 2023 Feb;8(2):104-106. doi: 10.1016/S2468-1253(22)00377-6. PMID: 36620975.
Elfeki MA, Singal AK. Possible link between higher ammonia levels, non-alcoholic fatty liver-related cirrhosis and diabetes: Are we missing chronic kidney disease? J Hepatol. 2023 Feb;78(2):e72. doi: 10.1016/j.jhep.2022.09.018. Epub 2022 Sep 30. PMID: 36191683.
Singal AK, Kwo P, Kwong A, Liangpunsakul S, Louvet A, Mandrekar P, McClain C, Mellinger J, Szabo G, Terrault N, Thursz M, Winder GS, Kim WR, Shah VH. Research methodologies to address clinical unmet needs and challenges in alcohol-associated liver disease. Hepatology. 2022 Apr;75(4):1026-1037. doi: 10.1002/hep.32143. Epub 2021 Nov 27. PMID: 34496071; PMCID: PMC9235468.
Singal AK, Mathurin P. A Review of the Diagnosis and Treatment of Alcohol-Associated Liver Disease-Reply. JAMA. 2021 Nov 16;326(19):1976-1977. doi: 10.1001/jama.2021.16070. PMID: 34783841.
Saberi B, Naik H, Overbey JR, Erwin AL, Anderson KE, Bissell DM, Bonkovsky HL, Phillips JD, Wang B, K Singal A, M McGuire B, Desnick RJ, Balwani M. Hepatocellular Carcinoma in Acute Hepatic Porphyrias: Results from the Longitudinal Study of the U.S. Porphyrias Consortium. Hepatology. 2021 May;73(5):1736-1746. doi: 10.1002/hep.31460. Epub 2020 Dec 11. PMID: 32681675.
Full list of publications from PubMed