Mohamed A. Saad, M.D., FCCP, FAASM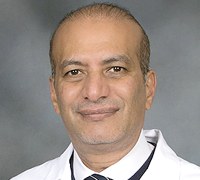 UofL Physicians Outpatient Center
401 East Chestnut Street, Ste. 690
Louisville, KY 40202
502-852-5841 - Academic Office
502-588-4600 - Patient Appointments
---
Clinical Expertise
Critical Care (Sepsis, ARDS, Nutrition in Critically Ill Patients, Role of Ultra Sonography in the ICU); Sleep Medicine (SDB, Insomnia, Narcolepsy)
---
Board Certifications
American Board of Internal Medicine -
Pulmonary Disease / Sleep Medicine / Critical Care Medicine
American Board of Sleep Medicine
Education and Training
Medical School: Alexandria University
Residency: Fairview Health System/ The Ohio State University
Fellowship: University of Louisville
---
Featured Publications
Akkanti B, Jagpal S, Darwish R, Saavedra Romero R, Scott LK, Dinh K, Hussain S, Radbel J, Saad MA, Enfield KB, Conrad SA. Physiologic Improvement in Respiratory Acidosis Using Extracorporeal Co<sub>2</sub> Removal With Hemolung Respiratory Assist System in the Management of Severe Respiratory Failure From Coronavirus Disease 2019. Crit Care Explor. 2021 Mar 9;3(3):e0372. doi: 10.1097/CCE.0000000000000372. PMID: 33786448; PMCID: PMC7994071.
Lodise TP, Van Wart S, Sund ZM, Bressler AM, Khan A, Makley AT, Hamad Y, Salata RA, Silveira FP, Sims MD, Kabchi BA, Saad MA, Brown C, Oler RE Jr, Fowler V Jr, Wunderink RG. Pharmacokinetic and Pharmacodynamic Profiling of Minocycline for Injection following a Single Infusion in Critically Ill Adults in a Phase IV Open-Label Multicenter Study (ACUMIN). Antimicrob Agents Chemother. 2021 Feb 17;65(3):e01809-20. doi: 10.1128/AAC.01809-20. PMID: 33168615; PMCID: PMC8092545.
Moldoveanu B, Gearhart AM, Jalil BA, Saad M, Guardiola JJ. Pulmonary Aspergillosis: Spectrum of Disease. Am J Med Sci. 2021 Apr;361(4):411-419. doi: 10.1016/j.amjms.2020.12.009. Epub 2020 Dec 13. PMID: 33563417.
Guardiola J, Saad M, Yu J. Hypertonic saline stimulates vagal afferents that respond to lung deflation. Am J Physiol Regul Integr Comp Physiol. 2019 Dec 1;317(6):R814-R817. doi: 10.1152/ajpregu.00064.2019. Epub 2019 Oct 9. PMID: 31596107; PMCID: PMC6962621.
Varajic B, Cavallazzi R, Mann J, Furmanek S, Guardiola J, Saad M. High versus low mean arterial pressures in hepatorenal syndrome: A randomized controlled pilot trial. J Crit Care. 2019 Aug;52:186-192. doi: 10.1016/j.jcrc.2019.04.006. Epub 2019 Apr 15. PMID: 31096099.
El-Kersh K, Cavallazzi R, McClave SA, Saad M. Reply. J Crit Care. 2018 Jun;45:251-252. doi: 10.1016/j.jcrc.2018.02.007. PMID: 29754943.
Kim RY, Ng AM, Persaud AK, Furmanek SP, Kothari YN, Price JD, Wiemken TL, Saad MA, Guardiola JJ, Cavallazzi RS. Antibiotic Timing and Outcomes in Sepsis. Am J Med Sci. 2018 Jun;355(6):524-529. doi: 10.1016/j.amjms.2018.02.007. Epub 2018 Feb 21. PMID: 29891035.
El-Kersh K, Jalil B, McClave SA, Cavallazzi R, Guardiola J, Guilkey K, Persaud AK, Furmanek SP, Guinn BE, Wiemken TL, Alhariri BC, Kellie SP, Saad M. Enteral nutrition as stress ulcer prophylaxis in critically ill patients: A randomized controlled exploratory study. J Crit Care. 2018 Feb;43:108-113. doi: 10.1016/j.jcrc.2017.08.036. Epub 2017 Aug 26. PMID: 28865339.
El-Kersh K, Guardiola J, Cavallazzi R, Wiemken TL, Roman J, Saad M. Open and closed models of intensive care unit have different influences on infectious complications in a tertiary care center: A retrospective data analysis. Am J Infect Control. 2016 Dec 1;44(12):1744-1746. doi: 10.1016/j.ajic.2016.04.240. Epub 2016 Jul 7. PMID: 27397908.
Burk M, El-Kersh K, Saad M, Wiemken T, Ramirez J, Cavallazzi R. Viral infection in community-acquired pneumonia: a systematic review and meta-analysis. Eur Respir Rev. 2016 Jun;25(140):178-88. doi: 10.1183/16000617.0076-2015. PMID: 27246595.