Kimberly E. Pate, M.D.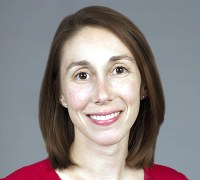 550 South Jackson Street, Ste. A3K00
Louisville, KY 40202
502-561-8800 - Academic Office

---
Clinical Expertise
Palliative Medicine; Internal Medicine
---
Board Certifications
American Board of Internal Medicine -
Internal Medicine / Hospice and Palliative Medicine
Education and Training
Medical School: University of Louisville
Residency: University of Louisville Hospital
Fellowship: University of Louisville
---
Featured Publications
Head BA, Furman CD, Lally AM, Leake K, Pfeifer M. Medicine as It Should Be: Teaching Team and Teamwork during a Palliative Care Clerkship. J Palliat Med. 2018 May;21(5):638-644. doi: 10.1089/jpm.2017.0589. Epub 2018 Jan 17. PMID: 29341818; PMCID: PMC5946723.
Borchman D, Foulks GN, Yappert MC, Mathews J, Leake K, Bell J. Factors affecting evaporation rates of tear film components measured in vitro. Eye Contact Lens. 2009 Jan;35(1):32-7. doi: 10.1097/ICL.0b013e318193f4fc. PMID: 19125046.