Stephen A. McClave, M.D., FACN, FASGE, FASPEN, AGAF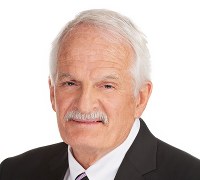 Professor of Medicine
Director of Clinical Nutrition
UofL Physicians Outpatient Center
401 East Chestnut Street, Ste. 310
Louisville, KY 40202
502-852-6991 - Academic Office
502-588-4600 - Patient Appointments
---
Clinical Expertise
Endoscopic Ultrasound; Critical Care Nutrition; Nutrition Education
---
Board Certifications
American Board of Internal Medicine -
Internal Medicine / Gastroenterology
American Board of Physician Nutrition Specialists
Education and Training
Medical School: The Ohio State University
Residency: Medical University of South Carolina Medical Center
Fellowship: University of South Florida
---
Featured Publications
Patel JJ, Puthucheary Z, McClave SA. Nutrition during the acute phase of critical illness: discussions on NUTRIREA-3. Lancet Respir Med. 2023 May 24:S2213-2600(23)00213-8. doi: 10.1016/S2213-2600(23)00213-8. Epub ahead of print. PMID: 37244265.
Davidyuk V, Bhutiani N, Gold MK, Mortensen GF, Trestrail T, Brown AN, Vitale RJ, McClave SA, Vitale GC. Surgical Diagnoses of Pancreatic Adenocarcinoma Not Found on Previous Endoscopic Ultrasound: A Case Series and Review of the Literature. Am Surg. 2023 Apr;89(4):990-995. doi: 10.1177/00031348211054531. Epub 2021 Nov 8. PMID: 34743589.
Kavalukas S, McClave SA. Immunonutrition vs standard nutrition for patients with cancer. Nutr Clin Pract. 2023 Feb 14. doi: 10.1002/ncp.10963. Epub ahead of print. PMID: 36788760.
McClave SA. 2022 Peggi Guenter Excellence in Clinical Practice Lectureship: Expanding the clinical practice of nutrition-Challenging the known, exposing inconvenient truths, and engaging the young. Nutr Clin Pract. 2022 Dec;37(6):1257-1271. doi: 10.1002/ncp.10918. PMID: 36346091.
Patel JJ, Mundi MS, Taylor B, McClave SA, Mechanick JI. Casting Light on the Necessary, Expansive, and Evolving Role of the Critical Care Dietitian: An Essential Member of the Critical Care Team. Crit Care Med. 2022 Sep 1;50(9):1289-1295. doi: 10.1097/CCM.0000000000005607. Epub 2022 Aug 15. PMID: 35984051.
Mundi MS, Mechanick JI, Mohamed Elfadil O, Patel JJ, Bonnes SL, Blackmer AB, Christian VJ, Hennessy SA, Hurt RT, Jain A, Kaspar MB, Katz J, Labossiere R, Limketkai BN, McCarthy PJ, Morrison CA, Newberry C, Pimiento JM, Rosenthal MD, Taylor B, McClave SA; ASPEN Physician Engagement Committee. Optimizing the nutrition support care model: Analysis of survey data. JPEN J Parenter Enteral Nutr. 2022 Sep;46(7):1709-1724. doi: 10.1002/jpen.2326. Epub 2022 Feb 16. PMID: 35040154.
Suliman S, McClave SA, Taylor BE, Patel J, Omer E, Martindale RG. Barriers to nutrition therapy in the critically ill patient with COVID-19. JPEN J Parenter Enteral Nutr. 2022 May;46(4):805-816. doi: 10.1002/jpen.2263. Epub 2021 Oct 26. PMID: 34486137; PMCID: PMC8646569.
McClave SA. Nutrition, defecation, and the lower gastrointestinal tract during critical illness. Curr Opin Clin Nutr Metab Care. 2022 Mar 1;25(2):110-115. doi: 10.1097/MCO.0000000000000814. PMID: 35026804.
McClave SA, Marsano-Obando LS. Preparative Fasting Orders for Medical/Surgical Interventions and Imaging Studies: Time to Review and Revise! Curr Gastroenterol Rep. 2022 Feb;24(2):37-41. doi: 10.1007/s11894-022-00841-w. Epub 2022 Mar 3. PMID: 35239128.
Preiser JC, Arabi YM, Berger MM, Casaer M, McClave S, Montejo-González JC, Peake S, Reintam Blaser A, Van den Berghe G, van Zanten A, Wernerman J, Wischmeyer P. A guide to enteral nutrition in intensive care units: 10 expert tips for the daily practice. Crit Care. 2021 Dec 14;25(1):424. doi: 10.1186/s13054-021-03847-4. PMID: 34906215; PMCID: PMC8669237.