Rohit Kumar, M.D.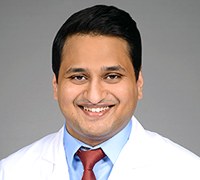 Assistant Professor of Medicine
UofL Health - Brown Cancer Center
529 South Jackson Street
Louisville, KY 40202
502-852-2522 - Academic Office
502-562-4370 - Patient Appointments
---
Clinical Expertise
Medical Oncology; Genitourinary Malignancies; Sarcomas; Hospice & Palliative Medicine
---
Board Certifications
American Board of Internal Medicine -
Internal Medicine / Medical Oncology / Hematology
Education and Training
Medical School: Maulana Azad Medical College
Residency: John H. Stroger Jr. Hospital of Cook County
Fellowships: University of Arkansas for Medical Sciences (Hospice & Palliative Medicine); University of Louisville (Medical Oncology & Hematology)
---
Featured Publications
N Mueller A, Morrisey S, A Miller H, Hu X, Kumar R, T Ngo P, Yan J, B Frieboes H. Prediction of lung cancer immunotherapy response via machine learning analysis of immune cell lineage and surface markers. Cancer Biomark. 2022 May 27. doi: 10.3233/CBM-210529. Epub ahead of print. PMID: 35662108.
Kumar R, Chan A, Bandikatla S, Ranjan S, Ngo P. Safety of immune checkpoint inhibitors in patients with preexisting autoimmune disorders. Curr Probl Cancer. 2022 May 2;46(4):100864. doi: 10.1016/j.currproblcancer.2022.100864. Epub ahead of print. PMID: 35671576.
Malapati S, Singh SRK, Kumar R, Hadid T. Outcomes of in-hospital cardiopulmonary resuscitation for cardiac arrest in adult patients with metastatic solid cancers: A Nationwide Inpatient Sample database analysis from 2012 to 2014. Cancer. 2021 Jun 15;127(12):2148-2157. doi: 10.1002/cncr.33451. Epub 2021 Mar 9. Erratum in: Cancer. 2021 Nov 1;127(21):4108-4109. PMID: 33687740.
Singh SRK, Malapati SJ, Kumar R, Willner C, Wang D. NCDB Analysis of Melanoma 2004-2015: Epidemiology and Outcomes by Subtype, Sociodemographic Factors Impacting Clinical Presentation, and Real-World Survival Benefit of Immunotherapy Approval. Cancers (Basel). 2021 Mar 22;13(6):1455. doi: 10.3390/cancers13061455. PMID: 33810182; PMCID: PMC8004999.
Mohananey D, Sarau A, Kumar R, Lewandowski D, Abreu-Sosa SM, Nathan S, Okwuosa TM. Role of Physical Activity and Cardiac Rehabilitation in Patients Undergoing Hematopoietic Stem Cell Transplantation. JACC CardioOncol. 2021 Mar 16;3(1):17-34. doi: 10.1016/j.jaccao.2021.01.008. PMID: 34396304; PMCID: PMC8352115.
Kumar R, Castillero F, Bhandari S, Malapati S, Kloecker G. The Hispanic paradox in non-small cell lung cancer. Hematol Oncol Stem Cell Ther. 2021 Mar 10:S1658-3876(21)00029-7. doi: 10.1016/j.hemonc.2021.02.004. Epub ahead of print. PMID: 33775613.
Hashmi H, Bhandari S, Kumar R, Tripathi P, Rhodes JB, Figg L, Baize T, Krem MM, Hegazi M, Emmons R. Twice-daily intravenous bolus tacrolimus infusion: A safe and effective regimen for graft-versus-host disease prophylaxis. Hematol Oncol Stem Cell Ther. 2020 Dec;13(4):232-237. doi: 10.1016/j.hemonc.2020.03.002. Epub 2020 May 8. PMID: 32413417.
Beltran M, Khurana S, Gil Y, Lewis JT, Kumar R, Foran JM. Nonimmunoglobulin Crystal-Storing Histiocytosis (CSH): Case Report and Literature Review. Case Rep Hematol. 2020 Oct 19;2020:8856411. doi: 10.1155/2020/8856411. PMID: 33133706; PMCID: PMC7593749.
Bhandari S, Kumar R, Pham D, Gaskins J, Kloecker G. Treatment Timing in Small Cell Lung Cancer, a National Cancer Database Analysis. Am J Clin Oncol. 2020 May;43(5):362-365. doi: 10.1097/COC.0000000000000676. PMID: 32011350.
Kumar R, Bhandari S, Singh SRK, Malapati S, Cisak KI. Incidence and outcomes of heparin-induced thrombocytopenia in solid malignancy: an analysis of the National Inpatient Sample Database. Br J Haematol. 2020 May;189(3):543-550. doi: 10.1111/bjh.16400. Epub 2020 Jan 28. PMID: 31990984.