Loretta L. Jophlin, M.D., Ph.D.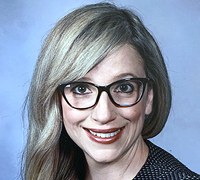 Assistant Professor of Medicine
UofL Healthcare Outpatient Center
401 East Chestnut Street, Ste. 310
Louisville, KY 40202
502-852-6991 - Academic Office
502-588-4600 - Patient Appointments
---
Clinical Expertise
Transplant Hepatology; Alcohol Associated Liver Disease
---
Board Certifications
American Board of Internal Medicine -
Internal Medicine / Gastroenterology / Transplant Hepatology
Education and Training
Medical School: Medical University of South Carolina
Residency: Mount Sinai Hospital
Fellowships: Medical University of South Carolina (Gastroenterology); Mayo Clinic (Transplant Hepatology)
Ph.D.: Medical University of South Carolina
---
Get To Know Dr. Jophlin
---
Featured Publications
Winrich E, Belur AD, Shine A, Jophlin LL. Takotsubo cardiomyopathy following liver transplantation and COVID-19 infection. Proc (Bayl Univ Med Cent). 2022 Aug 23;36(1):99-100. doi: 10.1080/08998280.2022.2114069. PMID: 36578602; PMCID: PMC9762796.
Sagaram M, Parthasarathy R, Condon SL, Closson CF, Kong M, Schwandt ML, Jophlin LL, Feng W, Barve AJ, Vatsalya V. Theragnostic Efficacy of K18 Response in Alcohol Use Disorder with Clinically Significant Fibrosis Using Gut-Liver Axis. Int J Mol Sci. 2022 May 23;23(10):5852. doi: 10.3390/ijms23105852. PMID: 35628661; PMCID: PMC9143806.
Faulkner CS, White CM, Manatsathit W, Lamb B, Vatsalya V, McClain CJ, Jophlin LL. Positive blood phosphatidylethanol concentration is associated with unfavorable waitlist-related outcomes for patients medically appropriate for liver transplantation. Alcohol Clin Exp Res. 2022 Apr;46(4):581-588. doi: 10.1111/acer.14786. Epub 2022 Mar 15. PMID: 35102553; PMCID: PMC9150771.
Jophlin LL, Hartley CP, Katzka DA. Ectopic Esophageal Sebaceous Glands. Clin Gastroenterol Hepatol. 2022 Apr;20(4):e647. doi: 10.1016/j.cgh.2020.11.034. Epub 2020 Dec 3. PMID: 33279776.
Jophlin L, Singal AK. Liver Biopsy in Patients With Alcohol-Associated Liver Disease With Acute-on-Chronic Liver Failure. J Clin Exp Hepatol. 2022 Mar-Apr;12(2):544-550. doi: 10.1016/j.jceh.2021.08.009. Epub 2021 Aug 14. PMID: 35535109; PMCID: PMC9077173.
Im GY, Mellinger JL, Winters A, Aby ES, Lominadze Z, Rice J, Lucey MR, Arab JP, Goel A, Jophlin LL, Sherman CB, Parker R, Chen PH, Devuni D, Sidhu S, Dunn W, Szabo G, Singal AK, Shah VH. Provider Attitudes and Practices for Alcohol Screening, Treatment, and Education in Patients With Liver Disease: A Survey From the American Association for the Study of Liver Diseases Alcohol-Associated Liver Disease Special Interest Group. Clin Gastroenterol Hepatol. 2021 Nov;19(11):2407-2416.e8. doi: 10.1016/j.cgh.2020.10.026. Epub 2020 Oct 16. PMID: 33069880; PMCID: PMC8291372.
Manatsathit W, Patel K, Enke T, Sayles H, Jophlin LL, Merani S. Increased Morbidity and Mortality of Patients with Non-cirrhotic Portal Vein Thrombosis After Abdominal and Pelvic Surgeries: a Study of the National Inpatient Sample 2002 to 2015. J Gastrointest Surg. 2021 Aug;25(8):2026-2034. doi: 10.1007/s11605-020-04818-w. Epub 2020 Oct 9. PMID: 33037558.
Garg SK, Goyal H, Obaitan I, Shah PA, Sarvepalli S, Jophlin LL, Singh D, Asrani S, Kamath PS, Leise MD. Incidence and predictors of 30-day hospital readmissions for liver cirrhosis: insights from the United States National Readmissions Database. Ann Transl Med. 2021 Jul;9(13):1052. doi: 10.21037/atm-20-1762. PMID: 34422964; PMCID: PMC8339830.
Ramkissoon R, Yung-Lun Chin J, Jophlin L. Acute Neurological Symptoms After a Liver Transplant. Gastroenterology. 2021 Jun;160(7):2264-2266. doi: 10.1053/j.gastro.2020.11.027. Epub 2020 Nov 19. PMID: 33221403.
Korbitz PM, Gallagher JP, Samant H, Singh S, Jophlin L, Ingviya T, Manatsathit W. Performance of echocardiography for detection of portopulmonary hypertension among liver transplant candidates: Meta-analysis. Clin Transplant. 2020 Nov;34(11):e13995. doi: 10.1111/ctr.13995. Epub 2020 Sep 27. PMID: 32485008.