Loretta L. Jophlin, M.D., Ph.D.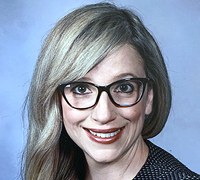 Assistant Professor of Medicine
UofL Healthcare Outpatient Center
401 East Chestnut Street, Ste. 310
Louisville, KY 40202
502-852-6991 - Academic Office
502-588-4600 - Patient Appointments
---
Clinical Expertise
Gastroenterology; Transplant Hepatology
---
Board Certifications
American Board of Internal Medicine -
Internal Medicine / Gastroenterology / Transplant Hepatology
Education and Training
Medical School: Medical University of South Carolina
Residency: Mount Sinai Hospital
Fellowships: Medical University of South Carolina (Gastroenterology); Mayo Clinic (Transplant Hepatology)
Ph.D.: Medical University of South Carolina
---
Featured Publications
Jophlin LL, Hartley CP, Katzka DA. Ectopic Esophageal Sebaceous Glands. Clin Gastroenterol Hepatol. 2020 Dec 3:S1542-3565(20)31624-4. doi: 10.1016/j.cgh.2020.11.034. Epub ahead of print. PMID: 33279776.
Ramkissoon R, Yung-Lun Chin J, Jophlin L. Acute Neurological Symptoms after a Liver Transplant. Gastroenterology. 2020 Nov 19:S0016-5085(20)35425-1. doi: 10.1053/j.gastro.2020.11.027. Epub ahead of print. PMID: 33221403.
Im GY, Mellinger JL, Winters A, Aby ES, Lominadze Z, Rice J, Lucey MR, Arab JP, Goel A, Jophlin LL, Sherman CB, Parker R, Chen PH, Devuni D, Sidhu S, Dunn W, Szabo G, Singal AK, Shah VH. Provider Attitudes and Practices for Alcohol Screening, Treatment and Education in Patients with Liver Disease: a Survey from the AASLD ALD SIG. Clin Gastroenterol Hepatol. 2020 Oct 15:S1542-3565(20)31439-7. doi: 10.1016/j.cgh.2020.10.026. Epub ahead of print. PMID: 33069880.
Manatsathit W, Patel K, Enke T, Sayles H, Jophlin LL, Merani S. Increased Morbidity and Mortality of Patients with Non-cirrhotic Portal Vein Thrombosis After Abdominal and Pelvic Surgeries: a Study of the National Inpatient Sample 2002 to 2015. J Gastrointest Surg. 2020 Oct 9. doi: 10.1007/s11605-020-04818-w. Epub ahead of print. PMID: 33037558.
Korbitz PM, Gallagher JP, Samant H, Singh S, Jophlin L, Ingviya T, Manatsathit W. Performance of echocardiography for detection of portopulmonary hypertension among liver transplant candidates: Meta-analysis. Clin Transplant. 2020 Nov;34(11):e13995. doi: 10.1111/ctr.13995. Epub 2020 Sep 27. PMID: 32485008.
Faulkner CS, White CM, Shah VH, Jophlin LL. A single nucleotide polymorphism of PLIN2 is associated with nonalcoholic steatohepatitis and causes phenotypic changes in hepatocyte lipid droplets: A pilot study. Biochim Biophys Acta Mol Cell Biol Lipids. 2020 May;1865(5):158637. doi: 10.1016/j.bbalip.2020.158637. Epub 2020 Jan 23. PMID: 31981756.
Jophlin LL, Cao S, Shah VH. The Transcriptome of Hepatic Fibrosis Revealed by Single-Cell RNA Sequencing. Hepatology. 2020 May;71(5):1865-1867. doi: 10.1002/hep.31155. PMID: 32017148; PMCID: PMC7192776.
Lamb B, Arbeiter B, Bhogal N, Anderson J, Jophlin L. Stress-Induced Takotsubo Cardiomyopathy After Transjugular Intrahepatic Portosystemic Shunt. ACG Case Rep J. 2020 May 5;7(5):e00377. doi: 10.14309/crj.0000000000000377. PMID: 32607377; PMCID: PMC7289277.
Garg SK, Sarvepalli S, Singh D, Obaitan I, Peeraphatdit T, Jophlin L, Asrani SK, Shah VH, Leise MD. Incidence and Risk Factors Associated With 30-Day Readmission for Alcoholic Hepatitis. J Clin Gastroenterol. 2019 Nov/Dec;53(10):759-764. doi: 10.1097/MCG.0000000000001202. PMID: 30950924.
Jophlin LL, Koutalos Y, Chen C, Shah V, Rockey DC. Hepatic stellate cells retain retinoid-laden lipid droplets after cellular transdifferentiation into activated myofibroblasts. Am J Physiol Gastrointest Liver Physiol. 2018 Nov 1;315(5):G713-G721. doi: 10.1152/ajpgi.00251.2017. Epub 2018 Jul 19. PMID: 30024770; PMCID: PMC6293250.