Sohail Ikram, M.D., FACC
Sohail Ikram, M.D., FACC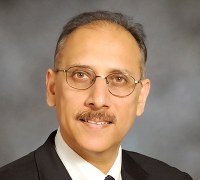 Professor of Medicine
Clinical Chief, University of Louisville Hospital
Director, Invasive and Interventional Cardiology Program
Director, Interventional Cardiology Fellowship Program
Director, Endovascular Interventions
UofL Physicians Outpatient Center
401 East Chestnut Street, Ste. 310
Louisville, KY 40202
502-852-7959 - Academic Office
502-588-4600 - Patient Appointments
---
Clinical Expertise
Invasive and Interventional Cardiology; Endovascular Interventions; Transthoracic, Transesophageal and Stress Echocardiography; Nuclear Cardiology; General Cardiology
Board Certifications
American Board of Internal Medicine -
Cardiovascular Disease / Interventional Cardiology
Education and Training
Medical School: Rawalpindi Medical College, Punjab University Pakistan
Residency: University of Louisville Hospital
Fellowship: Washington Hospital Center (Peripheral Vascular Intervention); University of Louisville (Interventional Cardiology / Cardiovascular Diseases)
Featured Publications
Khan AR, Bavishi C, Riaz H, Farid TA, Khan S, Atlas M, Hirsch G, Ikram S, Bolli R. Increased Risk of Adverse Neurocognitive Outcomes With Proprotein Convertase Subtilisin-Kexin Type 9 Inhibitors. Circ Cardiovasc Qual Outcomes. 2017 Jan;10(1). pii: e003153. doi: 10.1161/CIRCOUTCOMES.116.003153. PubMed PMID: 28073851.
Ikram S, Saleem N, Latif RK. Acute left ventricle failure on induction of anesthesia: a case report of reverse stress cardiomyopathy-presentation, diagnosis and treatment. J Anesth. 2016 Oct;30(5):911-4. doi: 10.1007/s00540-016-2222-1. Epub 2016 Jul 28. PubMed PMID: 27468734.
Ikram S, Veerappan Kandasamy V. Ticagrelor-induced Sweet Syndrome: an unusual dermatologic complication after percutaneous coronary intervention. Cardiovasc Interv Ther. 2016 May 4. [Epub ahead of print] PubMed PMID: 27146134.
Khalid N, Ikram S. Microvascular dysfunction in Takotsubo cardiomyopathy: Prognostic implications. Int J Cardiol. 2015 Dec 15;201:58-9. doi: 10.1016/j.ijcard.2015.08.018. Epub 2015 Aug 2. PubMed PMID: 26288330.
Khalid N, Ikram S. Coronary flow assessment in Takotsubo cardiomyopathy with TIMI frame count. Int J Cardiol. 2015 Oct 15;197:208. doi: 10.1016/j.ijcard.2015.06.078. Epub 2015 Jun 30. PubMed PMID: 26142964.
Khalid N, Iqbal I, Coram R, Raza T, Fahsah I, Ikram S. Thrombolysis In Myocardial Infarction Frame Count in Takotsubo Cardiomyopathy. Int J Cardiol. 2015 Jul 15;191:107-8. doi: 10.1016/j.ijcard.2015.04.192. Epub 2015 Apr 29. PubMed PMID: 25965614.
Ikram S, Pant S, Hussain Z, Brown L. Fluoroscopy-guided thrombolysis of mechanical mitral valve thrombosis in a young female with antiphospholipid antibody syndrome. BMJ Case Rep. 2015 May 7;2015. pii: bcr2015210146. doi: 10.1136/bcr-2015-210146. PubMed PMID: 25953214.
Rawasia WF, Pachika A, Ikram S. Diagnostic dilemma: Takotsubo cardiomyopathy versus acute coronary syndrome. J Invasive Cardiol. 2014 Jun;26(6):E82-4. PubMed PMID: 24907093.
Mohsen A, Usmani A, Ikram S. Angina caused by a giant coronary artery fistula. QJM. 2014 May;107(5):399. doi: 10.1093/qjmed/hct189. Epub 2013 Sep 17. PubMed PMID: 24049054.
Mohsen A, Rahman F, Ikram S. Anomalous muscle bundles causing double-chambered right ventricle in adults. J Invasive Cardiol. 2013 Dec;25(12):E212-3. PubMed PMID: 24296393.