Jason A. Chesney, M.D., Ph.D.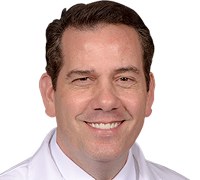 Professor of Medicine, Pharmacology and Toxicology, Biochemistry and Molecular Biology
Director, UofL Health - Brown Cancer Center
Medical Director, Clinical Trials Office, UofL Health - Brown Cancer Center
Associate Director, Translational Research Program, UofL Health - Brown Cancer Center
Brown Foundation Chair
UofL Health - Brown Cancer Center
529 South Jackson Street
Louisville, KY 40202
502-562-4585 - Academic Office
502-562-4370 - Patient Appointments
---
Clinical Expertise
Metastatic Melanoma; Refractory Solid Tumors; Clinical Trial Testing of Immunotherapeutics; Development of Anti-Metabolites as Targeted Chemotherapies
---
Education and Training
Medical School: University of Minnesota
Residency: Memorial Sloan-Kettering Cancer Center
Fellowship: Cornell University Medical College
Ph.D.: University of Minnesota
---
Get To Know Dr. Chesney
---
Featured Publications
Miller HA, Rai SN, Yin X, Zhang X, Chesney JA, van Berkel VH, Frieboes HB. Lung cancer metabolomic data from tumor core biopsies enables risk-score calculation for progression-free and overall survival. Metabolomics. 2022 May 14;18(5):31. doi: 10.1007/s11306-022-01891-x. PMID: 35567637.
Yaddanapudi K, Stamp BF, Subrahmanyam PB, Smolenkov A, Waigel SJ, Gosain R, Egger ME, Martin RCG, Buscaglia R, Maecker HT, McMasters KM, Chesney JA. Single-Cell Immune Mapping of Melanoma Sentinel Lymph Nodes Reveals an Actionable Immunotolerant Microenvironment. Clin Cancer Res. 2022 May 13;28(10):2069-2081. doi: 10.1158/1078-0432.CCR-21-0664. PMID: 35046061.
Sarnaik AA, Hamid O, Khushalani NI, Lewis KD, Medina T, Kluger HM, Thomas SS, Domingo-Musibay E, Pavlick AC, Whitman ED, Martin-Algarra S, Corrie P, Curti BD, Oláh J, Lutzky J, Weber JS, Larkin JMG, Shi W, Takamura T, Jagasia M, Qin H, Wu X, Chartier C, Graf Finckenstein F, Fardis M, Kirkwood JM, Chesney JA. Lifileucel, a Tumor-Infiltrating Lymphocyte Therapy, in Metastatic Melanoma. J Clin Oncol. 2021 Aug 20;39(24):2656-2666. doi: 10.1200/JCO.21.00612. Epub 2021 May 12. Erratum in: J Clin Oncol. 2021 Sep 10;39(26):2972. PMID: 33979178; PMCID: PMC8376325.
Lypova N, Dougherty SM, Lanceta L, Chesney J, Imbert-Fernandez Y. PFKFB3 Inhibition Impairs Erlotinib-Induced Autophagy in NSCLCs. Cells. 2021 Jul 3;10(7):1679. doi: 10.3390/cells10071679. PMID: 34359849; PMCID: PMC8307619.
Linder MW, Egger ME, Van Meter T, Rai SN, Valdes R Jr, Hall MB, Wu X, Alghamdi N, Chesney JA. Longitudinal Relationship between Idylla Plasma ctBRAF V600 Mutation Detection and Tumor Burden in Patients with Metastatic Melanoma. Mol Diagn Ther. 2021 May;25(3):361-371. doi: 10.1007/s40291-021-00528-4. Epub 2021 May 10. PMID: 33970440; PMCID: PMC8827645.
Lanceta L, Lypova N, O'Neill C, Li X, Rouchka E, Chesney J, Imbert-Fernandez Y. Differential gene expression analysis of palbociclib-resistant TNBC via RNA-seq. Breast Cancer Res Treat. 2021 Apr;186(3):677-686. doi: 10.1007/s10549-021-06127-5. Epub 2021 Feb 18. PMID: 33599863; PMCID: PMC8019424.
Harrington KJ, Kong A, Mach N, Chesney JA, Fernandez BC, Rischin D, Cohen EEW, Radcliffe HS, Gumuscu B, Cheng J, Snyder W, Siu LL. Talimogene Laherparepvec and Pembrolizumab in Recurrent or Metastatic Squamous Cell Carcinoma of the Head and Neck (MASTERKEY-232): A Multicenter, Phase 1b Study. Clin Cancer Res. 2020 Oct 1;26(19):5153-5161. doi: 10.1158/1078-0432.CCR-20-1170. Epub 2020 Jul 15. PMID: 32669371.
Ozcan SC, Sarioglu A, Altunok TH, Akkoc A, Guzel S, Guler S, Imbert-Fernandez Y, Muchut RJ, Iglesias AA, Gurpinar Y, Clem AL, Chesney JA, Yalcin A. PFKFB2 regulates glycolysis and proliferation in pancreatic cancer cells. Mol Cell Biochem. 2020 Jul;470(1-2):115-129. doi: 10.1007/s11010-020-03751-5. Epub 2020 May 15. PMID: 32415418.
Lanceta L, O'Neill C, Lypova N, Li X, Rouchka E, Waigel S, Gomez-Gutierrez JG, Chesney J, Imbert-Fernandez Y. Transcriptomic Profiling Identifies Differentially Expressed Genes in Palbociclib-Resistant ER+ MCF7 Breast Cancer Cells. Genes (Basel). 2020 Apr 24;11(4):467. doi: 10.3390/genes11040467. PMID: 32344635; PMCID: PMC7230561.
Andtbacka RHI, Amatruda T, Nemunaitis J, Zager JS, Walker J, Chesney JA, Liu K, Hsu CP, Pickett CA, Mehnert JM. Biodistribution, shedding, and transmissibility of the oncolytic virus talimogene laherparepvec in patients with melanoma. EBioMedicine. 2019 Sep;47:89-97. doi: 10.1016/j.ebiom.2019.07.066. Epub 2019 Aug 10. PMID: 31409575; PMCID: PMC6796514.