Jason A. Chesney, M.D., Ph.D.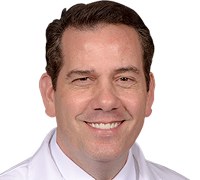 Professor of Medicine, Pharmacology and Toxicology, Biochemistry and Molecular Biology
Director, UofL Health - Brown Cancer Center
Associate Vice President for Health Affairs
Medical Director, Clinical Trials Office, UofL Health - Brown Cancer Center
Associate Director, Translational Research Program, UofL Health - Brown Cancer Center
Brown Foundation Chair
UofL Health - Brown Cancer Center
529 South Jackson Street
Louisville, KY 40202
502-562-4585 - Academic Office
502-562-4370 - Patient Appointments
---
Clinical Expertise
Metastatic Melanoma; Refractory Solid Tumors; Clinical Trial Testing of Immunotherapeutics; Development of Anti-Metabolites as Targeted Chemotherapies
---
Education and Training
Medical School: University of Minnesota
Residency: Memorial Sloan-Kettering Cancer Center
Fellowship: Cornell University Medical College
Ph.D.: University of Minnesota
---
Get To Know Dr. Chesney
---
Featured Publications
Chesney JA, Puzanov I, Collichio FA, Singh P, Milhem MM, Glaspy J, Hamid O, Ross M, Friedlander P, Garbe C, Logan T, Hauschild A, Lebbé C, Joshi H, Snyder W, Mehnert JM. Talimogene laherparepvec in combination with ipilimumab versus ipilimumab alone for advanced melanoma: 5-year final analysis of a multicenter, randomized, open-label, phase II trial. J Immunother Cancer. 2023 May;11(5):e006270. doi: 10.1136/jitc-2022-006270. PMID: 37142291; PMCID: PMC10163510.
Maharaj S, Jain N, Al Bawaliz A, Miller D, Chesney J. Melanoma of unknown primary: favorable survival persists in the immunotherapy era. Int J Dermatol. 2023 Apr;62(4):e236-e238. doi: 10.1111/ijd.16419. Epub 2022 Aug 28. PMID: 36030543.
Chesney JA, Ribas A, Long GV, Kirkwood JM, Dummer R, Puzanov I, Hoeller C, Gajewski TF, Gutzmer R, Rutkowski P, Demidov L, Arenberger P, Shin SJ, Ferrucci PF, Haydon A, Hyngstrom J, van Thienen JV, Haferkamp S, Guilera JM, Rapoport BL, VanderWalde A, Diede SJ, Anderson JR, Treichel S, Chan EL, Bhatta S, Gansert J, Hodi FS, Gogas H. Randomized, Double-Blind, Placebo-Controlled, Global Phase III Trial of Talimogene Laherparepvec Combined With Pembrolizumab for Advanced Melanoma. J Clin Oncol. 2023 Jan 20;41(3):528-540. doi: 10.1200/JCO.22.00343. Epub 2022 Aug 23. PMID: 35998300; PMCID: PMC9870217.
Chesney JA. Tumor-infiltrating lymphocyte therapy in metastatic melanoma. Clin Adv Hematol Oncol. 2023 Jan;21(1):49-51. PMID: 36638357.
Chesney J, Lewis KD, Kluger H, Hamid O, Whitman E, Thomas S, Wermke M, Cusnir M, Domingo-Musibay E, Phan GQ, Kirkwood JM, Hassel JC, Orloff M, Larkin J, Weber J, Furness AJS, Khushalani NI, Medina T, Egger ME, Graf Finckenstein F, Jagasia M, Hari P, Sulur G, Shi W, Wu X, Sarnaik A. Efficacy and safety of lifileucel, a one-time autologous tumor-infiltrating lymphocyte (TIL) cell therapy, in patients with advanced melanoma after progression on immune checkpoint inhibitors and targeted therapies: pooled analysis of consecutive cohorts of the C-144-01 study. J Immunother Cancer. 2022 Dec;10(12):e005755. doi: 10.1136/jitc-2022-005755. PMID: 36600653; PMCID: PMC9748991.
Maharaj S, Chang S, Kloecker G, Chesney J, Redman R, Rojan A. Venous and arterial thromboembolism with immunotherapy compared to platinum-based therapy. Thromb Res. 2022 Sep;217:48-51. doi: 10.1016/j.thromres.2022.07.006. Epub 2022 Jul 14. PMID: 35853370.
Miller HA, Rai SN, Yin X, Zhang X, Chesney JA, van Berkel VH, Frieboes HB. Lung cancer metabolomic data from tumor core biopsies enables risk-score calculation for progression-free and overall survival. Metabolomics. 2022 May 14;18(5):31. doi: 10.1007/s11306-022-01891-x. PMID: 35567637; PMCID: PMC9724684.
Yaddanapudi K, Stamp BF, Subrahmanyam PB, Smolenkov A, Waigel SJ, Gosain R, Egger ME, Martin RCG, Buscaglia R, Maecker HT, McMasters KM, Chesney JA. Single-Cell Immune Mapping of Melanoma Sentinel Lymph Nodes Reveals an Actionable Immunotolerant Microenvironment. Clin Cancer Res. 2022 May 13;28(10):2069-2081. doi: 10.1158/1078-0432.CCR-21-0664. PMID: 35046061; PMCID: PMC9840851.
Sarnaik AA, Hamid O, Khushalani NI, Lewis KD, Medina T, Kluger HM, Thomas SS, Domingo-Musibay E, Pavlick AC, Whitman ED, Martin-Algarra S, Corrie P, Curti BD, Oláh J, Lutzky J, Weber JS, Larkin JMG, Shi W, Takamura T, Jagasia M, Qin H, Wu X, Chartier C, Graf Finckenstein F, Fardis M, Kirkwood JM, Chesney JA. Lifileucel, a Tumor-Infiltrating Lymphocyte Therapy, in Metastatic Melanoma. J Clin Oncol. 2021 Aug 20;39(24):2656-2666. doi: 10.1200/JCO.21.00612. Epub 2021 May 12. Erratum in: J Clin Oncol. 2021 Sep 10;39(26):2972. PMID: 33979178; PMCID: PMC8376325.
Lypova N, Dougherty SM, Lanceta L, Chesney J, Imbert-Fernandez Y. PFKFB3 Inhibition Impairs Erlotinib-Induced Autophagy in NSCLCs. Cells. 2021 Jul 3;10(7):1679. doi: 10.3390/cells10071679. PMID: 34359849; PMCID: PMC8307619.