Jason A. Chesney, M.D., Ph.D.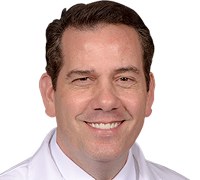 Professor of Medicine, Pharmacology and Toxicology, Biochemistry and Molecular Biology
Medical Director, Clinical Trials Office, UofL Health - James Graham Brown Cancer Center
Associate Director, Translational Research Program, UofL Health - James Graham Brown Cancer Center
James Graham Brown Foundation Chair
UofL Health - James Graham Brown Cancer Center
529 South Jackson Street
Louisville, KY 40202
502-562-4585 - Academic Office
502-562-4370 - Patient Appointments
---
Clinical Expertise
Metastatic Melanoma; Refractory Solid Tumors; Clinical Trial Testing of Immunotherapeutics; Development of Anti-Metabolites as Targeted Chemotherapies
---
Education and Training
Medical School: University of Minnesota
Residency: Memorial Sloan-Kettering Cancer Center
Fellowship: Cornell University Medical College
Ph.D.: University of Minnesota
---
Featured Publications
Andtbacka RHI, Amatruda T, Nemunaitis J, Zager JS, Walker J, Chesney JA, Liu K, Hsu CP, Pickett CA, Mehnert JM. Biodistribution, shedding, and transmissibility of the oncolytic virus talimogene laherparepvec in patients with melanoma. EBioMedicine. 2019 Sep;47:89-97. doi: 10.1016/j.ebiom.2019.07.066. Epub 2019 Aug 10. PubMed PMID: 31409575; PubMed Central PMCID: PMC6796514.
Chesney J, Puzanov I, Collichio F, Milhem MM, Hauschild A, Chen L, Sharma A, Garbe C, Singh P, Mehnert JM. Patterns of response with talimogene laherparepvec in combination with ipilimumab or ipilimumab alone in metastatic unresectable melanoma. Br J Cancer. 2019 Aug;121(5):417-420. doi: 10.1038/s41416-019-0530-6. Epub 2019 Jul 29. PubMed PMID: 31353364; PubMed Central PMCID: PMC6738060.
Lypova N, Telang S, Chesney J, Imbert-Fernandez Y. Increased 6-phosphofructo-2-kinase/fructose-2,6-bisphosphatase-3 activity in response to EGFR signaling contributes to non-small cell lung cancer cell survival. J Biol Chem. 2019 Jul 5;294(27):10530-10543. doi: 10.1074/jbc.RA119.007784. Epub 2019 May 24. PubMed PMID: 31126985; PubMed Central PMCID: PMC6615683.
Chesney J, Puzanov I, Ross M. The Importance of Outcome and Precise Evaluation in Economic Analysis of Cancer Drugs. JAMA Dermatol. 2019 Jul 1;155(7):862-863. doi: 10.1001/jamadermatol.2019.0594. PubMed PMID: 31066868.
Lypova N, Lanceta L, Gibson A, Vega S, Garza-Morales R, McMasters KM, Chesney J, Gomez-Gutierrez JG, Imbert-Fernandez Y. Targeting Palbociclib-Resistant Estrogen Receptor-Positive Breast Cancer Cells via Oncolytic Virotherapy. Cancers (Basel). 2019 May 16;11(5). pii: E684. doi: 10.3390/cancers11050684. PubMed PMID: 31100952; PubMed Central PMCID: PMC6563125.
Ready N, Hellmann MD, Awad MM, Otterson GA, Gutierrez M, Gainor JF, Borghaei H, Jolivet J, Horn L, Mates M, Brahmer J, Rabinowitz I, Reddy PS, Chesney J, Orcutt J, Spigel DR, Reck M, O'Byrne KJ, Paz-Ares L, Hu W, Zerba K, Li X, Lestini B, Geese WJ, Szustakowski JD, Green G, Chang H, Ramalingam SS. First-Line Nivolumab Plus Ipilimumab in Advanced Non-Small-Cell Lung Cancer (CheckMate 568): Outcomes by Programmed Death Ligand 1 and Tumor Mutational Burden as Biomarkers. J Clin Oncol. 2019 Apr 20;37(12):992-1000. doi: 10.1200/JCO.18.01042. Epub 2019 Feb 20. PubMed PMID: 30785829; PubMed Central PMCID: PMC6494267.
Gill A, Gosain R, Gragg H, Bycroft R, Rai SN, Pan J, Chesney JA, Miller DM. 5-(3,3-Dimethyle-1-Triazeno) Imidazole-4-Carboxamide and Interleukin-2 Adjuvant Therapy in Resected High-Risk Primary and Regionally Metastatic Melanoma. Am J Med Sci. 2019 Jan;357(1):43-48. doi: 10.1016/j.amjms.2018.10.009. Epub 2018 Oct 25. PubMed PMID: 30611319.
Mondal S, Roy D, Sarkar Bhattacharya S, Jin L, Jung D, Zhang S, Kalogera E, Staub J, Wang Y, Xuyang W, Khurana A, Chien J, Telang S, Chesney J, Tapolsky G, Petras D, Shridhar V. Therapeutic targeting of PFKFB3 with a novel glycolytic inhibitor PFK158 promotes lipophagy and chemosensitivity in gynecologic cancers. Int J Cancer. 2019 Jan 1;144(1):178-189. doi: 10.1002/ijc.31868. Epub 2018 Oct 30. Erratum in: Int J Cancer. 2019 Jul 15;145(2):E13. PubMed PMID: 30226266; PubMed Central PMCID: PMC6261695.
Velazquez-Campoy A, Vega S, Sanchez-Gracia O, Lanas A, Rodrigo A, Kaliappan A, Hall MB, Nguyen TQ, Brock GN, Chesney JA, Garbett NC, Abian O. Thermal liquid biopsy for monitoring melanoma patients under surveillance during treatment: A pilot study. Biochim Biophys Acta Gen Subj. 2018 Aug;1862(8):1701-1710. doi: 10.1016/j.bbagen.2018.04.020. Epub 2018 Apr 26. PubMed PMID: 29705200; PubMed Central PMCID: PMC6483604.
Rodig SJ, Gusenleitner D, Jackson DG, Gjini E, Giobbie-Hurder A, Jin C, Chang H, Lovitch SB, Horak C, Weber JS, Weirather JL, Wolchok JD, Postow MA, Pavlick AC, Chesney J, Hodi FS. MHC proteins confer differential sensitivity to CTLA-4 and PD-1 blockade in untreated metastatic melanoma. Sci Transl Med. 2018 Jul 18;10(450). pii: eaar3342. doi: 10.1126/scitranslmed.aar3342. PubMed PMID: 30021886.