Ashutosh J. Barve, M.D., Ph.D.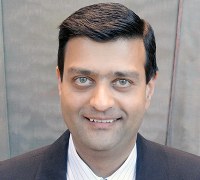 UofL Physicians Outpatient Center
401 East Chestnut Street, Ste. 310
Louisville, KY 40202
502-852-6991 - Academic Office
502-588-4600 - Patient Appointments
---
Clinical Expertise
Hepatocellular Carcinoma; Hepatitis C; Mechanisms of Toxin-induced Hepatotoxicity
---
Board Certifications
American Board of Internal Medicine -
Gastroenterology
Education and Training
Medical School: GS Medical College and KEM Hospital
Residency: University of Kentucky Albert B. Chandler Hospital
Fellowship: University of Louisville
---
Get To Know Dr. Barve
---
Featured Publications
Winrich EJ, Gala KS, Rajhans A, Rios-Perez CD, Royer AJ, Zamani Z, Parthasarathy R, Marsano-Obando LS, Barve AJ, Schwandt ML, Vatsalya V. Association of Hypomagnesemia and Liver Injury, Role of Gut-Barrier Dysfunction and Inflammation: Efficacy of Abstinence, and 2-Week Medical Management in Alcohol Use Disorder Patients. Int J Mol Sci. 2022 Sep 26;23(19):11332. doi: 10.3390/ijms231911332. PMID: 36232646; PMCID: PMC9569745.
Sagaram M, Parthasarathy R, Condon SL, Closson CF, Kong M, Schwandt ML, Jophlin LL, Feng W, Barve AJ, Vatsalya V. Theragnostic Efficacy of K18 Response in Alcohol Use Disorder with Clinically Significant Fibrosis Using Gut-Liver Axis. Int J Mol Sci. 2022 May 23;23(10):5852. doi: 10.3390/ijms23105852. PMID: 35628661; PMCID: PMC9143806.
Jarboe L, Dadlani A, Bandikatla S, Wade R, Barve A. Drug Use Evaluation of Direct Oral Anticoagulants (DOACs) in Patients With Advanced Cirrhosis. Cureus. 2022 Apr 11;14(4):e24029. doi: 10.7759/cureus.24029. PMID: 35547458; PMCID: PMC9090206.
Katiyar V, Dadlani A, Vohra I, Cisak K, Barve A. An Unusual Case of Hemolytic Anemia Reversed with Liver Transplantation. Int J Hematol Oncol Stem Cell Res. 2022 Apr 1;16(2):128-130. doi: 10.18502/ijhoscr.v16i2.9206. PMID: 36304733; PMCID: PMC9547772.
Crittenden NE, Buchanan LA, Pinkston CM, Cave B, Barve A, Marsano L, McClain CJ, Jones CM, Marvin MR, Davis EG, Kuns-Adkins CB, Gedaly R, Brock G, Shah MB, Rosenau J, Cave MC. Simeprevir and sofosbuvir with or without ribavirin to treat recurrent genotype 1 hepatitis C virus infection after orthotopic liver transplantation. Liver Transpl. 2016 May;22(5):635-43. doi: 10.1002/lt.24422. PMID: 26915588.
Mohammad MK, Zhou Z, Cave M, Barve A, McClain CJ. Zinc and liver disease. Nutr Clin Pract. 2012 Feb;27(1):8-20. doi: 10.1177/0884533611433534. Erratum in: Nutr Clin Pract. 2012 Apr;27(2):305. Mohommad, Mohammad K [corrected to Mohammad, Mohammad K]. PMID: 22307488; PMCID: PMC6027651.
McClain CJ, Barve SS, Barve A, Marsano L. Alcoholic liver disease and malnutrition. Alcohol Clin Exp Res. 2011 May;35(5):815-20. doi: 10.1111/j.1530-0277.2010.01405.x. Epub 2011 Feb 1. PMID: 21284673; PMCID: PMC3771636.
Pugh AJ, Barve AJ, Falkner K, Patel M, McClain CJ. Drug-induced hepatotoxicity or drug-induced liver injury. Clin Liver Dis. 2009 May;13(2):277-94. doi: 10.1016/j.cld.2009.02.008. PMID: 19442919.
Barve A, Khan R, Marsano L, Ravindra KV, McClain C. Treatment of alcoholic liver disease. Ann Hepatol. 2008 Jan-Mar;7(1):5-15. PMID: 18376362.