Santa Barbara Dermatology Meeting 2022 - December 9-11, 2022
Each year, nationally recognized leaders in medical, procedural, and aesthetic medicine convene in Santa Barbara to discuss and review the current state of knowledge in their respective dermatologic specialties. This program in medical dermatology features key clinical topics, including atopic dermatitis, acne vulgaris, cutaneous cancers, rosacea, psoriasis, and other important issues. Aesthetic medicine continues to be a growing specialty in the milieu of the aging American population and medical consumers' ever-increasing desire to achieve the best possible quality of life at any age.
When

Dec 09, 2022 08:30 AM

to


Dec 11, 2022 12:45 PM

Where

Ojai Valley Inn, 905 Country Club Road, Ojai, CA 93023

Contact Name
Gregory Cameron
Contact Phone

615-579-8798

Add event to calendar

vCal




iCal

Target Audience
Dermatologists, Nurse Practitioners, Physician Assistants, and Registered Nurses.

Agenda
Click on the Session Title or Presenters Name to View the Course Presentation, then Click the Back Arrow to Return to This Page. The presentations are password protected. The password will be provided at the event in the program welcome letter. Faculty/Agenda subject to change.
Friday, December 9, 2022        
8:30-9:00 am
Lecture: Identifying and Managing High Risk SCC and BCC
Chrys Schmults, MD

9:00-9:30 am

Lecture: Hidradenitis Suppurativa - Updates Everyone Should Know
Milan Anadkat, MD

9:30-10:00 am    
Lecture: What's New in Psoriasis
Mark Lebwohl, MD
            
10:00-10:20 am    
Panel: Q&A
Chrys Schmults, MD; Milan Anadkat, MD; Mark Lebwohl, MD
            
10:20-11:20 am    
Lecture: Reconstruction Panel    
Roberta Sengelmann, MD; Andrew Kaufman, MD; Ellen Marmur, MD; Chrys Schmults, MD

12:00-1:25 pm    
Lunch    
    
12:45-1:15 pm
Lecture: "I Wish I Had Known" (a look back/lessons learned)
Moise Levy, MD

1:15-1:45 pm
Lecture: The Renaissance of Fat and Regenerative Dermatology
Ellen Marmur, MD
            
1:45-4:30 pm    
Lecture: Live Patient Demonstration
Roberta Sengelmann, MD; Shawn Allen, MD; Margaret Mann, MD; Stacey Tull, MD; Gary Novatt, MD
        
Saturday, December 10, 2022        
8:30-9:00 am    
Lecture: Dermatology Drug Pipeline
Mark Lebwohl, MD

9:00-9:30 am
Lecture: What's New and Emerging in Pediatric Dermatology
Moise Levy, MD

9:30-10:00 am
Lecture: What's New in Atopic Dermatitis
Eric Simpson, MD
            
10:00-10:20 am    
Panel: Q&A    
Mark Lebwohl, MD;  Moise Levy, MD; Eric Simpson, MD
            
10:20-11:20 am
Lecture: Therapeutics Master Panel
J Mark Jackson, MD; Mike Heffernan, MD;  Moise Levy, MD;  Mark Lebwohl, MD

12:20-1:45 pm    
Lunch
        
12:45-1:15 pm
Lecture: Skin Cancer Prophylaxis and Field Cancerization Management
Chrys Schmults, MD

1:15-1:45 pm
Lecture: Photodynamic Therapy to Photobiomodulation: Clinical Results with Home LED Skincare
Ellen Marmur, MD

1:45-3:15 pm
Lecture: Dermatopathology Great Cases
Ryanne Brown, MD
        
Sunday, December 11, 2022        
9:15-9:45 am    
Lecture: Atopic Dermatitis Pipeline
Eric Simpson, MD

9:45-10:15 am
Lecture: The Evolving World of Skin Toxicity from Cancer Therapy
Milan Anadkat, MD

10:15-10:45 am
Lecture: Everything Else New in Derm
J Mark Jackson, MD
            
10:45-11:05 am    
Panel: Q&A
Eric Simpson, MD; Milan Anadkat, MD; J Mark Jackson, MD
            
11:05-12:05 pm
Lecture: Grand Rounds
Heffernan, J Mark Jackson, MD; Milan Anadkat, MD; Eric Simpson, MD

12:00 pm    
Lunch
         
1:25 pm
Adjourn   


Course Director


Michael Heffernan, MD
US Dermatology Director for Probity Medical Research
San Luis Dermatology & Heffernan Consulting
San Luis Obispo, CA


Course Co-Directors


Roberta D. Sengelmann, MD

Aesthetics/Dermatologic Surgery Director
Associate Clinical Professor at UC Irvine
Department of Dermatology
Director, Santa Barbara Skin Institute
Santa Barbara, CA




J Mark Jackson, MD
Medical Dermatology Director
Clinical Professor of Medicine and Dermatology
Division of Dermatology
University of Louisville
Forefront Dermatology, Louisville, KY

Participating Faculty Members
Shawn Allen, MD    
Assistant Clinical Professor Dermatology
University of Colorado
Dermatology Specialists of Boulder
Boulder, CO

Milan Anadkat, MD    
Associate Professor, Medicine, Division of Dermatology
Washington University School of Medicine
St. Louis, MO

Ryanne Brown, MD
Dermatopathologist
Western Diagnostic Services Laboratory
Santa Maria, CA  93454

Andrew Kaufman, MD
The Center for Dermatology Care
Clinical Associate Professor
Department of Dermatology
Keck School of Medicine of USC
Los Angeles, CA

Mark Lebwohl, MD
Dean for Clinical Therapeutics
Professor Dermatology
Icahn School of Medicine at Mount Sinai
New York, NY

Moise Levy, MD    
Professor of Pediatrics and Medicine
Departments of Pediatrics and Medicine
Dell Medical School, Univ of Texas at Austin
Austin, TX

Margaret Mann, MD
Founder, Inova Dermatology
Hendersonville, TN
Associate Professor Dermatology, Case Western Reserve School of Medicine
Cleveland, OH

Ellen Marmur, MD
Marmur Medical, New York, NY
Associate Clinical Professor
Department of Dermatology and Department of Genetics & Genomic Research
The Icahn School of Medicine at Mount Sinai
New York, NY

Gary Novatt, MD    
Santa Barbara Skin Care
Santa Barbara, CA

Bruce Ragsdale, MD
Dermatopathologist
Western Pathology, Inc
San Luis Obispo, CA

Chrys Schmults, MD
Associate Professor
Dermatology, Harvard Medical School
Director
Mohs and Dermatologic Center, Brigham and Women's Hospital; Faulkner Hospital
Jamaica Plain, MA

Eric Simpson, MD
Professor of Dermatology and Director of Clinical Research
Oregon Health & Science University
Portland, OR

Stacy Tull, MD    
St. County Dermatologic Surgery
St. Peters, MO

Learning Objectives
As a result of participating in this activity, the participants will be able to:
1. Discuss new approaches to therapy including pathway targeted therapy in the treatment of melanoma.
2. Assess the role of diagnostic tools and technology in diagnosis and detection of skin cancers.
3. Compare and contrast the efficacy and safety of agents, devices, and techniques currently available in aesthetic and procedural dermatology.
4. Integrate into daily practice evidence-based recommendations on new and emerging therapies for common dermatologic diseases.
5. Analyze treatment approaches for the pediatric patient with common as well as complex skin diseases.
6. Implement updated strategies for managing acne, rosacea, atopic dermatitis, contact dermatitis and psoriasis.
7. Recognize the factors that are important in selecting appropriate filler agents for treating different areas of the face and targeted planar depths.
8. Determine the appropriate nonsurgical techniques for facial rejuvenation based on an enhanced understanding of facial anatomy.
9. Explain the roles of currently available biologic agents in the treatment of psoriasis and psoriatic arthritis, and appropriately incorporate newer biologics into therapeutic practice as these become available.
10. Incorporate the recent research advances in understanding and treating pediatric dermatology issues such as atopic dermatitis and pediatric acne.

Continuing Education Credit
Joint Provider Accreditation Statement

This activity has been planned and implemented in accordance with the accreditation requirements and policies of the Accreditation Council for Continuing Medical Education (ACCME) through the joint providership of the University of Louisville School of Medicine and the Foundation for Dermatology Education. The University of Louisville is accredited by the ACCME to provide continuing medical education for physicians.

Physician Credit

The University of Louisville Continuing Medical Education office designates this live activity for a maximum of 14.75 AMA PRA Category 1 Credits™. Physicians should claim only the credit commensurate with the extent of their participation in the activity.


Please note: California PAs, California RNs and California NPs can all earn AMA PRA Category 1 Credit(s)™.

Special Services
All individuals are encouraged to participate. To request disability arrangements, please contact Gregory Cameron at least 14 days prior to the date of this program. Continuing Medical Education and Professional Development fully complies with the legal requirements of the ADA and the rules and regulations thereof.

Brochure
CLICK HERE for a copy of the course brochure (Available Soon)

Registration
Registration Options and Fees:
1. Residents/Fellows  $150
2. All Others - $595
3. Industry Representative  $2,000

Registration for this event is now closed.

Refund Policy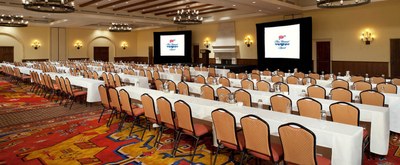 Requests for cancellation must be submitted to cmepd@louisville.edu on or before Friday, November 25, 2022. Requests received on or before Friday, November 25, 2022 will receive a full refund less a $50 processing fee. No refund will be given for requests received after Friday, November 25, 2022.

Lodging/Reservations
The meeting room block is completely booked. Please contact the Ojai Valley Inn directly (888.697.9116) to inquire about available rooms or, alternatively search for lodging in Ojai local area hotels.

General Venue Information (Not For Reservations)
CLICK HERE to go to the Ojai Valley Inn Website

Acknowledgments
We thank our supporting and exhibiting companies for their participation in the conference! A final listing of supporters and exhibitors will be available at the meeting.

Accreditation Disclosure
As a provider accredited by the ACCME, the Office of CME&PD, School of Medicine, University of Louisville, must ensure balance, independence, objectivity, and scientific rigor in all its accredited educational activities. All Planners, faculty, reviewers, and other persons that affected the content of this CME activity were required to submit a financial disclosure form from which relevant conflicts of interest were determined. If any relevant financial relationship(s) with ineligible companies were disclosed, the materials each of them prepared for this program (or influenced) were peer-reviewed and determined to be without ineligible company bias, were considered fair and balanced in terms of therapeutic options, and presented evidence-based content. All relevant financial relationships with ineligible organizations have been mitigated prior to this activity.