Daniel H. Utley Memorial Lecture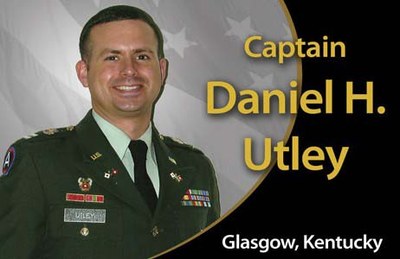 The McConnell Center established the Daniel H. Utley Memorial Lecture in 2013 to commemorate the life and legacy of a 2001 McConnell Scholar and University of Louisville graduate. U.S. Army Captain Daniel H. Utley was killed April 20, 2012, while on a training mission in Mali to help the people of that country combat terrorism.
"Dan was an outstanding young man who grew up to be a talented and dedicated patriot. He served our country with honor and his friends with compassion and love," said Gary L. Gregg II, PhD, director of the McConnell Center.
Utley was born in 1979 and raised and educated in Glasgow, Ky. He graduated from the University of Louisville with a bachelor's degree in political science. An active member of the student body, Utley served on the arts and sciences student council and was elected vice-chair of the McConnell Scholars Program. He was a member of several honor societies and the Young Democrats club. During his college career, Utley interned in the Kentucky General Assembly and the American Civil Liberties Union. He also studied abroad in Italy and the People's Republic of China.
"I had the honor of watching Dan grow from a teenager to a brave and virtuous man who willingly sacrificed everything to defend his friends and his family and his country," said U.S. Senator Mitch McConnell (R-KY).
During his army service, Utley served in many posts, including tours in South Korea (24 months), Kuwait (12 months), Afghanistan (13 months), and Mali (7 months).
"Dan Utley is no longer with us, but he had already grown into a great leader, an American hero, and will forever serve as an example to others who seek positions of leadership. If every person who desires a chance to lead had the heart and values of Dan Utley, I imagine we would be living in a much better world," wrote U.S. Congressman Brett Guthrie (R-KY) in The Congressional Record.
Utley won numerous awards and commendations during his military career, including the Bronze Star Medal, the Defense Meritorious Medal, the Army Commendation Medal, the Joint Service Achievement Medal, the Army Achievement Medal, the Joint Meritorious Unit Award, the National Defense Service Medal, the Afghanistan Campaign Medal with Combat Star, the Global War on Terrorism Expeditionary Medal, the Global War on Terrorism Service Medal, the Korean Defense Service Medal, the Army Service Ribbon, the Overseas Service Ribbon and the NATO Medal. He also received the Basic Parachutist Badge and his Thailand Jump Wings.
Daniel H. Utley Memorial Lectures
The following events (presented in reverse chronological order) were designated Daniel H. Utley Memorial lectures.
Video on the Utley Memorial lecture series »
Lt. Gen. Bryan Fenton, Senior Military Assistant to the U.S. Sec. of Defense, on "A Conversation on Leadership" (Feb. 10, 2021)
James C. Klotter, PhD, retired state historian of Kentucky, on "Henry Clay's Lessons for America Today" (Jan. 28, 2019)
Paul Kengor, PhD, New York Times bestselling author and Grove City College political science professor, on "A Pope and a President: John Paul II, Ronald Reagan, and the Extraordinary Untold Story of the 20th Century" (Sept. 11, 2017)
Barbara Perry, PhD, the White Burkett Miller Center Professor of Ethics and Institutions at the University of Virginia's Miller Center, on "Does It Matter Who's President: Success & Failure in the White House" (Feb. 20, 2017)
Lynne Olson, New York Times bestselling author, on "Those Angry Days: Roosevelt, Lindbergh, and America's Debate Over World War II" (April 8, 2015)
Jay Winik, PhD, New York Times bestselling author, on "1944: FDR and the Year that Changed History" (April 4, 2014)
Lt. Gen. Josiah Bunting (ret.), former superintendent of the Virginia Military Institute and Rhodes Scholar, on "George C. Marshall: American Leader for All Seasons" (Oct. 28, 2013)