Woodford R. Porter Scholarship Program
Named after a former university trustee, the late Woodford R. Porter Sr., the scholarship program was created in 1984. The mission and purpose are to provide academic, personal, and professional support to all recipients of this scholarship. Areas of support are based on the four pillars of promise which include scholarship, leadership, service, and heritage.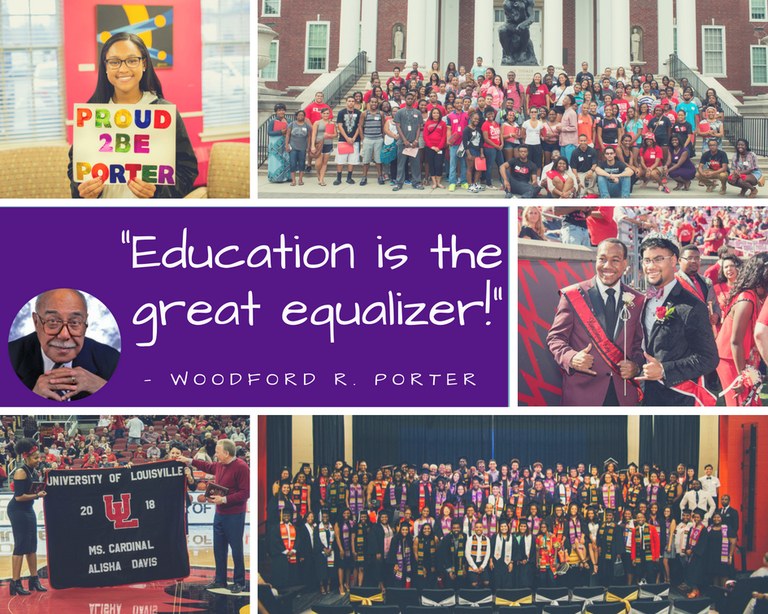 Contact
Leondra Gully
502.852.0231
Through its foundational four pillars, the program provides academic and personal/professional developmental support to Porter Scholarship recipients. As the largest scholarship organization, it promotes interaction, enhances leadership opportunities, and encourages professional and/or graduate education for outstanding student residents of Kentucky. Each academic year is devoted to the continued development of programs and services offered to our 500+ Porter Scholar membership organization. More importantly, the program is charged to not only support students as they matriculate but to also educate them in unique and creative ways that supplement their overall undergraduate experience at the University of Louisville.
It is from this vision and perspective that our administrative team, advisory committees, campus supporters, and community partners welcome our new fundamental and powerful concept toward this effort entitled "BUILT 2 GRADUATE" aka B2G. The new student success model has been designed to provide each scholar with an opportunity to participate and become connected to programs and services that assist them at their appropriate level of classification (FR, SO, JR, SR) and comprised of themes and special focus areas. As part of the B2G model students participate in the Porter Retention Program which includes a pre-determined number of check-in meetings with their scholarship advisor throughout each semester. 
Programming and services provided to Porter Scholars include but are not limited to:
1-on-1 coaching related to students' academic, personal, and professional development
Community service opportunities through Porter supPORTERS


Points of Pride
Porter Scholars have been named as Prestigious Scholars for various academic years earning awards including the Truman Scholarship,  Fulbrights, Critical Language, and the Etscorn International Summer Research award

Since the 2015-16 academic year Porter Scholars have utilized REACH support services more than 4000 hours on more than 3500 occasions each academic year; more than 52% of Porter Scholars have also actively participated in the retention program. 

Porter represents the largest high-achieving scholarship program and recognized student organizations on campus
There are more than 15,000 Porter alumni around the world
The Society Porter Scholars's mission is to work for its members to encourage the maintenance of high academic standards, enhance leadership development, work diligently to provide services for the community, and cultivate an understanding of the heritage of its scholarship recipients while having a focus on the retention and graduation of its membership.
To support its members and the larger campus community, the Society of Porter Scholars hosts more than 15 events per year that focus on four pillars of the scholarship. Past events include:
Mission Possible: The Fight Against Homelessness in a Compassion City [Service]
#TBThursday 90's Party: Dare to Care Collection Drive [Service]
Porter Midterm Breakfast: Strategies for Successful Midterms [Scholarship]
Preparing for Finals [Scholarship]
Porter Talk: A Forum on Social Justice [Heritage]
MLK Day of Service Event [Service]
Preparing Your Elevator Speech [Leadership]
Life After Undergrad [Leadership]
Card Adulting: A Workshop on Budgeting [Leadership]
Pre-Derby Gala with Collegiate 100 [Heritage]
Purdue Watch Party
Porter Talk: Finding Your Porter Passion featuring Darnell "Superchef" Ferguson
Old Skool Meets New Skool: Connecting Current Porter to Porter Alum [Heritage]
Porter Talk: Finding your Voice in the Arts featuring Jecorey "1200" Arthur
Giving Thanks: Porter Thanksgiving Dinner [Heritage]
Flavor of Love Date Auction with Black Student Union
Porter Talk: Representation in Politics featuring Judge Derwin Webb & State Representative Attica Scott [Heritage]
Porter Talk: Let's Talk about Mental Health featuring Dr. Aesha Uqdah
Porter Cafe
Study with Porter
#Proud2BePorter Campaign
FIND US ON SOCIAL MEDIA
The University Student Academic Rights and Responsibilities may be found by following this link:Student Rights and Procedures.