Contact Us
Mónica Negrón is the Director of Hispanic, Latinx & Indigenous Initiatives at the University of Louisville Cultural Center. A native of Bel Air, Maryland, she graduated with a Bachelor of Arts in Biology from UofL in 2014. She was a four-year letter winner and a three-year captain on the women's lacrosse team. Mónica finished her collegiate playing career as a 4-time All-Region, 2014 All-American, and 2014 Big East Defensive Player of the Year with her team winning the Big East Championship and making it to the NCAA Sweet 16. She later received her Master of Science in Sport Administration in 2016 from UofL. She has recently been named to the Puerto Rico Senior Women's National Team which will compete in the World Championships in 2022 in Towson, MD. 
Mónica comes to the Cultural Center after having worked in Athletics at UofL as the Assistant Director of Student-Athlete Leadership and development where she oversaw the CardsCARE community engagement program and worked in programming that focused on student-athlete personal development, leadership development, social justice & advocacy and career preparation.
She is passionate about being a voice for students while providing them with a holistic experience that prepares them with the tools to succeed in their lives.
Mónica Negron 
Director, Hispanic/Latinx & Indigenous Initiative
120 E. Brandeis Avenue
Louisville, KY 40208
(502) 852-0230 
monica.negron@louisville.edu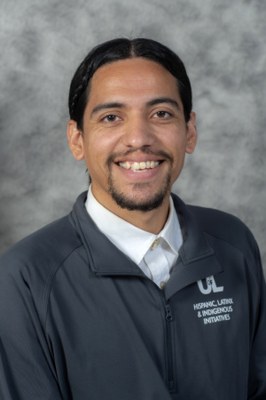 Marcos G. Morales Gutierréz is the Program Coordinator at the Cultural Center's Hispanic, Latinx & Indigenous Initiatives at the University of Louisville (UofL). Marcos is a Latinx Louisville native and graduated from UofL with a B.S. in Public Health Education, a minor in Wellness Coaching and also completed the Peace, Justice and Conflict Transformation certificate program. Marcos' work as a program coordinator is centered in recognizing and uplifting the brilliancy of the Latinx population at UofL through a more equitable lens. Overall, Marcos enjoys providing students with culturally enriching programming and events, life coaching, and leadership development opportunities.
Marcos G. Morales Gutiérrez
Program Coordinator, Hispanic/Latinx & Indigenous Initiative 

120 E. Brandeis Avenue
Louisville, KY 40208
(502) 852-7267 
marcos.morales@louisville.edu