Support BMI
Black men re-imagined. Make a difference by supporting the development and success of men of color for generations to come. Your support helps to build a beloved community for black men and boys to love, learn, lead, and succeed!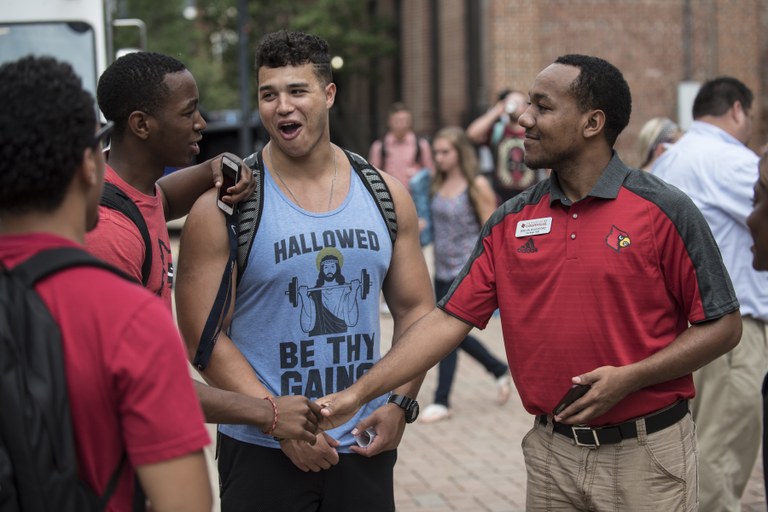 BMI seeks to increase the retention, graduation, engagement and overall success of African American males by addressing various scholastic and social challenges, through academic engagement, mentoring, peer connection, and student involvement.
BMI provides vital academic support services and a organizes variety of activities to develop students, such as:
One-on-One Academic Coaching
Brothers of the Academy: Men of Color Networking Night
Suited 4 Success: Attire & Etiquette Workshop
Suits & Sneakers Gala: BMI Honors Ceremony
Black Male Retreat at Ohio State University
Barbershop Talks, Game Nights
Community Service Projects
Your support helps makes all of this possible and more!
Ways to Give
Funding
To donate, you may give online using the University of Louisville's gift form.
Visit the University's giving page at this link: Charting Our Course
Enter amount in the "Other" box
Enter "

G3361"
You may also write a check payable to the University of Louisville Foundation and write Black Male Initiative in the memo line and mail it to the address below.
University of Louisville Foundation, Inc.
PO Box 772050
Chicago, IL 60677-2050
To talk to someone about other giving opportunities, including multi-year pledges, planned gifts and endowments, call 502-852-4919. 
BMI Advisory Committee 
The BMI Advisory Committee seeks to connect campus and community stakeholders that have an invested interest in increasing the success of men of color. Committee members will provide guidance on key issues impacting the recruitment, retention, graduation and holistic success of Black male students at the University of Louisville, such as programming objectives and initiatives, marketing strategy, fundraising, resource allocation, and institutional policy. While men of color are strongly encouraged to serve on the BMI Advisory Committee it is also imperative to include any individuals with a passion for increasing student success and expertise in a specific area, such as assessment, fundraising, grant writing, community engagement, etc.
The full committee will meet 2-3 times a semester, and once during the Summer. There may be opportunities to develop subcommittees that meet more frequently.
For additional information, contact Brandyn Bailey, Assistant Director at bjbail04@louisville.edu or 502-852-0228.