Signature Events & Programs
Cultural Center programs serve as an integral component of the Cultural Center by providing a sense of belonging, and complimenting student success initiatives, to ease transitions and support the racial/ethnic identity development of underrepresented students, in addition to academic support and holistic development.
Heritage & Identity Celebrations
Heritage & identity-based programs seek to foster a sense of community amongst students and the campus community by highlighting the diverse cultures represented at the University and fostering intercultural engagement. These programs strategically highlight underrepresented or marginalized populations to ensure a sense of belonging and connectedness to the UofL community. These programs are designed to acknowledge difference, while cultivating a shared sense of community, support, and belongingness for all students and campus community members.
The Cultural Center Graduation Celebration pays homage to the past, while celebrating the future and endless possibilities of all graduating underrepresented students at the University of Louisville.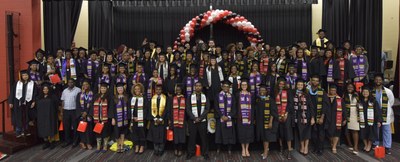 This annual event provides an opportunity for the university to acknowledge the achievements of underrepresented students and for graduates to thank those that have contributed on their journey to success. The 2017 Graduation Celebration recognized 168 graduating students in front of approximately 200 family, friends, faculty, staff, and community members.