2022 AAPI Heritage Week
The University of Louisville Asian, Asian American, and Pacific Islander (AAPI) Faculty and Staff Association is excited to announce the inaugural University of Louisville AAPI Heritage Week Celebration. The AAPI Faculty and Staff Association will dedicate the week of April 10th  to April 16th to recognizing the contributions and influence of Asians, Asian Americans and Pacific Islander Americans to the history, culture, and achievements of the United States. We are excited to participate and collaborate with for this inaugural celebration. You can see the week of activities below.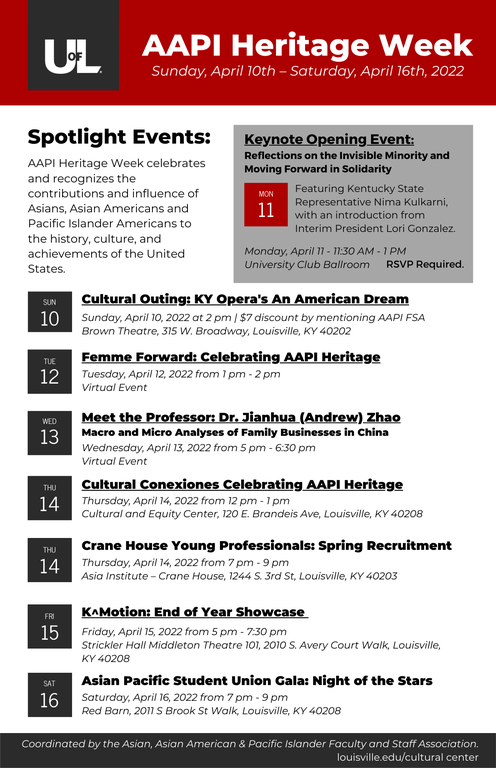 AAPI Heritage Week Event Lineup
Sunday, April 10th, 2022
Opera Play "An American Dream"
Sponsored by Kentucky Opera
2:00-4 PM
Brown Theater
Registration: email Kentucky Opera ticketing specialist or purchase tickets at door. Mention UofL AAPI FSA for special discounts.
Monday, April 11th, 2022
Opening Event: Reflections on the Invisible Minority and Moving Forward in Solidarity
Sponsored by AAPI Faculty and Staff Association and Office of Diversity and Equity
Special Guests: Kentucky State Representative Nima Kulkarni and President Lori Gonzalez
11:30-1:30 PM
University Club Ballroom
Registration: https://tinyurl.com/ncy2w4w9
Tuesday, April 12, 2022
Femme Forward: UofL Women's Journeys Celebrating AAPI Heritage
Sponsored by Employee Success Center and AAPI Faculty and Staff Association
1:00-2:00 PM
Virtual
Registration: https://tinyurl.com/v7snnsf4
Wednesday, April 13, 2022
Meet the Professor Lecture: Dr. Jianhua (Andrew) Zhao
Sponsored by Commonwealth Center for the Humanities and Society
5:00-6:30 PM
Virtual
Registration: https://tinyurl.com/2hw8p2j3
Thursday, April 14, 2022
Cultural Conexiones celebrating AAPI Heritage
Sponsored by Cultural and Equity Center
12:00-1:00 PM
Cultural and Equity Center
Registration: https://tinyurl.com/2ct4wth3
Thursday, April 14, 2022
Crane House Young Professionals: Spring Recruitment
Sponsored by Asia Institute Crane House
7:00-9:00 PM
Asia Institute Crane House
Registration: email Amber Ma at Crane House
Friday, April 15, 2022
K^Motion: End of Year Showcase
Sponsored by K^Motion (Cardinal K-Pop Dance Team)
5:00-7:30 PM
Strickler Hall Middleton Theatre 101
Registration: https://tinyurl.com/s9cwzuz3
Saturday, April 16, 2022
Night of the Stars: AAPI Gala Celebration
Sponsored by Asian Pacific Student Union and Commission on Diversity and Racial Equity
7:00-9:00 PM
Red Barn
Registration: email Asian Pacific Student Union