Points of Pride
Mary K. Bonsteel Tachau Gender Equity Award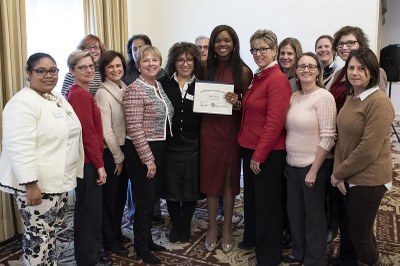 In partnership with the UofL Women's Center
The Mary K. Bonsteel Tachau Gender Equity Award is presented to a member of the UofL community--broadly defined to include all of those, past and present, who have some affiliation with the University of Louisville -- whose work has directly furthered gender equity. This award is given to a member of the U of L community who has done significant work towards gender equity.  It is named in honor of Mary K. Bonsteel Tachau, constitutional scholar, the first woman to serve as chair of the U of L history department, and the first woman chair of the faculty senate.  Dr. Tachau was active in pay equity struggles at the university and in many other issues both on campus and in the civic community.  Her papers are part of the Women's Manuscripts Collection in the U of L university libraries.
We are pleased to announce that Njideka Harry, President and CEO of Youth for Technology Foundation, was awarded the 2019 Mary K. Bosteel Tachau Gender Equity Award at the 2018 Women's Empowerment Luncheon. Founded in 2000, the mission of Youth for Technology Foundation (YTF)is to build enriched communities where the appropriate use of technology empowers marginalized youth an dwomen to create innovative solutions to problems they identify in their communities. One of her nominators had this to say about Njidek Harry:
"From tech industry professional to entrepreneur, Njideka has built a global brand focusing on women as the drivers of the larger economy within the Fourth Industrial Revolution. Quoting her keynote speech from October 2018 at the "GIRLS4TECH: An Opportunity for a Better World" colloquium in Alicante, Spain, "investing in girls is just not a fairness objective, it's an economic imperative." Njideka's work fundamentally invests in the human capital of women and girls within the technology sector, and it is this dedication to reinforcing the pipeline of women building economically impactful products and companies through diversity initiatives, mentoring, and cross-cultural collaboration, that has inspired global recognition, and more importantly global investment in low-income and developing world communities."
The award is co-sponsored by the Commission on the Status of Women and the Women's Center. COSW Commissioners, along with Chair Sherry Duffy, were present to give the award.