CODRE Spotlight News & Events
Upcoming Events
AAPI Heritage Week April 10 -15
The AAPI has several coming events, attend as many as you can to support the AAPI community.
April 7, Vietnamese Student Association; 10th Annual Culture Show
April 10, Panel Discussion; Mental Health Across AAPI Generations
April 13 AAPI Heritage Week Keynote Event; Dr Evelyn Hu-DeHart
April 14 Crane House Young Professionals Spring Recruitment
April 15 Asian Pacific Student Union (ASPU) Student Gala
April 18 Cultural Conexiones; Crafting with Korean Fiber International Moonhe Baik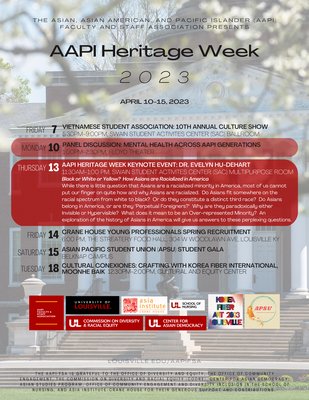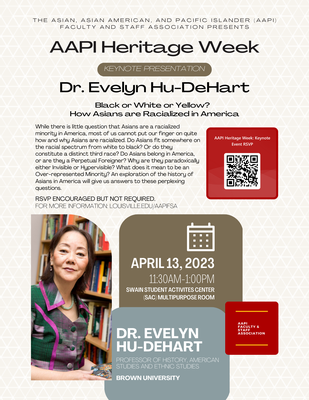 General Body Meeting
April 13, 2022, noon to 1 p.m.,
Location Hybrid - (details to come soon)
Followed by Commissioners only meeting
April 13, 2022, 1-2 p.m.,
Location Hybrid - (details to come soon)
CODRE Campus-Wide Listening Session: As a campus community how can we support the work of diversity, equity, and inclusion? 
Let's Talk!! The Commission on Diversity and Racial Equity (CODRE) wants to hear from the UofL Campus Community! CODRE is hosting Campus-wide Listening Sessions to provide opportunities for faculty, staff, and students to engage in discussion on topics relevant to diversity, equity, inclusion, and anti-racism.
The Spring 2023 listening sessions will be held via TEAMS on February 23, March 23, and April 27.  Each session will focus on a discussion topic; however, these sessions are also intended to be opportunities for the campus community to raise any issues or topics. 
Registered participants will receive a link to the session.
We look forward to hearing your voices.
News to share
Congratulations to Commissioner Cherie Dawson-Edwards
She has been appointed vice provost for faculty affairs. An email was sent out from the Interim President Jan. 25 announcing her appointment. You may read the email here.
Experiences of Marginalized and Underrepresented Students in the time of COVID-19
MicroSoft Stream Video link 
New gender neutral restroom on the second floor of Ekstrom Library's 24-hour side
In the interest of promoting an inclusive campus and in accordance with EEOC rulings*, OSHA guidelines**, and ADA requirements, the members of the Council of Academic Officers establish the following aspirational goal: All campus facilities should include accessible and inclusive restrooms.
Past Sponsored CODRE Events
African American Music Heritage Institute 
African Student Union - African Night: Celebrating Ancient Dynasties
American International Relations Club International Banquet
Breonna Taylor Memorial Walk
Business Affairs Pathway's Leadership Conference
C.O.N.E.C.T. Peer Mentoring Program African American Recognition Reception
Delta Sigma Theta Men of DiSTinction Scholarship Pageant
Disability Resource Center - iCount
Empowering Ladies Together Annual Women's Empowerment Dinner
English Department and Ekstrom Library African American Read-In
Global Humanities Lecture Series
HSC Cultural Competency 
HSC Pride Week 
Indian Student Association - Jalsa
International Center Student & Scholars Welcome Reception
Latin American and Latino Studies (LALS)  Annual Heritage Lecture 
LGBT PINK! Drag Show
LGBT Center, PRIDE Week 
Louisville Day to Hack - Student Chapter of the Association for Computing Machinery
Minority Pre-Health Symposium: Changing the Face of Healthcare
Multicultural Student Organization Leadership Summit 
National Society of Black Engineers (NSBE) Diversity Banquet
National Society of Black Engineers Present Miss Black UofL 
National Society of Black Engineers Present NSBE Bazaar
Pathways Women's Leadership Conference
School of Music, African American Music Heritage Institute (AAMHI)
Transformation Tea
UofL Cultural Center Martin Luther King, Jr. (MLK Day) 
UofL PEACC Program Take Back the Night
UofL Women's Center Transformation Tea 
Women's Center Dr. Celeste Nichols Professional Development Award
Women's Center Empowerment Luncheon
Women's Center KY Women's Book Festival