Monday Memo, June 13, 2022
Dear A&S Colleagues,
The week of Juneteenth has become a powerful new tradition at UofL, commemorating the delayed emancipation of enslaved people in the U.S. on June 19, 1865. Beginning today and running seven consecutive days through Sunday, June 19, this week our academic community will explore how we can improve the human condition in the context of the appalling history of slavery and affliction of racism.
The first event takes place at 12 noon today when world-renowned civil rights activist and pioneer Mary Frances Berry delivers the keynote, "Free at Last?" Chairperson of the U.S. Civil Rights Commission during four U.S. presidential administrations, Berry also served as Assistant Secretary for Education in the U.S. Department of Health, Education and Welfare. She is a founder of the monumental Free South Africa Movement (FSAM) and received the Nelson Mandela award from the South African Government for her role in organizing the FSAM, raising global awareness of South African injustice that helped to end over 40 years of apartheid. Dr. Berry became the first woman to lead a major research university as chancellor of the University of Colorado at Boulder. She now teaches the history of American law and social policy as the Geraldine R. Segal Professor of American Social Thought at the University of Pennsylvania.
Sponsored by the Office of the President and the Black Faculty/Staff Association, Berry's keynote will take place in-person and virtually, 12–1:30 p.m., Cardinal Stadium, PNC Club, 2550 South Floyd Street. For more information and to register, visit the webpage. Teams link will be emailed to those who register for online participation.
Please see below for more Juneteenth events, recruiting opportunities, and a long list of kudos to our amazing faculty, staff, and students.
Sincerely,
Julie Wrinn, Chief of Staff
Events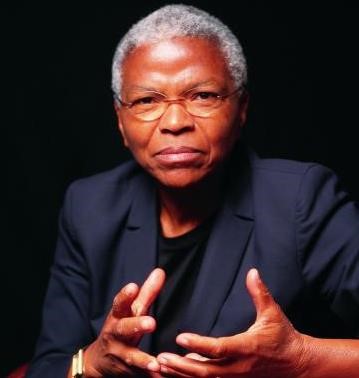 Dr. Mary Frances Berry
Visit the Juneteenth Events Channel to learn more and register for the following UofL-affiliated events:
---
Lisa Markowitz, Associate Professor of Anthropology and Secretary of the Louisville Association for Community Economics, is one of the organizers of the Louisville Community Grocery Project's Juneteenth Block Party. Enjoy community art, vendors, food tasting, and more on Friday, June 17, 4–7 p.m., 400 Finzer St., Louisville, KY 40203. Register here.
---
The Louisville Community Grocery is emerging as a cooperatively owned grocery store that supports neighborhoods abandoned by large supermarket chains. These locally owned grocery will provide fresh, affordable food through just and equitable practices, employment, and ownership. For questions about this event or project, please call the Co-Executive Director at (502) 252-1713.
---
Lora Haynes, Association Professor of Psychological and Brain Sciences, was a recent guest on Forward Radio, hosted by UofL's Dr. Justin Mog, speaking about the Resilient Families Project (RFP), which has celebrated over 10 years of programming for families experiencing homelessness and women in drug and alcohol recovery. The conversation will air on Monday, June 13, 6 p.m. and midnight, and on Tuesday, June 14, at 10 a.m. on FM 106.5 and will be released as a podcast on SoundCloud later this month at this link.
Recruitment
This week, UofL is the site of this year's National Speech and Debate Association tournament, as well as the sponsor of the National Tournament App. You may see some 800 high school debaters in various buildings on campus on Monday and Tuesday, June 13-14. Please be nice to these young orators and encourage them to consider attending UofL! Many thanks to A&S department chairs Pamela Beattie and Avery Kolers for attending the Sunday afternoon registration event at the Kentucky Expo Center to recruit some of these outstanding students for our college.
---
The Kentucky Governors School for the Arts (GSA) College Fair is taking place in Lexington, KY, on Friday, June 24, and Friday, July 22. GSA students are prime candidates for our Creative Writing, Find Arts, and Theatre programs. UofL will have a table showcasing what A&S and the city of Louisville have to offer students wanting to immerse themselves in the creative and performing arts.
Kudos
Psychology of Covid-19 Behavioral Health Mindset
Professor Michael Cunningham led a team of researchers who explored variations in mindset and adherence to Covid-19 safety measures. Cunningham's team surveyed several groups of people about their attitudes and responses to individual Covid-19 safety protocols. The studies, published in Frontiers in Psychology in April, revealed associations between individuals' response to prevention measures and their belief in the credibility of science, control, and coping mechanisms and political orientation. Read more.
---
New Insights into Wuthering Heights
Students, scholars, and fans of Emily Brontë's Wuthering Heights have a new edition to savor from Professor Deborah Lutz, published by the prestigious Norton Library. Professor Lutz edited, wrote the introduction, and annotated the classic novel extensively. Lutz is also the editor of the Norton Critical Editions of Jane Eyre and The Strange Case of Dr. Jekyll and Mr. Hyde, and of the book, The Brontë Cabinet: Three Lives in Nine Objects and Relics of Death in Victorian Literature and Culture. She is the Thruston B. Morton Endowed Chair of English.
---
Learning with Charlottesville About Religion, Race, and Democracy
Best wishes to Associate Professor Brandon McCormack as he embarks this week on a summer institute at the University of Virginia, "Learning with Charlottesville: Narratives of Religion, Race, and Democracy." The institute seeks to prepare emerging and mid-career scholars to produce accessible scholarship that addresses urgent public questions about religion, race, and democracy. In the six months to follow the summer institute, participants will produce a short-form audio piece inspired by a U.S. location of their choosing. Congrats, Dr. McCormack, we are eager to hear what you produce!
---
Antiracism Resources from the 2021 Watson Conference
English professor Andrea Olinger; English Ph.D. students Caitlin Allen, Alex Way, and Michael Benjamin; and CEHD Ph.D. student Taylor Dougherty have published a Policy and Practice Archive website from the 2021 Watson Conference ("Toward the Antiracist Conference: Reckoning with the Past, Reimagining the Present"). The online archive contains handouts, presentations, and other resources for other conference organizers interested in antiracist practices. The Watson team is also coediting a special issue on the subject that will be out in the fall.
---
Political Science Major and ROTC Cadet with Minor in Russian Graduates Summa Cum Laude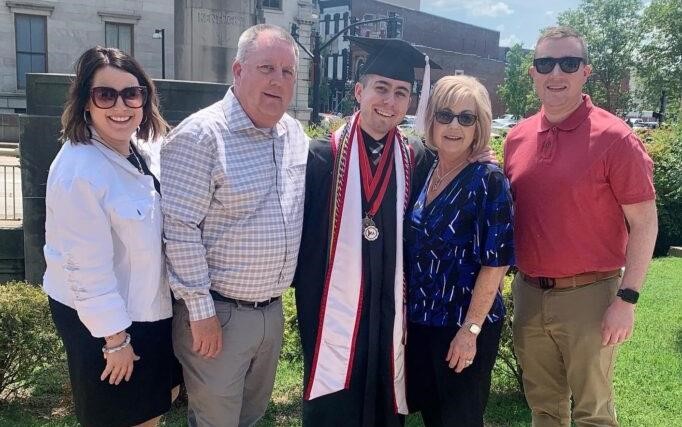 2nd Lt. Matt Payne (center) with his family at Commencement
Kudos to the Departments of Political Science, Army ROTC, and Modern and Classical Languages for nurturing the outstanding academic career of Matt Payne. The summa cum laude graduate became a second lieutenant with the Army ROTC commissioning ceremony in May. A political science major, Russian minor, and Honors Scholar, Payne wrote a timely thesis on the Russian diaspora. Several critical internships with government officials on Louisville Metro Council and in the Kentucky General Assembly through the Legislative Research Commission taught Payne to gather and distill critical information, research issues, and present facts and recommendations to decision-makers. These experiences prepared him well for his next steps, which include four months at Fort Knox and then reporting to Fort Huachuca in Arizona to train as a military intelligence officer. Read more.
---
Coming Soon: More Japanese!
Congratulations to Professor Regina Roebuck and the Department of Modern and Classical Languages for receiving a salary assistance grant from the Los-Angeles-based Japan Foundation to expand the department's Japanese language course offerings. Anyone familiar with the exploding popularity of Japanese anime and manga will understand the terrific opportunity this presents to respond to a growing interest in Japanese language and culture among our students.
---
Archeology Field School at the Kentucky School for the Blind Attracts Widespread Media Attention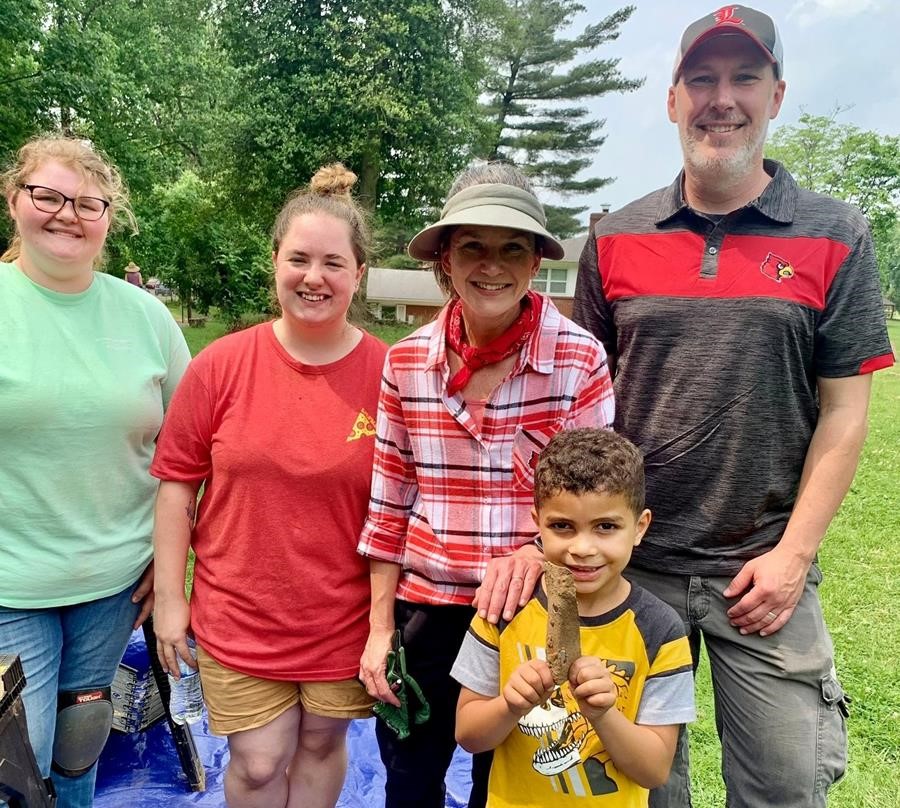 Left to right: UofL students Emily Roth and Jacqui Zaczek, UofL Anthropology faculty Ashley Smallwood and Thomas Jennings, with Caleb Thompson (boy in front) holding a possible historic doorplate with keyhole, on Community Archeology Day, May 21.
Anthropology faculty Ashley Smallwood and Tom Jennings taught an archaeological field school for UofL students on May 9–27, 2022, in collaboration with the Kentucky School for the Blind (KSB) and the Kentucky Department of Education (KDE). UofL and KSB students excavated the schoolhouse of the former segregated school for the blind built in the 1880s on the KSB campus, now located on the corner of Frankfort and Haldeman Avenue. KSB and KDE hosted a Community Archaeology Day on Saturday, May 21. Read more. This project received extensive coverage on Spectrum News, WKLY, WAVE3, and WDRB. Congrats to the Center for Archeological and Cultural Heritage (CACHe) for this outstanding example of community engaged research!
---
A&S Professor Recognized as an LGBTQ+ Change Agent
Congratulations to Kaila Adia Story, Audre Lorde Endowed Chair and Associate Professor of Women's, Gender, and Sexuality Studies and Pan-African Studies, for being named an LGBTQ+ faculty member who is creating change on her campus for LGBTQ+ students by Best Colleges Magazine, one of the nation's leading magazines on trends and data in education. Story is one of six LGBTQ+ faculty members from universities throughout the country who "bring varied and long-lasting support to students on campus." Read more.