The University of Louisville Music Therapy Program
Whether you are a student, parent, professional or otherwise interested person we are glad you are here learning more about music therapy at the University of Louisville. Our program began in 2000 as the first program educating music therapy students in the Commonwealth of Kentucky. We are approved by the American Music Therapy Association. Being located in the vibrant town of Louisville offers our students, who are pursuing either a bachelor's degree in music or its equivalent, many opportunities to observe and work alongside board-certified music therapists in a variety of community settings including:
Jefferson and surrounding counties school systems
Kosair Children's Hospital
Louisville Expressive Therapies
Meaningful Day Services
Norton Audubon Hospital
Our Lady of Peace Psychiatric Hospital
The Neighborhood House
UofL Early Childhood Center
UofL Autism Center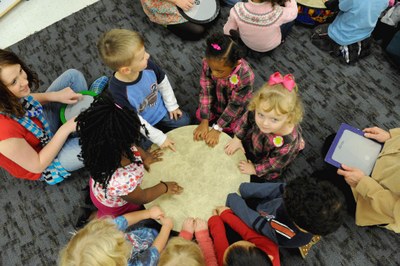 Our newest endeavor, the UfoL Music Therapy Clinic will be located in the music building and is funded in part by the WHAS Crusade for Children. Music therapy students at UofL also have the option of participating in university research projects if they desire. Research is an important part of moving the field of music therapy forward and we are proud to be included in the Infant and Child Medical Music Therapy Research Network coordinated by Florida State University. This university partnership allows UofL music therapy students the ability to have clinical supervision in the medical setting from masters or doctoral level board-certified music therapists studying at FSU who complete a medical music therapy residency in Louisville. From the faculty and students at University of Louisville, we invite you to explore our website. Learn more about who we are as well as the innovative and enriching experiences we are providing while striving to accomplish our departmental mission.
The School of Music is accredited by the National Association of Schools of Music (NASM): http://nasm.arts-accredit.org