Annual Study Abroad Program in Panama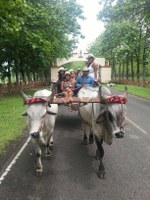 13th Annual Study Abroad Program in Panama
May 4-28, 2015
Please turn in completed application forms and payments to Ms. Betty Marcum in Gardiner Hall 331A.
Apply Today!

Panama "Happy" Video
The Latin American and Latino Studies Program and the Department of Communication at the University of Louisville offer an Annual Study Abroad Program in Panama, during the month of May, which is supported by the College of Arts and Sciences. The program was initiated in May of 2003 by Dr. Rhonda Buchanan, Director of Latin American and Latino Studies, and oversees the Panama Program with Dr. Al Futrell, Chair of the Department of Communication, and Dr. Thomas W. Edison, the Panama Program Director. For the 13th Annual Study Abroad Program in Panama, Dr. Al Futrell will teach COMM 440/690: Intercultural Communication.  Additionally, he will be joined by Spanish instructors for the Department of Classical and Modern Languages: Professors Berta Calvert, who will teach SPAN 201: Intermediate Spanish I, and Dr. Thomas W. Edison, who will teach SPAN 321: Communication and Conversation in Spanish.  Ricardo Acosta, a professor of the Quality Leadership University and la Universidad de Panamá, will teach LALS 313/ML 551: Panamanian Culture.
The program fees include tuition for 6 credit hours in courses on Spanish language, Communication (taught in English), and Panamanian Culture (taught in English) at the Quality Leadership University, UofL's branch campus in Panama City. The total program cost for the 2015 Program is $3500 and includes: 6 credit hours of tuition, round-trip airfare to Panama, all ground transportation expenses for excursions and transportation to and from the airport in Panama, housing at a hotel in Panama City, and organized excursions.  Some of the special features include: visits to the Panama Canal, El Casco Viejo and the Presidential Palace in the colonial part of the city, the Causeway in the Canal Zone, the Emberá Indigenous Community in the Gamboa Rainforest, service learning opportunities, two days at the Decamerón Beach Resort, a visit to the provincial city of Chitré, and optional weekend activities.