LALS Alumni News
Matthew Smith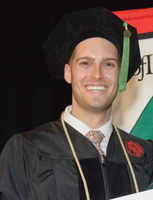 My name is Matthew Smith, and I graduated magna cum laude with a double major in Biology and Latin American and Latino Studies and a minor in Spanish from UofL in the spring of 2014. As an undergraduate, I became involved in the LALS program because it allowed me to not only study social science topics like history, anthropology, and political science but to also to engage with Latin American and Latino cultures first-hand through study abroad and local volunteering. When the LALS major was announced, I made a beeline to Dr. Buchanan's office to be the first student to declare as a major! 
 After graduating, I took a "gap year" to work as an English teaching assistant at a bilingual middle school in Madrid, Spain. Once that school year ended, I returned to UofL in 2015 to realize my dream of becoming a pediatrician. As a medical student, my LALS background prepared me to understand how social issues (such as language barriers or education level) can contribute to and exacerbate many patients' medical problem. Similarly, I drew from my LALS externship experience as a clinical interpreter to help patients from different backgrounds feel at ease and understood by their healthcare team. In medical school, I served as president of the Global Health Interest Group and participated in the Medical Spanish Club. I completed a bilingual standardized patient elective at UofL and an international clinical rotation at a public hospital in Masaya, Nicaragua. I worked closely with UofL's HSC LGBT Center staff on the eQuality educational initiative, and I'm particularly interested in the impact of queer and Latinx identity on adolescent patients. I graduated in May 2019 with my doctorate in medicine, where I was honored to carry the bearer for the School of Medicine at commencement as their "outstanding student". Graduation was already an emotional day, but it was made even more special when my fiancee and I got engaged that evening! Moving forward, I am completing my three-year residency training in pediatrics with The Ohio State University at Nationwide Children's Hospital in Columbus, Ohio. While I'm sad to leave Louisville, I will always be grateful for the mentors, role models, and friends I've met at UofL. Go Cards!
Chase Riddle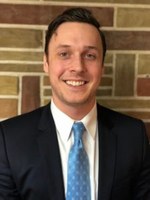 Chase Riddle is an attorney at Peace Law, PLLC, a law firm with multiple offices in the central Kentucky area. While the firm practices in everything from bankruptcy to personal injury, Chase specializes in criminal defense, family law, and estate planning. Chase is glad to practice law in his home community. He hopes to continue to improve on his Spanish language skills from UofL and LALS until he is able to fully assist Spanish-speaking individuals.
Jessica Williams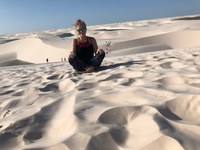 Jessica Williams graduated with a major from our program in 2015 and is currently a Fulbright English Teaching Assistant in Brazil! She shares the following message:
Oi de Goiânia, Brasil! Hi, my name is Jessica Williams, and I was a 2015 LALS grad. I am currently in my sixth month as a Fulbright English Teaching Assistant in Brazil where I teach at the Universidade Estadual de Goiás located in the small town of Morrinhos. Here I teach English classes to future Brazilian English teachers and give weekly English classes to community members as well. Because Brazil is in the Southern Hemisphere and has a different school schedule than the US, I just had the entire month of July off! I took advantage to travel all over- both in the North and South of Brazil. Attached is a picture from one of the most beautiful places I've ever been to in my life: the sand dunes of Lençóis Maranheses. If you get the chance, travel to Brazil! It's worth the trip.
Taylor Parker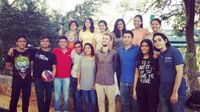 In 2016, I graduated with a major in Spanish and minor in LALS. I wouldn't hesitate to claim that I knew more about the grammar rules than the average native speaker, but couldn't apply the language into practice. Looking for opportunities to immerse myself, I came across the International TEFL Academy based in Chicago. I tutored English as a second language at Doors to Hope during my LALS Internship in the Spring 2016 semester. I assumed it wouldn't be too difficult to be an actual teacher. Avoiding their four-month long online classes, I decided to take an intensive month-long class in Puerto Vallarta, Jalisco, Mexico. Who doesn't love to go to la playa every day after class? After graduating the program with merit, I was immediately matched with a teaching job in Tuxtla Gutiérrez, Chiapas, Mexico. Being an English teacher deep in the valley of mountainous Chiapas for six days a week with three two-hour classes on the weekdays and one four-hour class on Saturdays wasn't nearly as relaxing as studying to be an English teacher off the beach in a resort town. The Mayan ruins, lakes and waterfalls I had come to Chiapas to see were all as far from the city as the Districto Federal. Although, teaching was the most rewarding and eye-opening experience of my life. There are so many negative stereotypes about the beautiful first-world country that is Mexico and even more negative stereotypes inside of Mexico regarding the diverse and admirable indigenous groups of southern Mexico. I constantly found new ways in which I was just an ignorant gringo. I highly recommend going out into the world and finding out about your own ignorances.
Shelby Lawson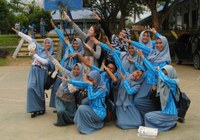 LALS alumna Shelby Lawson has taken her love of language and culture in a different direction. Lawson has spent the past year teaching English as a second language to high school students in a rural community in Indonesia with the Fulbright Program. "I never thought I would learn a third language or find myself in Indonesia, but I love it here," Lawson says. In May, she will be finishing up her third year of teaching, her first two were spent on the border or Texas and Mexico teaching high school math with Teach For America. Looking forward, Lawson has accepted a job with the Fulbright AMINEF commission in Jakarta where she will be the Research Coordinator for the incoming ETA cohort. "I am eager to continue my journey in Indonesia," she says, "and embark on a new chapter in my education career." 
Daniel Runnels
I'm a first-year Ph.D. student in Hispanic Literatures with a minor in Critical Theory at Indiana University in Bloomington, Indiana. I completed my M.A. in Spanish and graduate certificate in Latin American and Latino Studies at the University of Louisville. I'm thankful for my time at UofL and wonderful professors and mentors who prepared me for doctoral study. One of the projects I'm working on this semester deals with conflicts between indigenous groups and the Evo Morales administration in Bolivia. Specifically, I'm writing about the "plurinational state" and populism, taking as my starting point a book by current Vice President Álvaro Garía Linera called Geopolítica de la Amazonia. As I work on this project I fondly remember the two summers I spent in Panama with the UofL Panama program, especially the visits to the Emberá community. Best of luck to those going on the trip this summer – I know you'll enjoy it!
Liz Arnold
I am currently enrolled in Xavier University's School of Nursing for an accelerated Master's degree. I will graduate in May 2016 as a Clinical Nurse Leader. I currently work at Cincinnati Children's Hospital as a Patient Care Assistant and I hope when I graduate I am able to work there as an RN.  At Children's I have been able to apply what I have learned from the LALS Program as a PCA. We get patients from all over the world. I have been able to educate my floor on certain beliefs and customs of our Hispanic/Latino patients and I was even able to converse with some of the families.




Joseph Kern

I graduated from the University of Louisville in 2010 with a double major in Spanish and Humanities and a double minor in Mathematics and Latin American Studies. Following my graduation, I moved to Tucson, Arizona, where I received my Master's degree in Spanish from the University of Arizona in 2012, and I am currently pursuing my doctorate. My research interests include sociolinguistics and discourse analysis. Under the direction of my advisor, Dr. Ana Carvalho, I am currently analyzing the use of discourse-pragmatic sociolinguistic variables among Spanish-English bilinguals from Southern Arizona and Spanish-Portuguese bilinguals from the border of Uruguay and Brazil. My recent publication titled "'Como' in Commute: The Travels of a Discourse Marker Across Languages" can be found in Studies in Hispanic and Lusophone Linguistics. In addition to my research, I teach courses in linguistics and intermediate and advanced Spanish grammar and composition at the University of Arizona. I am very grateful for the opportunities that I had at the University of Louisville, especially as an LAS minor, which have and continue to guide my personal and professional development.
Stephanie Leonard
In August 2013, I accepted an AmeriCorps position to serve Salud Family Health Centers in north-central Colorado.  This network of community health centers provides medical, dental and behavioral health services to all patients. While our patient base is diverse, we primarily serve the most under-resourced members of our communities as well as a large population of Latino patients (39,000 of our 79,000 total). My primary role is to serve as a Transitions of Care member for the clinic in Brighton, CO. We visit all patients that admit to the hospital as well as offer home visits to ensure that patients understand discharge procedures/medication usages, etc. These efforts have been proven to enhance continuity of care and cut back on hospital readmission rates, which equate to lower health care costs!
Apart from work, I'm living in Denver with another UofL alum. I'm already in love with Colorado and all it has to offer, particularly the mountains! With that said, I want it on the record that I'm actively recruiting UofL fans across the state. Once a CARD, always a CARD!

Patrick Ridge

After recently completing my first year at Arizona State University, I can confirm that I made the right decision! I feel extremely lucky to work with Dr. David William Foster and the other faculty here. It is hard to believe that I first met him at UofL during the Latino and Latin American Studies heritage lecture, where he spoke on Argentine Woman's Photography in 2011.
At ASU, the department's Cultural Studies track fits right in with my research interests in Latin American Literature, Sport, and Film & Media studies. I have also had the opportunity to continue my study of Portuguese and Brazilian culture. As the chair of my PhD supervisory committee, Dr. Foster has encouraged me to incorporate my personal interests into my research. This year I have worked with Carlos Monsiváis' chronicles on World Cup 86 and Lucha Libre in México and Enrique Medina's Boom narratives over boxing in Argentina. I will be presenting my research on the infamous soccer hooligans of Corinthians, São Paulo's most popular team, and their effects on Brazilian society at the Modern Languages Association convention in January 2014. I also plan on presenting a recent analysis over soccer youths in Latin American film at UofL's "'Reel' Latin America" conference this October. This past February I participated in a panel over UofL's "'Reel' Guate Film Festival" with Melissa Groenewold and Clare Gervasi at the National Association of Hispanic and Latino Studies conference in Baton Rouge, Louisiana. It has been a great year and I want to make sure to thank all of my past professors in the Department of Classical and Modern Languages at UofL. I feel like I was prepared for the program here and I received some excellent help and advice to get here. I look forward to being back soon!
Tyler McChane

After volunteering as an interpreter, I am now employed as the Volunteer Coordinator at the Family Community Clinic, a non-profit, free clinic that serves the medically uninsured with the help of volunteer physicians, nurses, pharmacists, interpreters, and receptionists. I contribute to this mission by recruiting, orienting, and supporting volunteers, coordinating the weekly schedule, maintaining and updating records and compliance requirements, and an assortment of other tasks that keep me very busy. Almost 60% of our patients are Hispanic, so I have put my language skills to good use, as well as the cultural understanding that I developed through my internship at BBBSKY and the LALS Panama Program. LALS was the perfect preparation for where I am now, so it's great to see that the FCC is now itself an internship site. And we have been very pleased indeed with the wonderful interpreting interns that Dr. Buchanan has sent our way!
What I love about my work here is that when I look at where the clinic is now, I am proud of the work that we've done, but I also see a lot of potential for growth, thanks to the great facilities and enthusiastic volunteers that we have been blessed with. We are always trying to expand our capacity to serve, whether by increasing our hours of operation, adding to our scope of services, building partnerships, or improving the quality of care that we provide. My job is to facilitate this growth, and right from the start I was preparing a second weekly session. Beginning February 5th we will be opening our doors to patients every Tuesday evening from 5-9, in addition to our current hours on Saturdays from 8-noon. The Family Community Clinic is a very exciting project to be involved in, and if you or someone you know would like to join us, we would love to hear from you.  You can learn more at FamComClinic.org, or reach me at Tyler@FamComClinic.org or by phone at 384-8444.
Travis Wimsett
I completed my Bachelor's Degree in Anthropology & Psychology with my minor in Latin American Studies in August 2005.  During that month, I accepted a job teaching English as a Second Language for the Nelson County School District in Bardstown.  In the Fall of 2007, I returned to school at Indiana University-Bloomington.  I completed my Master's Degree in Education Policy Studies with an emphasis on International/Comparative Education.  I wrote my thesis on the Argentine decentralization process of education from a provincial perspective.  Upon completion of my degree at IU, I accepted a position as a Research Analyst at Vanderbilt University.  I am currently working on a team investigating the effectiveness of Pre-Kindergarten in the State of Tennessee.  My Latin American Studies training is certainly a key component of my job duties, as I am responsible for translating documents, recruiting Spanish-speaking parents into the study, and assessing Spanish-speaking children along the dimensions of the study.