LALS Students in the Spotlight
Aditya Mehta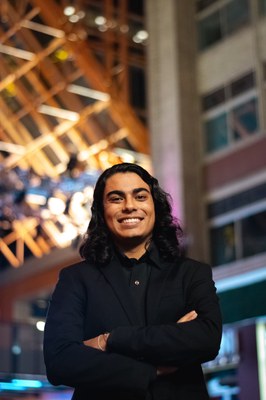 Check out LALS Major Aditya Mehta!
Aditya has been accepted to the Bloomberg Public Health School at Johns Hopkins University, and will be attending in the fall. After graduation, however, he has other plans. As a recipient of the NSEP David L. Boren Scholarship, he will be traveling to Brazil in order to study the Portuguese language! 
Aditya will also be participating in UofL's Undergraduate Arts and Research Showcase on April 22, 2022 from 12-2pm. He will be presenting his Senior Honors Thesis on the vaccination rates among Latinx patients at Kentucky Racing Health Services Center (KRHSC), where he conducted his LALS Internship last summer.
Mackenzie McCamish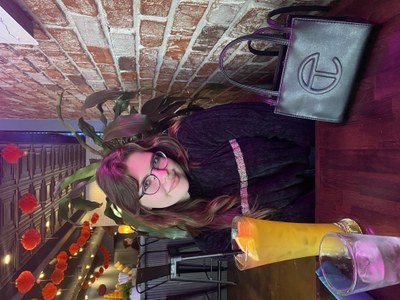 We are pleased to shine the spotlight on our own LALS Student Assistant and Club President, Mackenzie McCamish!
 Mackenzie is a senior double majoring in Latin American and Latino Studies and Graphic Design, with a minor in Spanish. She participated in the 2019 LALS Annual Study Abroad Program in Panama as a 2019 Panama Scholar. Outside of her role within the LALS program, she has also been the President of the Student Organization for Alumni Relations, an ex-officio member of the Alumni Board, and an ambassador within UofL's Student Success Center.
 In her junior year, she interned with Ben Ruiz, CEO of Adhawks LLC, the city's largest Hispanic publicity agency, and was able to learn about advertising and graphic communication within the Latinx community. Following this experience, she began to research ways in which graphic design is inaccessible–especially to those in the US whose first language is Spanish–and has begun to counteract that in her work. She has created multilingual newsletters and publications, a line of COVID-19 flyers in multiple languages, and has even illustrated a set of children's books not only in English and Spanish, but also in Chatino, an endangered language spoken by the indigenous people of Oaxaca. 
 Mackenzie's design work is not only being seen locally, but is receiving attention and praise on a national level. Recently, Mackenzie won the AIGA Blue Ridge's 2021 National Flux Student Design Competition with her work that she did rebranding the heavy equipment company, Terex. 
 After graduating this May, Mackenzie plans on moving to Chicago to work as a graphic designer, and hopes to learn more about the Latinx population in the city and put her Spanish to good use. 
 We consider ourselves absolutely lucky to have Mackenzie as one of our LALS students, and our LALS Student Assistant and Club President! .
Alexis Ecarma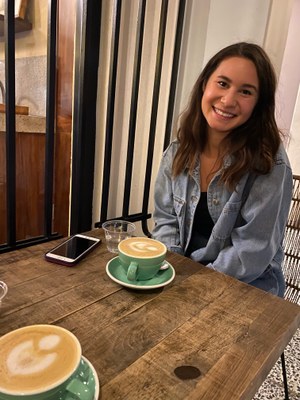 My experience as a participant of the School of International Training's program "Mexico: Migration, Borders, and Transnational Communities" was invaluable to my personal, academic, and professional development. My coursework and immersion in Oaxaca, Mexico gave me the opportunity to expand and sharpen my understanding of Spanish by pushing me to engage with others in a variety of contexts using my second language. The experience also furnished me with an intimate understanding of migration in and through Mexico. During our northern border excursions to Tucson, Arizona and Nogales, Sonora, I witnessed the hostile environment of the borderlands and the extent to which the U.S. has gone to solidify border security and "protect the homeland." At the Southern border, I visited several crossing points for Central American migrants who enter Mexico, many in search of safety from danger or persecution in their home countries. I observed the expansion of militaristic border enforcement efforts and its reflection of the pervasive reach of "border patrol" rhetoric. The program also featured opportunities to explore various aspects of Mexican culture, including the history, art, and architecture of Puebla, the lush natural resources and grand mountains in the Sierra Norte of Oaxaca, the indigenous influences and artful handicrafts in the Mixteca region of Oaxaca, and the cultural and linguistic diversity of Chiapas. These experiences brought the culture to life and allowed me to become personally acquainted with the traditions and customs of each community. Through my time in Mexico, I will be a more linguistically proficient and culturally competent student and professional capable of offering unique and vital perspectives and insights to discussions on immigration, U.S.-Mexico relations, and cultural awareness in an increasingly globalized world.


Jessica Williams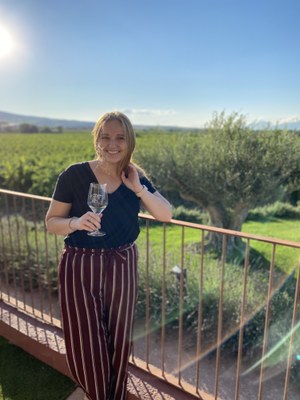 ¡Hola desde Madrid! My name is Jessica Williams, and I am a proud LALS graduate!
Since I graduated in 2015, I have had the opportunity to go back and forth between different countries. From 2015-2017 I was an English Teaching Assistant in Madrid, Spain at a bilingual primary school.
Next, I spent all of 2018 living and working in Brazil as a Fulbright English Teaching Assistant at the Universidade Estadual de Goiás. I took advantage of my time and traveled all over beautiful Brazil and worked on perfecting my Portuguese!
Now I am back enjoying the wonderful way of life in Madrid, Spain where I completed a Master's in Human Resources Management at the Universidad Internacional de la Rioja.Currently I am still in Madrid working remotely for a US startup.
If any UofL student or grad finds their way to Madrid, please feel free to reach out! 


Raven Byars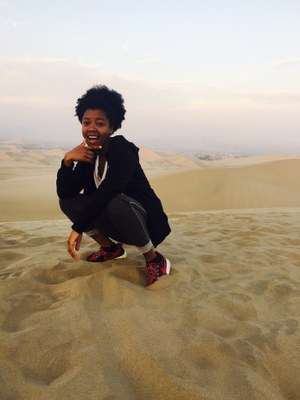 My name is Raven Byars and I am a junior majoring in Spanish, Latin American & Latino Studies, and Pan African Studies. This semester I am studying abroad in Lima, Peru with a program called CIEE and I'm having the time of my life!
Lima is a giant city filled with the mixture of Latin American, Asian, and African cultures. I have also spent my fair share of time outside of Lima to explore some beautiful nature sites. Perú is such a geographically diverse country of mountains, coast, dessert, and jungle. All are equally beautiful in different ways and I am still discovering something new about this country everyday!
If it weren't for study abroad scholarships, I would not be studying abroad! I received money from 4 different scholarships offered by my majors and the College of Arts and Sciences. I say this not to brag but to show how many scholarship opportunities there are, how willing they are to give money, and how much of a difference they can make for the cost of a study abroad trip. Even though I learned about Latin American culture in a classroom, the lessons and experiences I've had in Perú are unparalleled and have enriched my college experience so much. If you're even considering going abroad, do your research, apply for all the scholarships you can, and go have the time of your life! 


Mariah Levine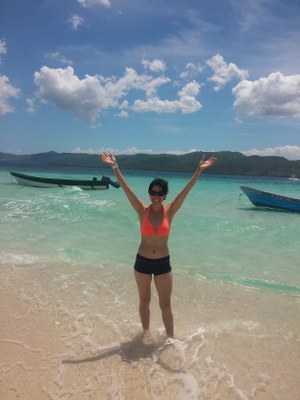 Hello fellow LALSers,
My name is Mariah and I'm spending the Fall 2016 semester studying abroad in the Dominican Republic. The Dominican Republic shares the island of Hispaniola with Haiti. I'm living with a host family and attending university in Santiago de los 30 Caballeros, the second largest city in the DR. The program provider is CIEE- the Council on International Educational Exchange. 
The Dominican Republic is a fascinating place. I am learning a great deal about the country's history, culture, and politics. The food is wonderful (as long as you like rice and beans!) and I'm eating vast quantities of avocado and fresh tropical fruit.The Dominican accent can be pretty tricky to understand, given the Dominican tendency to "swallow" or elide letters and parts of words, but my ear is gradually adjusting and my Spanish skills are rapidly improving.
I strongly encourage you to pursue a study abroad opportunity if it's something that interests you. Studying about Latin America in the classroom is all well and good, but spending time in Latin America is a completely different beast: challenging, to be sure, but incredibly rewarding. My study abroad experience wouldn't have been possible without the support of scholarship funds, so I encourage you to take advantage of the many funding sources available through UofL to help make study abroad a viable possibility for you! It is *so* worth it. Wishing you all a fun and fruitful semester. See you in the Spring!


Marie-Elena Ottman
This summer, Marie-Elena Ottman, an LALS Graduate Certificate and MFA candidate, completed the LALS Graduate Internship with Doors to Hope. One of her projects was directing children to create bilingual, illustrated storybooks.

She also collaborated with her Fine Arts Professor, Mary Carothers, on the Mayor's art exhibit, Connect/Disconnect, on the Waterfront. There's an LALS and Panamanian connection to this story; Marie-Elena is Panamanian and Mary Carothers received an LALS Lewis Fellowship in 2010 to collaborate with the Impacto Photography Project in Bocas del Toro, Panamá. Professor Carothers also discovered a Panamanian connection with their Waterfront exhibit: "Local historian Tom Owen informed me that this area was once known as Little Panama. Bananas were shipped from Panama, up the Mississippi, on to the Ohio River and then distributed from this area to various states in the Midwest," she said.


Maggie Whittle
As a first year graduate student in the Linguistics department, I decided to add on the LALS Graduate Certificate because of my previous experience as a Latino Studies Minor during my undergraduate years.  Before beginning school, I worked as Program Assistant at the Backside Learning Center, a center on the backside of Churchill Downs devoted to enhancing the lives of the workers on the backside, many of which are not from the United States.  Later, again before my studies began, I accepted a job as an ESL and Spanish Instructor at Bowen Elementary School, and have loved every minute of it!  I owe my previous experience as an intern at the Backside Learning Center through my LALS minor as a key component of my resume in finding these positions.  Moreover, during this first semester working toward the LALS Graduate Certificate, I have been an intern at three different nonprofit medical facilities: The Family Community Clinic, Kentucky Racing Health Services Center, and the GLOH Clinic through the UofL Medical School.  The clinics offer free health services to the uninsured.  This internship has truly opened my eyes to the many discouraged Spanish-speakers in our community due to their every day health concerns and the obstacles of language.  I feel that my internship has impacted not only the lives of the Spanish-speakers, but my life as well.  I enjoy every evening I spend at the clinics and, though upsetting at times, know that I am helping to mend the bridge in language borders.  Although it has been quite a juggle this semester with a new job, my graduate classes, and my internships, I would not change anything for the world! 



Jerome Soldo
Greetings from Chile!  My choice to major in LALS coupled with my desire to travel to South America has relocated me to Osorno, Chile, located in the Lakes District of northern Patagonia.  I am attending the Universidad de Los Lagos for the duration of the fall 2013 semester, where I live in a home stay with a hilarious Chilean couple and three roommates from Spain and Chile.  So far, I've been busy dissecting sentences to their grammatical cores, reading poems by Chilean icon Pablo Neruda, and analyzing Latin America's unique literary movements through my four Spanish-language classes.  Furthermore, I am reading novels on my Kindle by famous South American authors to expand my understanding of the continent's sociopolitical framework, and I am supplementing my academics with extracurricular volunteer and research opportunities.  But schoolwork isn't all that consumes a study abroad experience, if but a third of it.  

My three-day weekends are reserved for travel around Chile, and an easy border crossing opens up southern Argentina as well.  I've already visited museums and barhopped in Santiago, eaten fresh seafood alongside sea lions in Puerto Montt, trekked in snowshoes through the Cañi Nature Sanctuary, and swam in a freezing-cold pool at the base of an 85 meter waterfall outside of Pucón.  Next weekend is already booked with a pre-celebration for Chile's independence day (which is still a month away) with Chilean friends from class, skiing some of South America's best slopes, and biking a circuit around lakes with black sand beaches.  My fellow international students from Spain, Mexico, Colombia, France, and Germany have made great travel partners, and we are becoming a really close group of friends as well.    

For those who are considering studying abroad, I do want to point out that the experience is not devoid of hard times.  My drastic lifestyle change has been exciting by all means, but I already miss simple things that I seem to always have taken for granted, like my daily bagel/coffee from Einstein's and jogging the streets of Old Louisville... not to mention my close relationships with friends and family.  I am often faced with a language barrier, and it is still tough to keep up with the conversation at the dinner table or express myself in a deep conversation.  However, I welcome these challenges.  My Spanish repertoire increases rapidly, I make friends from all over the world, and I have become stronger, more independent, and more appreciative of the opportunities I have been given and will continue to pursue.  If anybody reading this is considering studying abroad in Chile or in any other Spanish-speaking country, know that I'm always available via Facebook or Email and would love to help out with any questions or doubts you may have.  It is a truly incredible experience and you must take the chance to experience it for yourselves!

Que les vaya bien,   
Jerome Soldo
Sophomore LALS Major

Universidad de Los Lagos Newsletter
Jerome was also featured on UdLL's website!