Making Online Written Feedback Appointments
written feedback, writing center covid, online writing center
Written feedback appointments allow you to upload a draft and receive emailed feedback. At your appointment's schedule time, your consultant will spend 50 minutes reading and responding to your writing using information you provide about your assignment and concerns. You do not need to do anything during your appointment time. Watch our video below to see how it works. Read more about: 
How to schedule an appointment
Log in to our scheduling website. If you are a new user, you will be prompted to register. 
Select an appointment. 

Click any white box and select "written feedback." You are reserving a date and time for a consultation to provide written feedback on your draft. 

Tip: You do not need to be available during the appointment time. If you have a draft ready now, select the first available appointment for the quickest feedback! 
Tell us about your context.

Complete the form with detailed information about your course, assignment, and concerns.

The more details you provide, the better feedback we can provide!
Upload your draft.

 At the bottom of the form there is an option to upload documents. You can either upload your draft immediately or wait. 

However, you must upload a draft prior to 12 p.m. EST (noon) the day before your appointment. If no draft is attached by 12 p.m. the day prior, we will cancel the appointment.

 

If you have technical issues uploading your document, email it to writing@louisville.edu.  
Upload your assignment.

If you have a PDF or Word Document with the assignment's instructions, attach that too! 

Edit your appointment:

After you create your appointment, you can still make changes to your appointment information, including uploading documents or updating your draft, by 

returning to your appointment in the University Writing Center schedule. 
What to expect from your appointment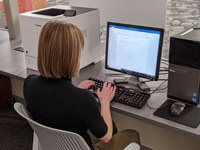 At your appointment's start time, your consultant will review the information you provided, download your file(s), and proceed to use Microsoft Word to provide you individualized feedback on your writing. Your feedback will begin with a letter summarizing the consultant's overall response and likely providing some general suggestions for revision. You should then expect to see multiple comment bubbles with questions, comments, suggestions, praise, and advice targeted to specific words, sentences, or paragraphs in your draft. Our written feedback is not designed to be proofreading or editing. Our goal is to help you improve your writing, and as a writer, in both the short and long-term. We believe that providing you written feedback in the ways we just described helps achieve that goal better than simply correcting your writing line-by-line. 
Our consultants allocate 50 minutes to each written feedback appointment, so your consultant may not be able to read and comment on your entire draft, but they will let you know how much they were able to read.
Typically, you will receive an email with your written feedback one hour after the appointment's scheduled start time; however, it may take up to 24 hours. You can also access your commented file from your appointment in the scheduling system.

Access our guide that includes strategies for navigating written comments and making substantial revisions.
If you do not receive your feedback within 24 hours, contact us by phone at 502-852-2173 or by email. 
Policies
All appointments are a maximum of 50 minutes and back-to-back appointments are not allowed. 

Writers may schedule up to two virtual appointments per week.
Writers must upload a draft of a paper by 12 p.m. EST (noon) the day prior to the scheduled appointment. If a writer schedules an appointment after 12 p.m. EST the day prior to the appointment, they must upload the draft immediately. If there is not a draft of a paper uploaded by 12 p.m. EST the day prior to your appointment, the appointment will be canceled. 
We only accept .doc, .docx, and PDFs and not links, unless the project is a multimodal project. If you have a multimodal project (video, Prezi, website, etc.), please contact us to find out how to provide access to your draft and receive your feedback. 
Writers can book up to 14 days in advance. 
Writers must submit their own writing using their own WCOnline account. 
If there are questions or concerns about an appointment or feedback, writers should contact the University Writing Center at 502-852-2173 or writing@louisville.edu. Students, faculty, and staff should not contact consultants directly.