Western Branch Library
The West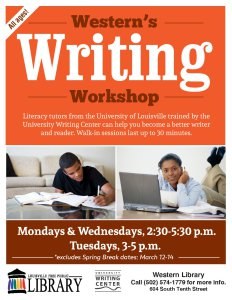 ern Branch of the Louisville Free Public Library, built in 1908, was one of the nine original Carnegie libraries of the public library system. It was the first library in the nation to serve and be fully operated by African Americans. It underwent a substantial renovation about ten years ago and is the home of the African American Archives, featuring resources dedicated to African American history in Louisville. At the Western Branch Library, we have engaged in a range of activities from tutoring to comic writing workshops to helping with daily reading activities and library programming. You can find out more about what we have done at the Western Branch Library on our blog posts which you can link to here.
Cotter Cup Poetry Contest
The Western Branch Library has a history of significant contributions to the city's West End. One of those important contributions was the founding in 1913, by Louisville educator and poet Joseph Cotter, of an annual storytelling contest. The "Cotter Cup" was a 'storytelling bee,' intended to encourage children to read and learn through the art of storytelling. In 2021 we collaborated with Western Branch Library in reviving the Cotter Cup as a writing contest in which Louisville K-12 students would produce creative writing and be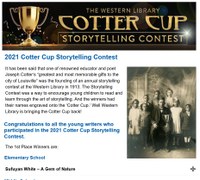 supported in that work through consultations of University Writing Center staff. The goal of the contest is to encourage creative writing in the community and to connect K-12 students with writing support and conversations with our university writing consultants. Although the pandemic necessitated that the consultations for the inaugural Cotter Cup poetry contest  take place online this year, we had a great time working with dedicated and imaginative students from across grade levels and across the city. All the participants in the contest received books and writing journals, funded by the UofL English Department Thomas R. Watson Endowment. The winners also received prizes and will have their names engraved on the new "Cotter Cup." It was also meaningful, during the pandemic year when so many programs were cancelled and put on hold, to have the chance to create a new program with our community partner and connect to students across the city. You can read more about our consultants' reflections on their experiences with the Cotter Cup writers here.
If you're interested in being involved in this community writing project, please click here.