SPHIS Home » Message from the Dean
Message from the Dean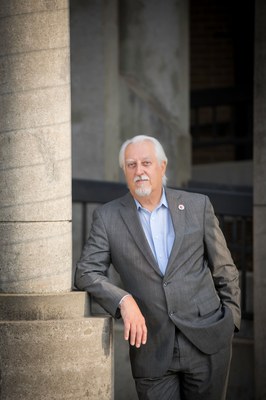 Spring 2021
Change is in the air.
As you all know by now, the Derek Chauvin trial has concluded, finding him guilty on all three verdicts. Given the visibility of this event and the apparent consensus among most legal experts, this outcome may only be surprising in that it represents an enormous step in policing and judicial decision making. It is an emotional time. It was a day where accountability became visible for many—hopefully for George Floyd's family and friends as well.
As we move forward, we are still facing greatly needed change. As noted by many during coverage of the unfolding events in Minneapolis, including President Biden and Vice President Harris, systemic racism is not gone. White supremacy is still pervasive. Health inequities remain. But these verdicts send the message that suggests change is possible. We are not united on this front, but a leap has been made. It is time to double down and continue our efforts to create a Union that centers justice.
On another note, we are beginning to see more light at the end of the COVID tunnel. Vaccination rates are up across the country. Cases are down. To a lesser degree, hospitalization and mortality rates are down, and students are finally eligible for vaccinations. The best advice remains: get the first available option. We need your help achieving a sense of herd immunity.
The university continues to ponder how to approach students coming back in the fall. No doubt classes will be returning to more traditional formats in most cases, but vaccine requirements have not been discussed. The list of institutions requiring students to be vaccinated continues to grow. Other universities have indicated that non-academic events (e.g., sports, social events) will not be accessible to those not vaccinated. There is little doubt that the "emergency use authorization" will be dropped in favor of more general access to vaccines well before fall classes start.
While this is all great news, we need to remain vigilant a bit longer. Leadership across the country is feeling increasing pressure to relax safeguards and more rapidly open the economy. As the weather continues to warm, it becomes easier to spend time outside. Even though the likelihood of spreading the virus is greater in indoor settings, we must continue to physically distance ourselves even in outdoor settings. At this point, official CDC guidance suggests we may gather in small groups of those already vaccinated, but we must continue to wear masks in public and refrain from large gatherings in public settings with others we do not know and spend time with routinely. Here's a helpful resource from the New York Times to share with family and friends.
At SPHIS, we have had a lot of exciting things going on over the past few months. Our student organizations hosted a variety of virtual events during National Public Health Week, including generating many social media posts and videos. SGA created a video addressing vaccine hesitancy and KPHA produced a video on Instagram about "Advancing Racial Justice." SPHIS also partnered with the Louisville Free Public Library to produce a virtual presentation by Dr. Paul McKinney that explored the history of vaccines.
Additionally, there are several new initiatives underway at the school worthy of note. First, from a COVID-19 perspective, a team of faculty who have been preparing case, hospitalization, and mortality projections for Jefferson County are now officially providing the same service for the state and the state's 10 regions. The team comprised of Drs. Seyed Karimi, Bert Little, Sarah Moyer, and Natalie Dupré have been active in this process for much of the past year and are now being recognized by the state for the innovative work they are doing.
Likewise, Drs. Susan Buchino, Liza Creel and Executive in Residence Tony Zipple have taken on a new project working closely with the city to develop a new plan to divert a portion of 911 calls from an immediate police response to a response team linked to behavioral and clinical health specialists. This initiative may lead to a significant redefining of the way public safety responds to resident requests for help that is less likely to lead to conflict and more likely to quickly provide direct links to needed services from housing to food to behavioral health services.
Students—finish the semester strong. Alumni—keep us informed about the exciting things you are doing and reach out to a student today. Faculty and staff— lend a hand as you can. Crunch time is soon upon us. Friends of the school—thank you so much for what you do to help us meet our mission. All— stay safe and healthy. Let us continue to engage in the dialogue, advocate for the continuation of meaningful change, and support each other in whatever ways are helpful.  Change is indeed in the air.

Dr. Craig Blakely
Dean