SPHIS Home » Message from the Dean
Message from the Dean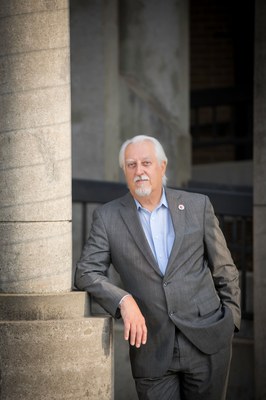 Fall 2021
On August 2, a majority of faculty and staff returned to campus. Like most post-secondary institutions, the University of Louisville, and we the students, staff, and faculty, have been through a lot the last 18 months: COVID and Breonna and the related uncertainties in particular. We finished up spring 2020 in a pretty well-orchestrated scramble. We endured a slightly more predictable 2020/2021 academic year with all sorts of new challenges but survived remarkably well. And we rode the excitement and enthusiasm generated by the remarkable development of vaccines across the globe in record time in the spring of 2021 and began preparations for a return to near "normalcy" in fall.
Just weeks into the semester, we find ourselves facing new uncertainties as the Delta variant continues to spread. The good news is that the vaccines are still protective against severe disease preventing hospitalization/mortality. However, this much more viral/contagious variant has led to dramatic increases in cases, hospitalizations, and morbidity/mortality—primarily among the unvaccinated. Figures from Jefferson County Kentucky suggest that roughly half (48.2%) of all Jeff Co residents over the age of 12 have been fully vaccinated. Overall, the county has moved back up to the red category, from an average daily incidence of less than 5 to an average daily incidence of well above 25 cases per 100,000 population.
The numbers of cases have been increasing in all age groups, but the rate of increase is highest in the 20-44 group and lowest in the 65+ group. Disparities in vaccination by race are still present.  While 21.7% of Jeff Co residents are African American, only 13.3% of vaccine recipients are African American. Additionally, the CDC has advised those who are immunocompromised and received either the Moderna or Pfizer vaccines to receive a third, booster dose. It is very likely that a broader recommendation for persons having received the mRNA vaccines 6-8 months or more ago will emerge soon.
More troubling is evidence that those already vaccinated can become COVID positive, typically largely symptom free, but then become vectors to the spread particularly among the unvaccinated. All of this is leading many to reconsider indoor mask mandates. This includes UofL who instituted a mandatory mask mandate regardless of vaccination status on August 9. There are no large-scale shutdown directives in play yet.
Scott Gottlieb, former FDA head and current Pfizer Board Member, provided a really good update on NPR Monday, July 26.  I shared the link with many that day. I believe it might be a good read/listen even a few weeks later.  The focus of his comments was on the increasing demand to return to masking in public indoor settings. What I found particularly interesting were his comments on private sector firms preparing to mandate vaccines as soon as the Emergency Use Authorization is removed (he projected mid-September).
The bottom line seems to be this: we need to get vaccinated. Only then will we truly be able to win this battle and return to our social selves. Thus, we all need to take that fact to heart and do our part. To quote our own Commissioner of the Kentucky Department for Public Health, Stephen Stack: "There is no debate here. There is no two sides of the story here. There is fact and there is fallacy." 
To speak more directly to the questions being asked by many of us about COVID response in higher education, we must address the questions of mask mandates and incentives if not vaccine requirements. The political reality is that some public education institutions are afraid of what their state legislatures will do if we push too aggressively toward mandates. It is much easier for private sector business to push mandates. Some government agencies are making strong moves to require vaccination. Universities are presenting a mixed bag—and it varies greatly by state according to the Chronicle of Higher Education's current list.
One of the things we must do is embrace the debate. These are very unusual times. Crises create opportunities. Sandro Galea, Dean at the BU School of Public Health and immediate past president of the Association of Schools and Programs of Public Health, recently put out an interesting piece he called Borders in the age of Pandemics. If you have a moment, enjoy the read.  
My opening comment referenced Breonna Taylor as well as the COVID-19 pandemic. I have focused exclusively on the latter, but I assure you that our engagement in the Cardinal Anti-Racism Agenda (CARA) at both the school and university level continues. More to come in future newsletters, but for now I'll share an interesting article about the Black Lives Matter movement and what is occurring in Minneapolis.  
Best wishes for the fall. We are glad you are with us.

Dr. Craig Blakely
Dean
---
May 2021
Congratulations Graduates!
SPHIS celebrated our 2020 and 2021 graduates over the course of 3 days, May 6-8. It was a memorable graduation weekend. As a school, this was our largest graduation to date. Of course, it is always fun to be on the football field—except perhaps for those colleagues who got rained on Friday night. Doctoral hooding on Thursday afternoon went well and Saturday's public health graduation event was sunny and cool. It would have been a perfect day for football!
I know our graduates are heading in many directions—some continuing their educational pursuits, some already employed, and others still looking. Remember, your colleagues here at the school and university remain supportive and are ready to lend a helping hand wherever we can.
As you transition in the months and years ahead, please be an engaged alumni member—keep us posted on your movements, send us acquaintances who might follow in your footsteps here at UofL, and make whatever contributions to support other students here at the school that you can. This year we raised considerable support for students adversely impacted by the pandemic. There is no doubt some will continue to struggle financially, and support from our alumni for emergency funds and student research/travel needs are extremely helpful.
Congratulations to all those who graduated and their loved ones on this significant achievement. If you haven't already, please get vaccinated. If we each do our part, perhaps by this fall, we will convene in Cardinal Stadium to watch some football and reminisce about the historic 2021 graduation ceremony.
Go Cards!

Dr. Craig Blakely
Dean
---
Spring 2021
Change is in the air.
As you all know by now, the Derek Chauvin trial has concluded, finding him guilty on all three verdicts. Given the visibility of this event and the apparent consensus among most legal experts, this outcome may only be surprising in that it represents an enormous step in policing and judicial decision making. It is an emotional time. It was a day where accountability became visible for many—hopefully for George Floyd's family and friends as well.
As we move forward, we are still facing greatly needed change. As noted by many during coverage of the unfolding events in Minneapolis, including President Biden and Vice President Harris, systemic racism is not gone. White supremacy is still pervasive. Health inequities remain. But these verdicts send the message that suggests change is possible. We are not united on this front, but a leap has been made. It is time to double down and continue our efforts to create a Union that centers justice.
On another note, we are beginning to see more light at the end of the COVID tunnel. Vaccination rates are up across the country. Cases are down. To a lesser degree, hospitalization and mortality rates are down, and students are finally eligible for vaccinations. The best advice remains: get the first available option. We need your help achieving a sense of herd immunity.
The university continues to ponder how to approach students coming back in the fall. No doubt classes will be returning to more traditional formats in most cases, but vaccine requirements have not been discussed. The list of institutions requiring students to be vaccinated continues to grow. Other universities have indicated that non-academic events (e.g., sports, social events) will not be accessible to those not vaccinated. There is little doubt that the "emergency use authorization" will be dropped in favor of more general access to vaccines well before fall classes start.
While this is all great news, we need to remain vigilant a bit longer. Leadership across the country is feeling increasing pressure to relax safeguards and more rapidly open the economy. As the weather continues to warm, it becomes easier to spend time outside. Even though the likelihood of spreading the virus is greater in indoor settings, we must continue to physically distance ourselves even in outdoor settings. At this point, official CDC guidance suggests we may gather in small groups of those already vaccinated, but we must continue to wear masks in public and refrain from large gatherings in public settings with others we do not know and spend time with routinely. Here's a helpful resource from the New York Times to share with family and friends.
At SPHIS, we have had a lot of exciting things going on over the past few months. Our student organizations hosted a variety of virtual events during National Public Health Week, including generating many social media posts and videos. SGA created a video addressing vaccine hesitancy and KPHA produced a video on Instagram about "Advancing Racial Justice." SPHIS also partnered with the Louisville Free Public Library to produce a virtual presentation by Dr. Paul McKinney that explored the history of vaccines.
Additionally, there are several new initiatives underway at the school worthy of note. First, from a COVID-19 perspective, a team of faculty who have been preparing case, hospitalization, and mortality projections for Jefferson County are now officially providing the same service for the state and the state's 10 regions. The team comprised of Drs. Seyed Karimi, Bert Little, Sarah Moyer, and Natalie Dupré have been active in this process for much of the past year and are now being recognized by the state for the innovative work they are doing.
Likewise, Drs. Susan Buchino, Liza Creel and Executive in Residence Tony Zipple have taken on a new project working closely with the city to develop a new plan to divert a portion of 911 calls from an immediate police response to a response team linked to behavioral and clinical health specialists. This initiative may lead to a significant redefining of the way public safety responds to resident requests for help that is less likely to lead to conflict and more likely to quickly provide direct links to needed services from housing to food to behavioral health services.
Students—finish the semester strong. Alumni—keep us informed about the exciting things you are doing and reach out to a student today. Faculty and staff— lend a hand as you can. Crunch time is soon upon us. Friends of the school—thank you so much for what you do to help us meet our mission. All— stay safe and healthy. Let us continue to engage in the dialogue, advocate for the continuation of meaningful change, and support each other in whatever ways are helpful.  Change is indeed in the air.

Dr. Craig Blakely
Dean