SPHIS Home » Office of Public Health Practice
About OPHP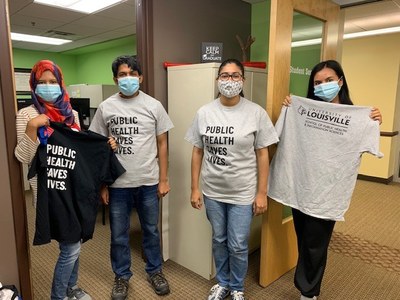 Public health practice is defined as: "The strategic, organized, and interdisciplinary application of knowledge, skills, and competencies necessary to perform essential public health services and other activities to improve the population's health." Source: Demonstrating Excellence in Academic Public Health Practice. ASPPH (June, 1999).
The Office of Public Health Practice (OPHP) was established in the University of Louisville School of Public Health & Information Sciences (SPHIS) in 2014 to support practice, education, applied research and community–university health partnerships by building bridges between academia and the "real" world of public health. Practice is an important part of the educational experience and is the most significant way that students apply classroom knowledge to genuine public health issues during their course of study. It can also open the doors to the different focus areas of public health professions. 
Our Mission
The Office of Public Health Practice works with students, faculty, community partners, and alumni to connect academia and public health issues. Mutually benefitting student, faculty, and the community, OPHP aims to:
Engage students and faculty in emerging public health challenges at local, national and global levels. 
Translate UofL's research and academics into public health action by applying classroom work to identify and address the most pressing needs in the community. 
Support university-community partnerships locally to help support the school's effort to strengthen the city of Louisville. 
Open doors to careers and inspire students to pursue their futures as public health leaders. 
Contact Us
Dr. Tammi Alvey Thomas, Associate Dean for Student Affairs, Public Health Practice and Undergraduate Education, brings years of experience working with community agencies to develop creative strategies four suing the resources available to address local public health priorities. The office mutually benefits the community and the University of Louisville students and faculty. The office inspires students and faculty to engage with communities and help populations with their most pressing health needs. Furthermore, by providing access to resources, faculty and students are more inclined to pursue careers as public health leaders, continuing their expertise outside of the classroom for the benefit of population health.
Contact: Dr. Tammi Alvey Thomas at tammi.thomas@louisville.edu or 502-852-3289.