Indirect Costs / F&A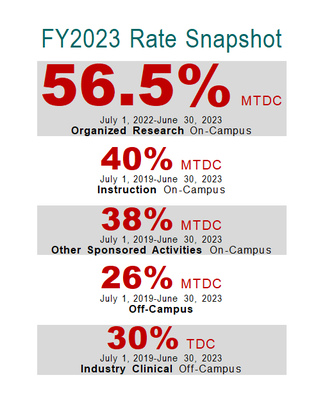 Indirect costs—also known as facilities and administrative (F&A) costs, or overhead—are actual costs that the University of Louisville incurs in its day-to-day operations. Indirect costs include clerical support, library operations, utilities, depreciation of buildings and equipment, physical plant operations and maintenance, sponsored programs administration, and general administrative expenses for central offices such as the president, provost, human resources, and purchasing.
These expenses are not readily identifiable with individual projects and therefore cannot be directly charged to sponsors. In order to recover these real costs, they are budgeted and charged to sponsored projects as indirect costs. More on F&A costs here.
UofL's practice of full cost recovery imposes a duty on all university principal investigators to perform sponsored projects on a full cost recovery basis — to ask for and obtain full indirect costs from all sponsors.
Indirect Cost Rate Agreement
As a recipient of federal funds, the University of Louisville is required to negotiate an indirect cost rate agreement with the federal government. The U.S. Department of Health and Human Services (DHHS) is UofL's cognizant federal agency with whom we negotiate the indirect cost rates for UofL's externally sponsored awards. UofL's current Indirect Cost Rate Agreement covers the five-year period beginning July 1, 2018 and ending June 30, 2023.
For more information, please call the Office of Sponsored Programs Administration: 852-3788.