News
News and Events
Learning Arabic at UofL 
University of Louisville and Arabic alum, Adam Burba, shares his experience learning Arabic at UofL and how it's benefited him. 
"My name is Adam Burba. I graduated from the University of Louisville in 2017. My time learning Arabic at UofL had a major impact on my life. Through Arabic classes, I was introduced to the culture and history of the Middle East. After graduating, I decided to continue studying at the University of Chicago's Center for Middle Eastern Studies. While there, my area of interest expanded, and I ended up studying Arabic and Turkish. My background in Arabic was a massive help with learning other Middle Eastern languages. As a graduate student, I traveled to Azerbaijan as a State Department Critical LanguageScholarship recipient. To practice my Arabic and Turkish, I traveled and spent some time in Kuwait and Turkey." 
"I encourage anyone who is curious about the Arabic language or Middle East culture and history to give Arabic language classes at UofL a try. For me, it led to some of the most amazing experiences and lifelong friendships."
---
Arabic Professor Appointed Chair of 
Curriculum and Instruction Committee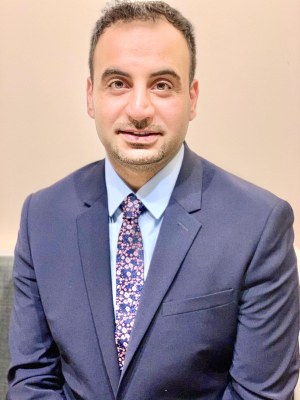 Khaldoun Almousily, Arabic professor and program coordinator of at the Department of Classical & Modern Languages has been appointed Chair of the Curriculum and Instruction Committee for the Arab Council for the Gifted and Talented (ACGT). Professor Almousily will be leading a team of scholars and researchers from 23 countries to develop and improve the curriculum in the Middle East and North Africa. ACGT is a worldwide non-profit organization that was established more than 24 years ago to provide the Arab youth with curriculum that can help them grow, develop, and reach their personal best. Professor Almousily's new position will help him create opportunities for the worldwide exchange of knowledge, ideas, expertise, and teacher trainings in the field of gifted education. He will advocate for laws and policies that create a supportive learning environment for gifted children from all backgrounds in all countries. 
---
UofL Arabic Program at Kentucky Center for the Arts
Rachid Tagoulla was featured on the Voice-Tribute website. He represented the Arabic program at The Kentucky Center ArtsReach during the Louisville annual community celebration honoring Dr. King's vision. He spoke with Mayor Greg Fischer and many guests about Arabic language classes at UofL. He also answered questions about stereotypes and misconceptions about Arabic language and culture. Attached is a picture of Rachid with Mayor Greg Fischer.
---
Arabic Program on UofL Today (1/16/18)
Click here to listen to Professor Almousily discussing UofL's Arabic Program on UofL Today with Mark Hebert.
---
Promoting Arabic on UofL Today
Click here to listen to Professor Almousily discussing UofL's Arabic Program on UofL Today with Mark Hebert.

---
President's Volunteer Service Award
Khaldoun Almousily, program coordinator and instructor of Arabic, was awarded on March 3
rd
, 2017 the President's Volunteer Service Award for doing 125 hours of volunteer work with Louisville Metro Police Department. Along with the ultimate honor of presidential recognition, Mr. Almousily received a personalized certificate, an official pin, and a congratulatory letter from the president of the United States. 
---
Arabic Language and Culture Presentation
Khaldoun Almousily, program coordinator and instructor of Arabic, presented on March 1
st
, 2017 at the Jewish Temple for Reform Judaism in Louisville about Arabic language and culture and Islam as a religion of Peace. The presentation was scheduled for one hour, but due to the interest and questions from the 50+ attendees, it lasted for three hours. More questions were asked during the Mediterranean dinner provided by the temple. The presentation covered the history and origin of Arabic language, traditions of Arabic culture, similarities between Islam and Judaism, and why now is the golden time to learn Arabic.
On Wednesday, October 26, 2016, Arabic students at the University of Louisville received their first taste of Arabic culture.
---
Islamic Center of Louisville
Students spent the day at the Islamic Center of Louisville, where they were led through a typical day of worship. Students attended a lecture about the origin of Arabic language and importance of learning Arabic. They also learned of several traditions behind the religion; there is a no-shoes rule once inside the place of worship, and women and men are separated by floor during service. The preparation, too, differs from other religions: "Islam isn't just about the spirit," explained guide Amal as she showed the 40+ students the washing centers for wudu, the Muslim cleansing ritual before worship. "It's about the cleansing of the entire self—mind, body, and spirit." Students also had the chance to ask about the better-known parts of the religion, and were given a better look at the significance of the Quran and the importance of the hijab, the head scarves women wear.
In addition to religion, UofL students were given exposure to the architecture and food aspects of Middle Eastern culture; the construction of the mosque was meant to reflect its Middle Eastern ancestry, from its light and airy structure to its domed ceiling. Following the tour, students ate a traditional Mediterranean meal, complete with classic favorites such as hummus. Students also got the chance to talk one-on-one with Middle Eastern natives, bringing them more exposure to Muslim life in America.
"My favorite part was when we got to sit down after the meal and talked to members of the Islamic Community," recalls Caroline Smith, a UofL Arabic student. "It showed that while our belief system differs, we still have lots in common and can respect each other's way of life."