Meet our Scholars
Year 7 - 2022
Toluwani Adekunle, School of Public Health and Information Sciences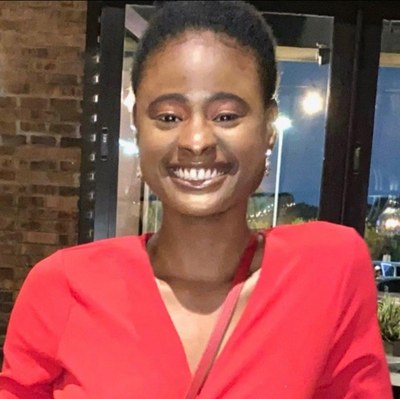 Toluwani is a PhD Candidate in Department of Health Promotion and Behavioral Sciences at the School of Public Health and Information Sciences. She is Interested in research on health equity and social/health justice among underserved and marginalized populations.
Sierra Shockley, School of Medicine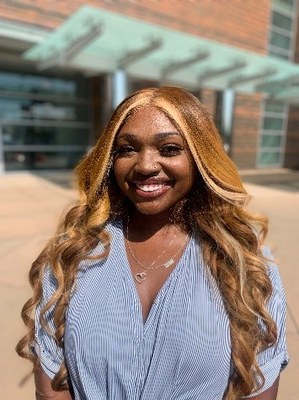 Sierra Shockley is a student at the University of Louisville School of Medicine. She has a Bachelor of Science in Biology, with minors in Gender & Diversity Studies and Chemistry from Xavier University of Cincinnati, Ohio, and a Master of Science in Health Science from Fairleigh Dickinson University. During her undergraduate studies, Sierra realized her passion for healthcare policy as it relates to underrepresented individuals and providers - this realization occurred during her time as a Summer Health Professions Education Program Scholar at the University of Louisville. Later, Sierra went on to engage with her passion for diversity and equity by participating in study abroad programs in Bijagual, Costa Rica and Lima, Peru, where she was able to conduct scientific studies regarding litter-fall in various tropical rainforests and where she collaborated to create service-learning projects surrounding literacy development in these places. After completing her graduate studies and prior to attending the University of Louisville, Sierra worked as a medical scribe for the Mercy Hospital Emergency Department-Level 1 Trauma Center and as a Clinical Research Coordinator at St. Louis Children's Hospital. After moving to Louisville, she grew an even deeper passion for addressing the inequities present in the city of Louisville and began to actively address systemic issues of her community. She is involved in numerous organizations such as Urban League, Future Healers, and Compassion Clinic as well as a representative on various leadership executive boards. She is the founder of the Warm Winter Wishes Winter Clothing Drive, which has become a HSC-wide clothing drive to support economically disadvantaged families. Sierra looks forward to mitigating health inequities while continuing her medical education with hopes of entering a surgical specialty.
Aravia Patterson, School of Public Health and Information Sciences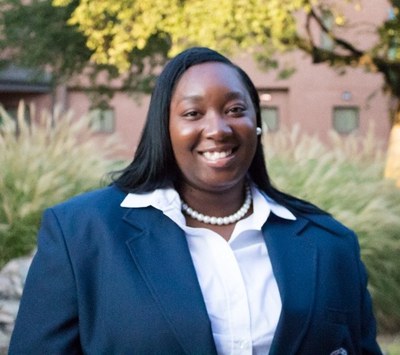 Aravia Patterson was born and raised in Columbia, SC. She is the eldest of five children, ranging in age from 6 to 23. She graduated salutatorian from Eau Claire High School in 2014, then went on to graduate from Bennett College with a Bachelor of Science in Biology and a Bachelor of Arts and Sciences in Africana Women's Studies. After participating in a CDC summer Public Health Program at the University of Michigan (FPHLP), Aravia was selected as a Maternal and Child Health Fellow in Drexel University's Global Health Immersion Program.
Along with faculty, staff, and other fellows, she traveled to Senegal and The Republic of Gambia to survey and participate in their public health practices. She then went on to earn her Master of Public Health degree from the Morehouse School of Medicine on May 15, 2021. Her research project focused on doulas and maternal mortality among low-income African American women. During the summer of 2021, she completed an internship through the Association of Maternal and Child Health Programs at the Kentucky Department of Public Health, Maternal and Child Health Division. Currently, Aravia is pursuing her doctoral studies (Ph.D.) in Public Health and Information Sciences with a Specialization in Health Promotion and Behavioral Sciences at the University of Louisville.
Fadumo Abdullahi, School of Medicine
Fadumo Abdullahi is a current medical student. She pursued her passion of becoming a physician and working with the underserved populations in providing quality healthcare. As a response to the COVID-19 pandemic, Fadumo was selected as co-chair for the Health and Safety focus area team to guide the recovery process and help shape the future of the community. Fadumo has been selected to represent her city in an inaugural cohort of young leaders from across the country. She worked with her mayor and city lead, as well as community and faith-based organizations, and national experts to deepen youth-adult partnerships in reducing violence. 
Year 6 - 2021
Briana Craddock, School of Nursing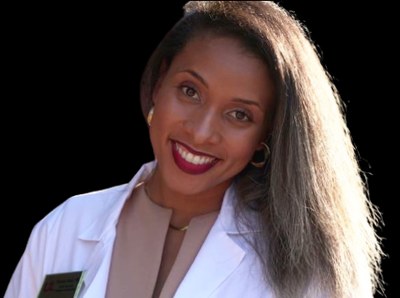 Briana Craddock is a Doctoral student at the School of Nursing, focusing on the Family Specialty track. She attended Cumberland University on a full athletic scholarship, where she served as team captain. She received a Bachelor of Science in Athletic Training but immediately recognized she wanted to be more impactful in health care. She attended Bellarmine University's 12-month accelerated program, where she received a Bachelor of Science in Nursing.
Kofi Amoh-Mensah, School of Nursing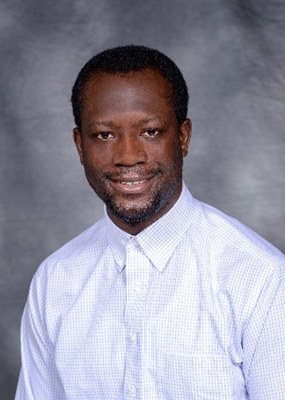 Kofi is a PhD candidate at the UofL School of Nursing. He is currently working on his dissertation titled "Barriers and Facilitators of Dairy Consumption in Individuals with Metabolic Syndrome".


Year 5 - 2020
Adrienne Smith, School of Public Health and Information Sciences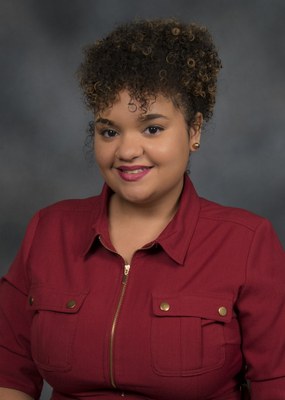 Adrienne Smith is a doctoral candidate in the SPHIS with a concentration in Health Promotion. Adrienne completed her undergraduate degree in public health at Eastern Michigan University in 2017 and moved to Louisville to continue her education in Public Health at the University of Louisville in 2019. Her experience as the Community Outreach Coordinator at the Mayor's Office for Safe and Healthy Neighborhoods allowed her to be involved in grassroots efforts against structural violence that facilitates an environment for interpersonal violence. Additionally, her practicum experience at the Center for Health Equity, Louisville Metro Department of Public Health and Wellness allowed her to work on a health impact assessment of a proposal that could have had negative implications, specifically for the Black residents of West Louisville. Adrienne's research interests are centered around the social determinants of health, health equity, structural barriers of oppression, and research informed policy solutions. Given her professional experiences and research interests, Adrienne has remained steadfast in her work to bridge the gap between social justice and academia. Adrienne believes that academia has a responsibility to serve the community so that everyone has the freedom to live long and healthful lives. She believes an intellectual that remains inside the bounds of the Ivory Tower serves no one but themselves.
Toluwanimi Olajuyigbe, School of Nursing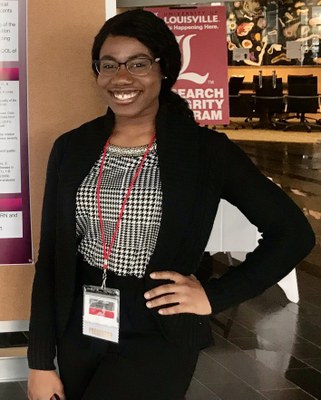 Toluwanimi Olajuyigbe is a PhD candidate at the University of Louisville School of Nursing. Her research focus is on exploring the facilitators and barriers to healthcare transition readiness in young adults with sickle cell disease. Growing up in Nigeria, Toluwanimi witnessed multiple barriers to care that contributed to negative health outcomes among underserved populations. These experiences fueled her passion for nursing and promoting health equity within the community. Toluwanimi graduated with a BSN degree from the University of Wyoming in 2018. Upon graduating, she took up the opportunity to pursue graduate studies at the University of Louisville. Toluwanimi currently works as a Graduate Research and Teaching Assistant at the School of Nursing, where she collaborates with faculty and students on several projects pertaining to research, teaching, and learning. In addition, she is a clinical research intern for the Family Sports & Activity Program at Norton Children's Research Institute (NCRI), affiliated with the University of Louisville School of Medicine. In 2020, she worked as a Registered Nurse at Christian Care Communities, providing comprehensive care to older adults during the COVID-19 pandemic. Toluwanimi is an active member of professional organizations including Sigma Theta Tau International Honor Society (Iota Zeta Chapter), International Association of Sickle Cell Nurses and Professional Associates (IASCNAPA), and the Midwest Nursing Research Society (MNRS). In her free time, she enjoys spending time with family and friends, listening to podcasts, attempting to bake, and watching reality shows including cooking competitions.
Year 4 - 2019
Alice Story, School of Public Health and Information Sciences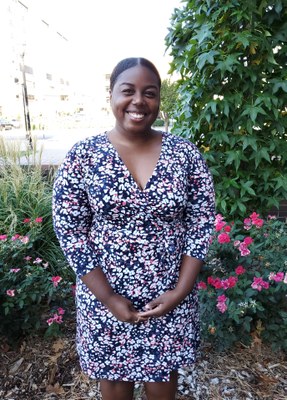 Alice Story is a doctoral student at the University of Louisville School of Public Health and Information Sciences, Department of Health Promotion and Behavioral Sciences. She has a Bachelor of Science in Biology from Spelman College, Master of Public Health in Health Policy and Management from the University of Arkansas for Medical Sciences, and Juris Master in Health Law from Emory University. During her undergraduate studies, she conducted research in molecular and evolutionary biology with a focus on cellular aging in Saccharomyces cerevisiae and male mate choice in Tribolium castaneum beetles. Her graduate studies research focused on nutrition in regard to access to fresh fruits and vegetables in a school environment through the Delta Garden Study, the availability of selected food and beverage items at Supplemental Nutrition Assistance Program (SNAP) authorized dollar stores, and assessing the food vending environment on a college campus. After completing her graduate studies and prior to attending the University of Louisville, Alice worked in state government and academia in the areas of youth tobacco prevention, maternal and child health, brain health, and urology. After moving to Louisville, she realized great inequities in the city and has decided to focus her research on housing inequities (e.g., gentrification, neighborhood redevelopment) and health outcomes that disproportionally affect underserved and marginalized communities.
Brittany Corniel, School of Nursing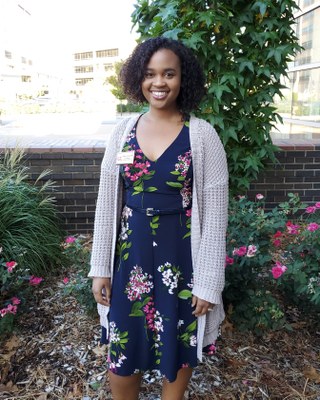 Brittney Corniel is a Doctoral student at the School of Nursing, studying to become a Family Nurse Practitioner. Mrs. Corniel graduated from the University of Louisville with a BSN and was honored with the President's Outstanding Graduate Award. She also carried the School of Nursing banner during the University Spring 2017 Commencement Ceremony. As an undergraduate student, Mrs. Corniel held several leadership positions within the Black Student Nurses Association, Nursing Student Council and the Office of Admissions. She served as a research scholar and became a co-author of a study that was presented at the annual Sigma Theta Tau International Honor Society of Nursing Convention in 2017 by her faculty mentor. Mrs. Corniel collaborated with the inaugural cohort of the Health and Social Justice Scholar program to create the first HSC Diversity Summit in 2017. She currently works as a Labor and Delivery Nurse at the University of Louisville Hospital and as a Graduate Research and Teaching Assistant at the School of Nursing. Mrs. Corniel is currently serving as the School of Nursing representative for the Graduate Student Council as well as the HSC student representative for the Graduate Council. She is also the DNP student representative for the School of Nursing Alumni Council and the Doctoral Academic Affairs Committee, in which she has worked the program director to create the DNP Student Advisory Council. Her research focus is improving the health literacy of prenatal education for childbearing women that come from a low socioeconomic status.
Desiree Marques, School of Dentistry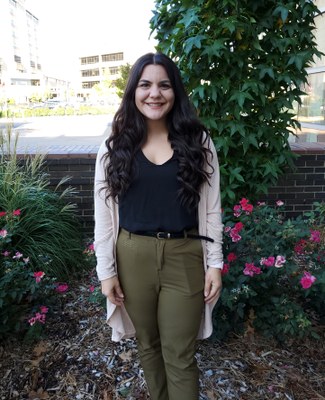 Originally from Miami, Desiree Marquez is a first-year dental student at the University of Louisville School of Dentistry. In middle school she went on a mission trip to Tegucigalpa, Peru and found a passion for service and helping the underserved communities. Growing up in a from a family who immigrated from Cuba for a better life, she held her education very high. She went to the Florida State University majoring in Biological Sciences. Her  first year in college she wanted to  do something in the health care field but wasn't sure exactly what her calling was.  She attended UofL Summer Medical and Dental Education Program (SMDEP) and through the experiences here she decided Dentistry was where she felt like she belonged. At FSU she became a sister of Kappa Delta Chi Sorority Inc. a Latina founded Service sorority.  This experience helped her grow as a woman, empower other women, and helped her give back to her community. She also volunteered throughout  college with FSU's  Center for Leadership and Social change where she led a group of college students every week to a town outside of Tallahassee where most of the student's family where migrant workers, they worked with a non-profit after school program where they would tutor and mentor the students. As a dentist she hopes to work with the under-served communities with a focus on the Hispanic/Latino population.
Jason Deakings, School of Public Health and Information Sciences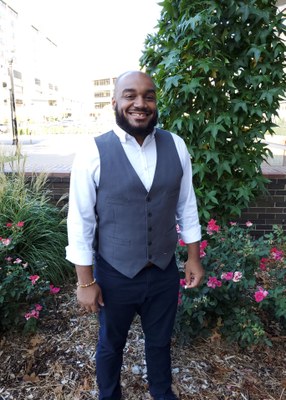 A near second year doctoral student at the University of Louisville's School of Public Health and Information Sciences, Jason A. Deakings has a commitment to minority issues, social justice, health equity, and education.  In 2016, Mr. Deakings graduated from the University of Phoenix where he earned a BS in Environmental Science with a focus in Biological Sciences.  While an undergraduate, he also worked as a Case Manager for Highmark, Inc, in the Patient-Centered Medical Home department, focused on health improvement for Highmark insurance members.  He also volunteered as the Director for the Pittsburgh Community Food Bank at Brown Chapel Church, and tutor and mentor at Brown Chapel's after school program.  After graduation, he went on to attend Meharry Medical College, where he obtained a Master of Science in Public Health degree.  During his graduate studies at Meharry, Jason served as the President of the Division of Public Health Practice Student Association, developing community wellness projects and public health improvements for the Metro area.  Additionally, he served as the Director of Quality Assurance for the student-run clinic called the Saltwagon Clinic at Nashville General Hospital.  This clinic serviced un-insured and low-income residents in the Nashville Metro area.  Currently, during his recent entrance into his doctoral program, Mr. Deakings has been elected as Director of Finance for the Graduate Student Council, and Public Relations Chair for the Multicultural Association of Graduate Students.  Moreover, he has been a student member of the American Public Health Association (APHA) for over two years (2016). 
Lydia Lissanu & Andreah De La Hoz, School of Medicine
Lydia Lissanu is a first-year medical student at ULSOM with dreams of one day becoming a pediatrician. Before coming to U of L, she worked as a research program coordinator and health educator at the University of Chicago Medicine and the University of Chicago Charter Schools. Before that, she graduated from Transylvania University with a degree in sociology. She looks forward to combining her love of social justice, public health, and advocacy, alongside Andreah de la Hoz, her friend and classmate.
Andreah De La Hoz, second year medical student, a was born in Baltimore, Maryland; the youngest child of a mixed-race family. As her parents were both nurses in the military, she moved around quite a bit throughout her life. Many would find constantly uprooting justifiably frustrating, but Ms. De La Hoz thought of the changes as blessings. Experiencing so many different places and meeting so many people—her idea of "community" was never monotone. Ms. De La Hoz's life trajectory eventually took her from Charm City to Cadiz, Kentucky—a small town with nothing much but gas stations and banks. Living in such a small, rural town was an experience. It was the first time she felt out of place, being one of 10 non-white students in the local high school. Following high school, Ms. De La Hoz pursued a degree in chemistry at Murray State University. There, she performed synthetic and organic chemistry research for 1.5 years, which she found incredibly fulfilling.  Additionally, she was able to publish and present her work at regional conferences. Following graduation, Ms. De La Hoz worked as a forensic chemist at a toxicology lab in Nashville, testing the backlogs for medical examiners and police departments all over the country. While working full-time, she volunteered at the local YWCA to help women who have dealt with intimate partner violence, as a way to advocate for women that share a similar story to her own.
Maya McFrazier, School of Dentistry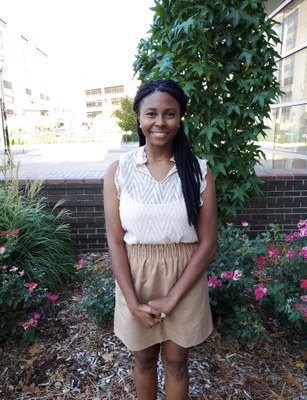 Born and raised in Frankfort, KY, Maya Christine McFrazier is a current first year dental student at the University of Louisville School of Dentistry. Inspired by her hometown dentist, McFrazier decided to pursue a career in dentistry. McFrazier is a 2017 graduate from the University of Louisville where she received her Bachelor of Arts in public health. During her undergraduate studies she served as Vice-president for the Pre-Dental Society, participated in esophageal cancer research at the UofL's School of Dentistry and participated in UofL's MCAT/DAT summer workshop program. After she graduated college, she completed her Master of Science degree in Physiology at the University of Louisville School of Medicine. McFrazier hopes to combine her love for public health and dentistry to enable her to assist the underserved population through pursuing a career in community dentistry.
Year 3 - 2018
Amanda Beering, School of Medicine
Ms. Beering is a medical student at the University of Louisville School of Medicine where she is one of four medical students in her class selected for the Distinction Track in Global Health and currently serves as a Student Director at the Family Community Clinic. Amanda has a BS in Neurobiology and Physiology from Purdue University, a BA in Spanish from Purdue University, and a MS in Cellular and Integrative Physiology from the Indiana University School of Medicine. Her undergraduate research focused on the behavior of zinc within the brain, examining the role of zinc dysregulation in the blood-brain barrier as a factor in Alzheimer's Disease pathophysiology. Her Masters research focused on the efficacy of communications techniques and technologies for primiparous women involved in obstetrics research studies. Amanda has native fluency in Spanish and is a National Board Certified Medical Interpreter. Her focus is on working with underserved populations and patients with Limited English Proficiency, and she plans to research language discordance in healthcare encounters.
Tinomudaishe "Tino" Mkorombindo, School of Medicine
Tinomudaishe "Tino" Mkorombindo was born in Harare, Zimbabwe but relocated to the United States at a young age. The combination of exposure to various communities around the world and growing up in the diverse medical community of Loma Linda, California led Mkorombindo to decide to pursue a career in medicine. Mkorombindo is a 2017 graduate of Oakwood University, a Seventh-Day Adventist Historically Black University, where he graduated with a degree in Biology with honors.  Throughout his undergraduate studies, Mkorombindo held various leadership positions in student government, service organizations, and various other extracurricular organizations.  Since childhood, Mkorombindo has had a passion for improving his community which has undoubtedly continued into his medical studies. He recently founded an organization, Greater Influence, that works to address the declining numbers of minorities in medicine through mentorship and providing access to health-care related opportunities. As a physician, Mkorombindo plans to continue to serve as a motivational speaker, active mentor, and avid community leader.
Montray Smith, School of Nursing
Montray Smith  is a PhD student at the School of Nursing. She received an Associate Degree in Nursing from Florida Community College, a Bachelor of Science in Nursing from the University of North Florida, a Masters' of Science in Nursing Education from the University of Central Florida, and a Masters' in Public Health (MPH) in Public Health Practice with graduate certificates in Disaster Management and Humanitarian Assistance from the University of South Florida. She is a Registered Nurse with the US National Disaster Medical System (member of a federal Disaster Medical Assistance Team), most recently served in the disaster response to Hurricane Maria in Puerto Rico. Ms. Smith is a former General Electric National Medical Fellow Primary Care Leadership Program  Scholar (2015,) and a member in the Tennessee Primary Care Association Community Health Educational Experiences for Residents and Students program (fall 2016), where she worked at the Matthew Walker Comprehensive Health Center, Nashville, Tennessee. She has worked with many local organizations related to community health and health disparities that includes the UL School of Medicine Global Health Initiative, American Red Cross, Redeemer Lutheran Church, and the Franciscan Healthcare initiative. Her research focus is on disaster management in vulnerable populations targeting families with special needs children, refugees, and low socieconomic groups.
Diane Zero, School of Public Health and Information Sciences
Diane Zero is a second-year doctoral student in the School of Public Health and Information Sciences. Her research work focuses on the measures of quality substance use disorder treatment services and sustained recovery. In this work, Ms. Zero serves as a member of the Mayor's Task Force on Quality Treatment Metrics. She is as a graduate research assistant for the Commonwealth Institute of Kentucky. Most recently, Ms. Zero was Project Director for a partnership project between the Council on Developmental Disabilities and Lee Specialty Clinic in Louisville, KY. Here, Ms. Zero was responsible for the activities of both organizations in offering Supported Decision Making in the health care setting, to adults with intellectual and developmental disabilities. Previously, Ms. Zero was the Executive Director of a local education nonprofit and the Administrator of a youth residential services program. In recognition for her work as an AmeriCorps member for the Salvation Army, Ms. Zero received the first Maryland Governor's Award for Service. In the community, Ms. Zero sits on the board of the Windy Equine Education Center, an equine focused therapy program for children with special needs. She also sits on the board of the Kentucky Autism Training Center.


Year 2 - 2017

Tasha Golden, School of Public Health and Information Sciences
A doctoral student in the School of Public Health and Information Sciences, Tasha Golden works with the Youth Violence Prevention Research Center and the Commonwealth Institute of Kentucky. Golden's community-oriented research at the intersection of art and public health is informed by her career history. As the frontwoman and songwriter for the band Ellery, her songs have been heard on the radio and in major motion pictures, TV dramas and Starbucks. Golden's prose and poetry have been published in "Ploughshares," "Pleaides" and "Ethos Review," among others, and her debut book of poems, "Once You Had Hands" (Humanist Press), was a finalist for the 2016 Ohioana Book Award. Her critique of gender inequities in the juvenile justice system appears in the Spring 2017 issue of peer-reviewed journal "Reflections." Golden's background as artist, entrepreneur and researcher often leads to new and unique networks, and allows her to draw connections among disparate ideas and initiatives. She continues to write and record, and has led trauma-informed creative writing workshops for incarcerated teen women since 2012. 
Devin McBride, School of Medicine
Originally from Ithaca, N.Y., Devin McBride received a bachelor of science in economics from Syracuse University in 2008. She graduated with a degree of distinction after completing a thesis project on the impact of mega-multi mall development on local communities. While earning a second bachelor's degree in environmental engineering, she was involved in multiple research projects including biomedical research, which first sparked her interest in medicine. After moving to Louisville in 2012, McBride began working in the emergency room as a scribe and volunteered with the Kentucky Waterway Alliance. She has been involved in numerous other research projects in Louisville, and presented posters at the Kentucky Academy of Science Annual Meeting and Research!Louisville. Currently, McBride is a student director at the Family Community Clinic, is co-president of the student LGBTQ group HSC Pride, and is involved in health-care politics as a member of Students for a National Health Plan. She plans to research health disparities in the LGBTQ community.
Morgan Pearson, School of Dentistry
A native of Louisville, Morgan D. Pearson is a second-year student in the School of Dentistry. As a child, Pearson experienced a traumatic injury, resulting from an automobile accident that required her to have multiple surgeries. Because of the expert and compassionate care she received, she decided early on that she wanted a career in the health sciences field, ultimately choosing dentistry. Pearson is a 2015 graduate of Murray State University, where she earned a bachelor of science in biology with minors in music and chemistry. She attended UofL's Summer Medical and Dental Education Program (SMDEP) and MCAT/DAT workshop before deciding on a career in dentistry over medicine. Pearson has had a heart for service since she was a child. From age 11 through 17, she volunteered at the VA Medical Center in various capacities. After going away to college, she volunteered at the VA during summer breaks. At Murray State University, Pearson mentored and tutored incoming freshmen to ensure their success. As a dentist, Pearson will focus on community dentistry, continuing to serve those who are disadvantaged because of their inability to pay or to access care.


Year 1 - 2016

Ashton Green, School of Dentistry

Ashton was born in Indianapolis, Indiana where she has lived most of her life. She is a proud alumna of Pike High School in Indianapolis, Indiana. Throughout her high school career she was an athlete, a member of the National Honor Society, spent three years serving as a freshmen mentor, and  also attended Lead America Medicine and Healthcare high school conferences. She graduated high school in the spring of 2010 and enrolled at Xavier University in Cincinnati, Ohio in the fall, majoring in biology. While at Xavier, she was a four-year member of the women's Division 1 soccer team. This experience provided her with a platform to continue mentoring youth, being a community role model, and participating in and organizing many community service events. After graduating from Xavier in the spring of 2014, she dedicated the following year to serving within the Indianapolis community. She established a junior youth spiritual empowerment group, with a vision to make a positive impact in the lives of young people within the community. The goal was to mentor junior youth between the ages of 12-15, from diverse backgrounds, in developing a sense of responsibility to create positive change within their community through acts of service. She is currently pursuing her dental education at the University of Louisville.
Mallika Sabharwal, School of Medicine

As an undergraduate student at the University of Florida, Mallika Sabharwal volunteered at the Equal Access Clinic, as student-run free clinic that provided medical care to underinsured communities in North Florida. Patients were often uninsured, homeless, or undocumented immigrants. Learning how the clinic addresses non-medical barriers she designed a social services resource manual for volunteers to refer to patients, like local GED classes and federal aid program enrollment. Before starting medical school, she worked at the Chicago Department of Public Health through the CDC's Public Health Associate Program. In Chicago, Mallika worked in the school-based sexually transmitted disease program which educated and tested high school students on the south and west sides of the city, which are areas of high morbidity that also lacked health care professionals. Additionally, she improved awareness of STDs and access to preventative resources by coordinating the Condom Availability Program in conjunction with Chicago Public Schools. She worked with health education teachers and students to design condom dispensers for high schools throughout Chicago.
Now as a medical student at the University of Louisville, Mallika serves as the Public Health Coordinator for the national American Medical Student Association. As coordinator, she facilitates webinars on different aspects of public health (epidemiology, environmental health, etc.) for a cohort of 30 premedical and medical students. She is also a member of her school's chapter of Students for a National Health Program, participating in education and community outreach events to promote the benefits of a universal health care system.
Jade Montanez, School of Nursing

Jade graduated with a Bachelor of Science in Nursing with Honors from the University of Louisville School of Nursing. While completing her BSN she was involved in a research study about the relationship of sociodemographic characteristics with depression, anxiety, and stress in African American adults with Type 2 Diabetes. Since completing her BSN, Jade has worked for our nation's best as a Veteran's Affairs nurse and with people at their most vulnerable moments as a Palliative care nurse. Jade's interest in doctoral studies is firmly grounded in the belief that research and scholarship will afford her the necessary tools to critically think within complex, changing healthcare and education systems. She has a passion for continued research and development of interventions to assist underserved populations with management of chronic illnesses. Additionally, she has an interest in researching the barriers to matriculation and retention of nursing students, but specifically minority nursing students. Jade is currently enrolled in the Doctor of Philosophy in Nursing program at the University of Louisville.
Diana Kuo, School of Public Health and Information Sciences

Born in Taiwan, Diana immigrated to the United States with her family at the age of three, and lived in New Jersey during her formative years, until she left to study pathobiology at the University of Connecticut. In addition to having a Master in Public Health, Diana has also completed a post-baccalaureate degree in clinical laboratory sciences at The University of North Carolina in Chapel Hill. Prior to starting the PhD program at University of Louisville, not only did she work for the private sector in the Research Triangle Park, she also was employed for the State of North Carolina as a medical laboratory technologist at UNC Healthcare and the Department of Agriculture and Consumer Services performing microbiological, immunological, and molecular testing for both zoonotic and human diseases. Additionally, she has years of experience working for an international health non-profit in Connecticut, where she focused on development activities for the organization in order to provide funding for medical and social services for special needs Chinese orphans. In her spare time, she enjoys sports and fitness exercises as well as travel (both domestic and international).