Graduate Studies
Dr. Lee Thompson
Director of Graduate Studies*

(502) 852-0730

lee.thompson.1@louisville.edu

*Contact Dr. Thompson for general questions about the Chemistry Graduate Program.

Dr. Sachin Handa
Director of Graduate Admissions**

(502) 852-5977

**Contact Dr. Handa for admissions questions regarding the Chemistry Graduate Program.

 
Our graduate program offers research opportunities in organic and inorganic synthesis, in theoretical and computational chemistry, in analytical chemistry including the development of micro- and nanoscale sensors, chemical catalysis, natural products research drug discovery and delivery, metabolomics, informatics, chemical biology and chemical physics.
An annual highlight is the Chemistry Graduate Student Association Distinguished Lecture Series. An outstanding chemist (many times a Nobel Laureate) is invited to the department.
Available Degrees
Additional Information
Application Information

 
Review of applications will begin on January 15, 2023and extend until March 15, 2023 for Fall 2023 admissions.  Applications must be received by January 15 for Fall 2023 admissions in order to receive full consideration for admissions with support from a University Fellowship (UF).  Applications received after January 15 for Fall 2022 admissions will receive consideration for admissions with support as a graduate teaching assistant (GTA).  Please apply early since those positions will be filled as applications are received.
To expedite the review process of your application, after you submit an online application please also send all of your documents (preferably in a single PDF file) to deptchem@louisville.edu.
Please contact us about future openings or to schedule a department visit.
Summer and Fall 2021 Graduates
| August 2021 Graduates |                 | December 2021 Graduates |
| --- | --- | --- |
| Dr. Caleb Calvary | | Dr. Selorm Fanah |
| Dr. Uyen Duong | | Dr. Arghya Ghosh |
| Dr. Fang Yuan | | Dr. Megan Toda |
| Dr. Faisal Ibrahim | | |
| Dr. Abdelqader Jamhawi | | |
| Dr. Nour Jamhawi | | |
| Dr. Badri Mainali | | |
| Dr. Paige Monsen | | |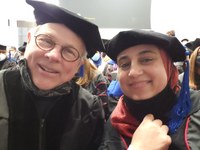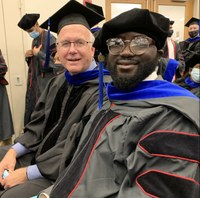 Dr. Richard Wittebort and                     Dr. Mike Nantz and
               Dr. Nour Jamhawi                            Dr. Faisal Ibrahim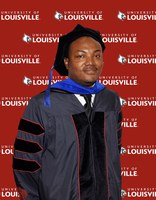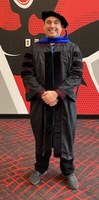 Dr. Selorm Fanah                            Dr. Caleb Calvary