International Programs
Student Exchange Programs, Study Abroad Opportunities and Visiting Scholars
Hong Kong Exchange Program
ACADEMY OF VISUAL ARTS (AVA)
With a diverse, international population of students, the Academy of Visual Arts (AVA) at the Hong Kong Baptist University offers the most comprehensive visual art program in Hong Kong. Students at the University of Louisville may choose to participate in this exchange for one semester or two semesters. AVA (HKBU) will waive your tuition fees while you continue to pay tuition at the University of Louisville. All instruction is in English.

The exchange program is open to Arts and Sciences students in all majors, with preference being given to qualified Fine Arts majors. The Academy of Visual Arts offers a variety of art classes in studio art and its academic programs are interdisciplinary and students are encouraged to investigate the idiosyncrasies of their own ideas, free from material certainties. For more information about the program at the Academy of Visual Arts, visit the Academy's website: http://ava.hkbu.edu.hk.

You are eligible to apply for this exchange if you have completed at least one year of university study, you have a minimum cumulative g.p.a. of 2.5 on a 4.0 scale, and you have the endorsement of your home institution.  Students in their final year or semester of study are not normally accepted by Hong Kong Baptist University. Fine Arts students are eligible for a variety of Departmental and University scholarships to participate in this program.

Interested students should contact Theresa Berbet, Academic Coordinator, Hite Art Institute e-mail: theresa.berbet@louisville.edu or 852.6147 and seek more information from Professor Ying Kit Chan,  852-0806 or e-mail: chan @ louisville.edu
---
German Exchange Program
JOHANNES GUTENBERG UNIVERSITY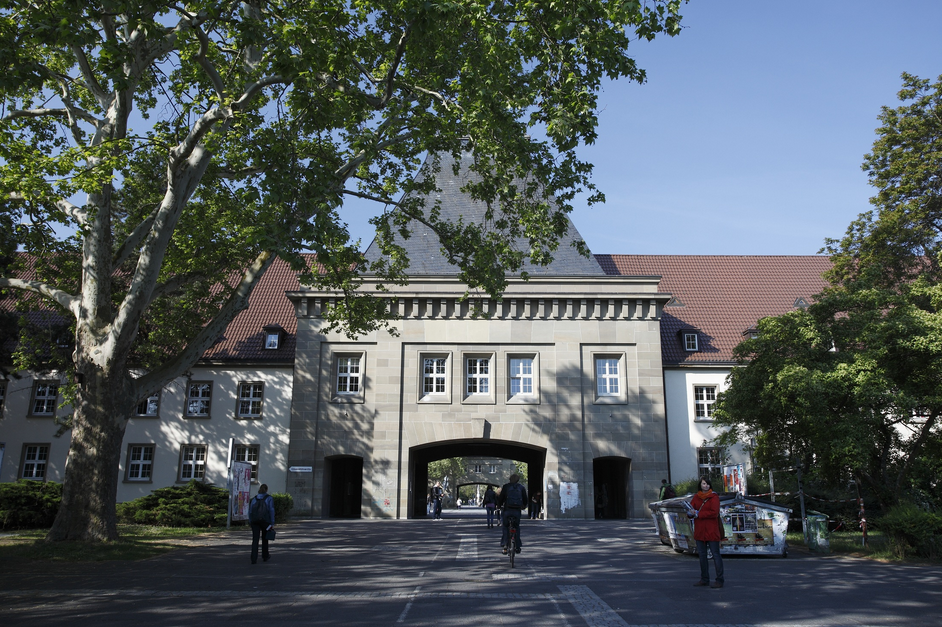 Founded in 1477, JGU is a worldwide recognized institution and among the ten largest universities in Germany.  The university has a single campus that hosts about 36,000 students from 130 nations. JGU is scientifically researched-oriented institution with high quality research equipment that attracts scholars from all over the world.  JGU offers 98 Bachelor degree programs and 103 Master's degrees in 84 fields of studies.  For further details about the programs offered by JGU, visit their website: http://www.uni-mainz.de/fachbereiche/index_ENG.php
Students who wish to apply for the Gutenberg University Exchange should contact the Office of Study Abroad and International Travel at 502-852-0374.
---
Study in Italy
For many recent years Professor Christoper Fulton takes one or more groups to study art in Italy. For more information, visit KIIS website: www.kiis.org • Professor Rachel Singel has been taking students to attend summer workshops in Scuola Internazionale di Grafica, Venice. For more information, please contact Professor Singel. Link to an Interview with Professor Singel.
---
Study in Germany
In summer 2018, Designer-in-Residence Leslie Friesen taught graphic design courses in the KIIS.org Berlin program; and in summer 2019, Friesen is teaching in the KIIS.org Bregenz, Austria program. • Professors Mary Carothers and John Begley have led two KIIS groups to Berlin in 2012 and 13 • In 2012, Professor Susan Jarosi took a group of students to dOCUMENTA (13)  in Kassel and other cities.
---
For more study abroad and international travel opportunities, visit the University of Louisville International Office's website.
---
International Visiting Scholars
---
Visiting Fulbright Scholar from Russia
Olga Yudina
Herzen State Pedagogical University of Russia, St. Petersburg
Research Fellow, The State Hermitage Museum
August 2016 - August 2017
Faculty host: Professor Christopher Fulton
---
Visiting Scholars from China
In recent years, the Hite Art Institute has hosted the following scholars from Chinese universities.
Shi, Kehui 石克辉
Associate Professor, School of Architecture
Beijing Jiaotong University, Beijing
August 2016 - August 2017
Faculty host: Professor Delin Lai
Li, Ran 李苒
Associate Professor, Industrial Design
Jiujiang University, Jiujiang
August 2015 - August 2016
Faculty host: Prof. Ying Kit Chan
Yao, Ying 姚颖
Lecturer, Art History
Ningbo University, Ningbo
August 2015 - February 2016
Faculty host: Dr. Delin Lai
Li, Yan 李严
Ph.D., Architectural History and Theory, Tianjin University
Associate Professor, Architectural History and Theory
Tianjin University, Tianjin
January 2015 - January 2016
Faculty host: Dr. Delin Lai
Cai, Ran 蔡然
Lecturer of Art Education, School of Fine Arts
Shaanxi Normal University, Xian
September 2012 - September 2013
Faculty host: Prof. Ying Kit Chan
Li, Jiang 李江
Ph.D., Architectural History and Theory, Tianjin University
Assistant Professor, Beijing University of Technology
January 2011 - October 2011
Faculty host: Dr. Delin Lai
Yang, Jing 杨菁
Ph.D., Architectural History and Theory, Tianjin University
Assistant Professor, Tianjin University, Tianjin
December 2008 - December 2009
Faculty host: Dr. Delin Lai
Duan, Chuan, 段川, Architect
Lecturer of Architecture, Xihua University, Chengdu
July 2019 - September 2020
Faculty host: Dr. Delin Lai
Ji, Hong, 季宏, Ph.D.
Associate Professor of Architectural History
Fuzhou University, Fuzhou
January 2022 - January 2023
Faculty host: Dr. Delin Lai
Ma, Congxia, 马丛霞
M.F.A., Central Academy of Fine Arts, Beijing
Lecturer of Fine Arts, Henan Normal University, Xinxiang
February 2022 - February 2023
Faculty host: Professor Ying Kit Chan
Lu, Tianqi, 陆天启
Ph.D. candidate, College of Fine Arts, Tsinghua University, Beijing
August 2022 - August 2023
Faculty host: Professor Delin Lai