American Association of University Women at the University of Louisville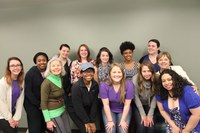 Founded in 2015, the American Association of University Women (AAUW) - UofL, was the first AAUW student organization in Kentucky. This group prepares its members to become leaders on campus and in the community. The focus of this organization's programs are education & training, economic security, leadership, and governance & sustainability. Apply to be a member!
Facebook I Twitter I Instagram I EngageUofL
Register for a free AAUW student affiliate membership for UofL students  (Open to all UofL Students)
Major Accomplishments:
2016 - Students approached the Women's Center with concerns about the lack of access to personal hygiene products on campus. AAUW at UofL created a Tampon Task Force and held a personal hygiene product drive on campus during the Spring 2017 semester.  With the generous support of students, faculty, and staff, they were able to collect more than 700 products during that campaign.
2017 - The Student Government Association has worked diligently to see the creation and implementation of free access to personal hygiene products.
2018 - Through the collaboration of the Women's Center, the Office of the Chief Operating Officer and the Student Government Association (SGA), specific dispensers are located on all 3 UofL campuses with free personal products. There are currently over 50 dispensers.
2019 - Rep. Attica Scott sponsored the American Association of University Women at UofL bill, KY House Bill 85, where KY Colleges would be required to provide free menstrual hygiene products on campus that receive governmental funding. Members lobbied for their bill during a press conference held at the State Capitol.
Executive Board 
Shelby Gardner

President

Alyssa Bosley

Vice President

Alexus Maddox

Treasurer

Kendra Stradford

Secretary
Executive Committee
Hadley Whitaker

Education &

Training

Chair

Caroline Shackleton

Campus Leadership

Chair

Veronica Lam

Governance &

Sustainability 

Chair

Public Relations

Chair

Alison Addie

Economic Security

Chair