Herstory

25th Anniversary I 30th Anniversary
Before the Beginning
An informal women's group called University Women's Information Network (UWIN) formed in the 1970s. The group decided that the university needed to establish a Women's Center. Former U of L president Donald Swain approved of the creation in 1972.
In 1975, U of L students brought Betty Friedan, whose book, "The Feminine Mystique", helped spark the Women's movement that led to the creation of a full-fledged academic study devoted to women's issues.
In 1983, U of L created a minor in Women's studies, 2004 Master of Arts in Women's and Gender Studies created, the first graduate degree available in the field of women's studies or women's and gender studies in the commonwealth of Kentucky.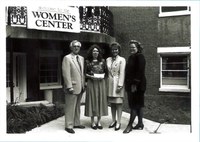 The idea of a Women's Center originated during UofL President Donald Swain's program Strategy for the 90s and was approved May 16,1991.
UofL Created the Women's Center in May 1991 when President Donald Swan and the Board of Trustees approved the request from the Women's Studies faculty. 
The Center's director,  Dr. Judi Jennings,  began work October 17, 1991. 
March 31, 1992, we opened with a small office in Gardiner Hall with Judi Jennings serving as the Director. 

Women's Center Council created which consisted of approximately 40 members from the University and community at-large with six committees that included programming, finance, public relations, community-building, gender equity, and student advisory. It was restricted in 2000 and disbanded in 2006.
The Center won funding for the Lila Wallace-Reader's Digest Foundation for the Louisville American Festival Project, "a nationally recognized coalition of artists and sponsors who use the arts to build understanding between diverse people and forge community alliances.
In 1993, U of L's President, Dr. Donald Swain, appointed the Task Force on the Status of Women to assess the status of women faculty and staff at the university and recommend changes to improve that status. The Commission on the Status of Women  was established as a result. The Women's Center sits on the Commission as an ex-officio member. 
Former First lady Hillary Rodham Clinton spoke at the school of music recital hall on Belknap campus university of Louisville
1st Women of Color Transformation Tea began in 1997 and is an open forum for the diverse spectrum of women of color and friends on the U of L campuses. The Tea affords women an opportunity to empower one another by offering networking opportunities and recognizing the UnSung She-ros of the University. 
The Women's Center received a $500,000 grant from the department of justice for prevention, education and advocacy on campus and in the community (PEACC).  The program encourages a proactive approach to violence against women through training, education and networking among campus and community organizations.
1

st

  Annual Women's Equality Day event
Love Your Body Day was organized
1

st

 Annual Women's Empowerment Luncheon (previously known as the Elizabeth Cady Stanton luncheon) held
The Women's Center co-sponsored PEACC's Take Back the Night. The purpose of the Annual Take Back the Night is to bring together organizations, civic leaders, and individuals of Louisville and Jefferson County to protest violence against women and to promote awareness of the attitudes, beliefs, and behaviors, which perpetuate this specific type of violence.
Organized a visit of Women Parliament Members from Uganda
Mary Karen Powers becomes the Director for the Women's Center
The Center moved from Gardiner Hall to the Administrative Annex
Mary Karen Powers becomes the new Director of the Women's Center
The Center initiated 'Take Our Daughters to Work Day' at UofL
The Women's Center Council was created
Initiated organized events for Physical Plant employees
Organized A Tribute to Kentucky Women Photography Exhibit at the Louisville Free Public Library which is housed in the Women's Center building
Votes for Women: Celebrating Eighty Years – a symposium marking the 80

th

 anniversary of the Nineteenth Amendment and tracing the history of the suffrage movement, focusing on the role of African  American women in Kentucky
First Lady Judy Patton visited
Our federal grant to combat violence against women was renewed for PEACC. The university received $380,000 from the Department of Justice under grants to reduce violence against women.
Naomi Wolf, Author of The Beauty Myth, was the keynote speaker for the Women's Center 10th anniversary dinner: An Evening with Naomi Wolf.
2003, Coline Jenkins, the great great granddaughter of Elizabeth Cady Stanton, was the keynote speaker for the Elizabeth Cady Stanton luncheon
Mary K. Bonsteel Tachau Gender Equity Award created - This award is given to a member of the U of L community who has done significant work towards gender equity.  It is named in honor of Mary K. Bonsteel Tachau, constitutional scholar, the first woman to serve as chair of the U of L history department, and the first woman chair of the faculty senate.  Dr. Tachau was active in pay equity struggles at the university and in many other issues both on campus and in the civic community.  Her papers are part of the Women's Manuscripts Collection in the U of L university libraries.
Dr. M. Celeste Nichols Award created -This award is given to UofL graduate students for travel or other professional development needs apart from tuition or books.  It is named in honor of M. Celeste Nichols--student, scholar, mentor, and professor. She was the first African American to receive a Ph.D. from UofL's English Department.  Dr. Nichols taught African- American literature and basic writing at UofL, Kentucky State University and at Bellarmine University before her death in 1996 at age 45. This award is given with generous support from the Commission on Diversity and Racial Equality (CODRE).
PEACC leaves the Women's Center as its own department
The Women's Center presented their report, "Violence Against Women at University of Louisville: A 25-year History of the Institutional Response" to the Commission on the Status of Women
Health Promotion & the Women's Center partnered for 'Body Appreciation, Body Awareness Week' where Advertising Analyst Jean Kilbourne spoke at U of L.  Jean Kilbourne is recognized for her work on alcohol and tobacco advertising and the images of women in advertising.  The lecture was based on her book Deadly Persuasion: Why Women and Girls Must Fight the Addictive Power of Advertising.
Co-sponsored with the Anne Braden institute a program by Dr. Ricki Solinger, author of Interrupted Lives, a photo exhibit on incarcerated women on display in Ekstrom library
Modern Outlook on Motherhood - The women's Center established an RSO for student mothers that provided resources to moms that were also perusing degrees.
The Center doubled its staff and increased programs and services to students
The Center won a grant from the Commonwealth of Kentucky to provide "supplemental work-study like grants" for UofL students who are recipients of Temporary Assistance to Needy Families.
Hosted a women's student leadership forum
Hosted a dialogue with Women Legislators from Uganda
Hosted International Tea for Women with International Center
Hosted Cervical Cancer Awareness Event
Pregnancy resource guide for students created
Champions 4 Her walk, run festival was a new local event that brought together non-profit organizations to raise funds for and awareness on the issues facing local women.
Women 4 Women Student Board was established
With support of the Women's Center, Women 4 Women Student Board established a Human Trafficking Awareness Conference for the university and community members
Women 4 Women Student Board hosts Finance 4 U, a series dedicated to helping students accomplish their financial plan and to increase their financial knowledge
Valerie Casey becomes the Interim Director
Women 4 Women Student Board won the Outstanding New Organization Award from the UofL Student Life.
Women 4 Women Student Board – Human Trafficking Awareness Week
Women 4 Women Student Board – Human Trafficking Film Festival
Initiated Clothing Exchange Drive for student-parents & their children 
The Center approached the Vice Provost about UofL having a membership with the American Association of University Women (AAUW), which was approved, allowing all UofL students to obtain a free student membership
Student-Parent Association was established for student-parents by the women's Center at U of L.  The purpose of the group is to promote the academic success of the university's student parents.
Women 4 Women Student Board won Student Organization of the Year from the UofL Student Life.
Women 4 Women won Recognized Student Organization Advisor of the Year from the UofL Student Life.
Interviewed Lilly Ledbetter
Women 4 Women – 1

st

 Self-Defense Workshop for Women
"Wall of Shame" display of women's images in advertising
Converging Insight, a gallery and presentation on women photographers in Ohio & Kentucky
Women 4 Women Student Board founded the first Kentucky Statewide College Women's Leadership Conference which received sponsorships of over $20,000 and provided sponsorship to over sixty attendees.
Wear Read Day
Women 4 Women Student Board hosted it's first Start Smart Salary Negotiation Workshop, empowers women with the skills and confidence to successfully negotiate their salary and benefits packages. The American Association of University Women (AAUW) at UofL now host this program. 
Women's Empowerment Award created - is given to an individual, community member or business who through their professional work, personal passion or sponsorship empower women supporting the mission of the UofL Women's Center.
In 2013 the WC added a global trip focused on international women's issues going to Peru. Spain, Morocco and India have been trips since its inception.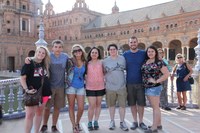 A Women Veterans Group was established, comprised of women student veteran from all branches of the military as well as Active Duty, Reserves or the National Guard, is designed to provide each other with a supportive community, network of friends and empowering each other to succeed in academics and beyond.
Women 4 Women Student Board held their 1

st

  International Women's Day Cultural Awareness Event
A Graduate Networking Group was established
With support from the Dean for Graduate and Postdoctoral Studies, the Center had a designated office space on the Health Science Campus serving a new population of university student, staff and faculty
Women 4 Women Student Board's Student Liaison won Outstanding Graduate Assistant of the Year
Hosted 3 screenings of Girl Rising with over 400 in attendance
Hosted the Brown Cancer Center Mammogram Unit on campus for UofL staff and employees which is now held every semester
Valerie Casey becomes Director of the Women's Center
To service postdoc women & women on the Health Sciences Campus, the Center began to host monthly HSC Women's Lunch & Trivia
Campus Talks, discussions with topics addressing relevant issues to all UofL students providing a safe space to talk. Past topics include: domestic violence, portrayal of women in the media, and street harassment.
The Center increased its staff which now consists of the Director, Business Unit Manager, & 2 Program Coordinators. 
University of Louisville Women's Network (ULWN) was established as an inclusive organization committed to encouraging and promoting the personal and professional development of women faculty and staff at UofL by working in collaboration with University partners, the Women's Network will give women access to valuable contacts and information on programming, sponsorships and networking opportunities.
1st Reception for new Women employees
1st Cards Against Catcalling

 Event on what street harassment is, the prevalence of it, and ways to combat street harassment in our community

Empowering Ladies Together (ELT) comes to the Women's Center with Jamieca Jones as their advisor.

The UofL Alumni Association, in collaboration with the Women's Center, has created the UofL Women's Alumni Council which seeks to strengthen the bond between the university and alumnae, create and promote community service opportunities, help advocate for and mentor students, support the work of the Women's Center, and work collaboratively to develop networking and engagement opportunities. 

Women 4 Women Student Board held its first Feminist LGBTQ+ Trivia Night.

The Women's Center, in partnership with Humana, UofL Speed School of Engineering and UofL College of Business, hosts the inaugural Grace Hopper Celebration of Women in Computing Watch Party, the world's largest gathering of women technologists. Students attending are empowered by the keynote speakers of the Grace Hopper Celebration and network with local STEM professionals. 
The American Association of University Women (AAUW) at UofL hosts its inaugural Menstrual Hygiene Day to raise awareness and change negative social norms surrounding menstrual hygiene with interactive activities.
The United Nations Association (UNA) - Women at UofL attended the United Nations Commission on the Status of Women held at the United Nations in New York City for the first time.