Women's Center Awards
Women's Center Awards
Women's Empowerment Award
The Women's Empowerment Award is given to an individual, community member or business who through their professional work, personal passion or sponsorship empower women supporting the mission of the UofL Women's Center.
Past Women's Empowerment Award Recipients
Mary K. Bonsteel Tachau Gender Equity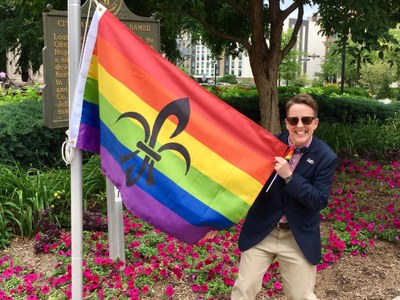 Award
2020 Award Recipient - Lisa Gunterman, Director, UofL LGBT Center (Belknap)
Nominations are invited for the Mary K. Bonsteel Tachau Gender Equity Award which will be presented to a member of the UofL community--broadly defined to include all of those, past and present, who have some affiliation with the University of Louisville -- whose work has directly furthered gender equity. This award is given to a member of the U of L community who has done significant work towards gender equity.  It is named in honor of Mary K. Bonsteel Tachau, constitutional scholar, the first woman to serve as chair of the U of L history department, and the first woman chair of the faculty senate.  Dr. Tachau was active in pay equity struggles at the university and in many other issues both on campus and in the civic community.  Her papers are part of the Women's Manuscripts Collection in the U of L university libraries. 
Sponsored by the Commission on the Status of Women.
Tachau Award Nomination Form (WORD)
Dr. M. Celeste Nichols Award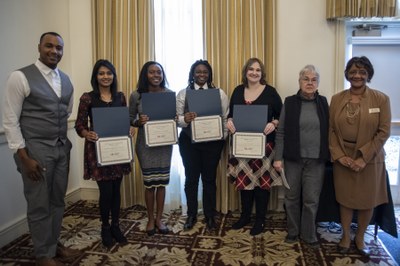 This award is given to UofL graduate students for travel or other professional development needs apart from tuition or books.  It is named in honor of M. Celeste Nichols--student, scholar, mentor, and professor. She was the first African American to receive a Ph.D. from UofL's English Department.  Dr. Nichols taught African- American literature and basic writing at UofL, Kentucky State University and at Bellarmine University before her death in 1996 at age 45.  Winners are chosen according to how well their intended use of the award supports the mission of the Women's Center and Dr. Nichols' legacy.  This award is given with generous support from the Women's Center, George J. Howe Student Leadership Fund & the University of Louisville English Department.
The winners will be invited to attend a special program to receive recognition.
U of L Graduate students are invited to apply for an award - up to $500 – that will support academic and professional enrichment beyond normal graduate program expenses. The award will be given in November at the U of L Women's Center Empowerment Luncheon. Examples of activities eligible for funding include:
Registration fees, lodging, or travel expenses for an academic conference at which the recipient will present a paper or attend as a participant
Registration fees, lodging, or travel expenses for attendance at a leadership institute
Expenses related to creating or staging a significant work in the visual or performing arts as part of the student's professional education 
Costs associated with submitting an article or articles for publication
(Note:  Membership dues to any organizations will not be accepted)
An electronic submission is also required and must be sent to Phyllis Webb  prior to the deadline. No essays accepted after the extended deadline date of Monday, October 1, 2021 by 5pm.
Requirements for Celeste Nichol's Award (WORD)
Application for Celeste Nichol's Award (WORD)
Mary K. Bonsteel Tachau Essay Contest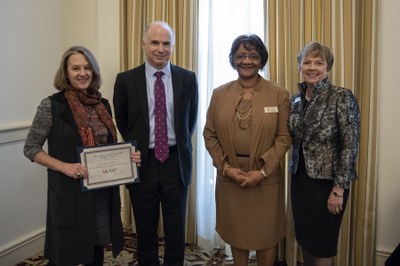 The University of Louisville Women's Center announces the second annual Mary K. Bonsteel Tachau Essay Contest for the 2019 fall semester. The purpose of this contest is to raise awareness of the historical sociological attitudes toward women of the 20th Century and their impact on individuals and society as a whole. The essay should draw upon the experiences of Dr. Tachau and relate those experiences to other individuals and situations (which can include the writer's own growth or achievements).  
Dr. Tachau's papers are housed in the Women's History Collection at the University Archives as part of the Women's Manuscripts Collection Project. Additional articles about Dr. Tachau are available at the Women Center in the Administrative Annex.