Empowerment: Making and shaping History - Women in Space Science
Join us on a journey to explore the significant contributions women have made and are making to space exploration. Over the decades, women have made significant contributions to space science. Their work will be acknowledged and celebrated in a series of events March 19-23, 2019.
March 19 - Mercury 13 Screening
6pm, Student Activities Center - Floyd Theatre
Mercury 13 is a remarkable story of the women who were tested for spaceflight in 1961 before their dreams were dashed in being the first to make the trip beyond Earth. NASA's 'man in space' program, dubbed 'Project Mercury' began in 1958. The men chosen - all military test pilots - became known as The Mercury 7. But away from the glare of the media, behind firmly closed doors, female pilots were also screened. Thirteen of them passed and, in some cases, performed better than the men. They were called the Mercury 13 and had the 'right stuff' but were, unfortunately, the wrong gender. Underneath the obsession of the space race that gripped America, the Mercury 13 women were aviation pioneers who emerged thirsty for a new frontier, but whose time would have to wait. The film tells the definitive story of thirteen truly remarkable women who reached for the stars but were ahead of their time. A Netflix original documentary directed by David Sington (The Fear of 13) and Heather Walsh.
March 20 - March 21
Are you ready to accept our mission?
Test your knowledge about the Mercury 13 March 20 & March 21 for Women in Space Science Week.
Come to Strickler 126D 11am - 3pm with your answer for the chance to win a prize!
March 22 - Oasis in Space Show
Planetarium
Water: our most precious resource. Without it, life could not exist on our planet. Is the reverse also true? If we search for water, will we also find life? Join us as we explore our solar system and discover what makes our world stand out among the solar system's family of planets. Stunning imagery will captivate you as we journey to, and sometimes even below, the surfaces of our neighbor worlds to discover whether or not life might be possible beyond our home planet. More information. 
March 23 - Keynote Speaker: Naia Butler-Craig
4pm, Gheens Science Hall & Rauch Planetarium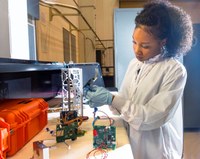 Naia Butler-Craig is a graduating senior studying Aerospace Engineering with a concentration in Astronautics and minors in applied and computational mathematics at Embry-Riddle Aeronautical University (ERAU). She has been admitted into PhD Aerospace and Mechanical Engineering programs at The Georgia Institute of Technology, Carnegie Mellon University, and Purdue University. However, following her undergraduate graduation in May of this year, she will be matriculating into the Aerospace Engineering PhD program at Georgia Tech specializing in electric propulsion.
She is also a pathways intern at NASA Glenn Research Center where she has worked her summers on projects ranging from CubeSat nanotechnology to sub-kilowatt electric thrusters. During the school year, she works as a system engineer on a space robotics research project with applications for on-orbit satellite servicing, and space debris mitigation. This summer, however, she will be working in the computational physics department on an astrophysics project at Los Alamos National Labs through the GEM (Graduate Education for Minorities) Fellowship.
Outside of work and academics, Naia has founded the dance team at her university (Embry-Riddle Dancing Eagles) as well as the ERAU chapter of the Society of Women in Space Exploration. For the past 3 years, she has actively volunteered for a STEM and Aviation outreach nonprofit called Dreams Soar. Naia is also active in other professional clubs like the McNair Scholars Program and the National Society of Black Engineers where she recently served on the regional executive board. Through both organizations, Naia has had the opportunity to reach the next generation of STEAM and Aviation professionals but has also sought opportunities to speak, mentor, and guide youth on her own time.

All events are free and open to the public. Preregistration for events at the planetarium is required. 


Sponsored by:
University of Louisville Women's and Gender Studies
University of Louisville Women's Center
University of Louisville Gheens Science Hall and Rauch Planetarium
American Association of University Women, University of Louisville Chapter