UofL's New Music Festival brings innovative composers, performers to campus
The School of Music presents its annual New Music Festival Nov. 10-14, with a slate of renowned guest artists and composers such as Sky MackLay, Longleash Trio and Elysian Trombone Quartet.
Premiered in 1998, the festival showcases the School of Music's commitment to innovation, creativity and the presentation of contemporary music.
"As with past festivals, this fall's program invites us to engage with artists whose creative approaches and unique perspectives awaken our curiosity and deepen our appreciation for the expressive power of music's many dialects," said Teresa Reed, School of Music dean.
Sky Macklay, an oboist and installation artist, is the featured composer this year. Macklay says her music "explores bold contrasts, audible processes, humor and the physicality of sound."
Her works have been performed by ensembles such as ICE, Yarn/Wire, Wet Ink Ensemble, and Spektral Quartet. Two of her pieces, including the string quartet "Many Many Cadences" have received ASCAP Morton Gould Young Composer Awards.
Originally from Minnesota, Macklay completed her DMA in composition at Columbia University. She also holds degrees from The University of Memphis (MM) and Luther College (BA). An enthusiastic practitioner of creative music education, Sky has been a composition and musicianship faculty member at The Walden School Young Musicians Program for nine summers. She is Assistant Professor of Music at Valparaiso University in northwest Indiana. 
"I love weird contemporary music and sharing it with the next generation. I think a lot of it is sharing my own personal perspective on it—just show how much a particular sound excites me and how beautiful I think it is... I think that's sort of contagious, or at least let's people perceive it as a beautiful thing. I also think that exposure, experience, experiential education and experiential pieces are really a great way to do outreach.… That's something I think more composers should do: write music that has a participatory role for amateur musicians or for just audience members," Macklay said in a recent interview with New Music Box magazine.
Longleash Trio will perform a premier of Macklay's composition "FastLowHighSlow" for violin and piano on Wednesday night. Strad Magazine described Longleash Trio's playing as "lovely," "expert" and "meticulous."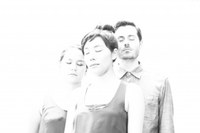 "We are delighted to feature Longleash as this year's principal guest ensemble. Their performance of Dr. Macklay's music during this year's festival promises to be both memorable and inspiring" Reed said. 
In addition to performing in nightly concerts, guest artists will present master classes and lectures throughout the week. See the detailed schedule for all events, which are free and open to the public. 
New Music Festival 2019
Sun., Nov. 10, 8 p.m., Comstock — University Percussion Ensemble
Mon., Nov. 11, 8 p.m., Comstock – Faculty Chamber Concert
Tues., Nov. 12, 8 p.m., Comstock – New Music Ensemble
Wed., Nov. 13, 8 p.m., Comstock – Longleash Trio
Thurs., Nov. 14, 5 p.m., Comstock – Elysian Trombone Quartet
Thurs., Nov. 14, 8 p.m., Bird – Electronic Music Concert
Thurs., Nov. 14, 3 p.m., Comstock — "Women in Music" panel discussion featuring Sky Macklay