Faculty & Staff
Faculty 
Lorna E. Segall, PhD, MT-BC - Academic and Program Director / Assistant Professor 
Jess Rushing, PhD, MT-BC - Assistant Professor / Supervisor, Music Therapy Clinic
Erin Shina, MT-BC - Internship Supervisor / Adjunct Professor 
For full faculty bios visit FACULTY
Music Therapy Clinical Coordinator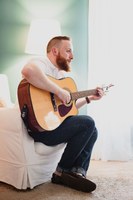 Chris Millett, MM, MT-BC has been practicing as a board-certified music therapist since January 2014. Chris has experience working with neurodevelopmental disabilities, early-childhood, pediatric and adult medical populations, adult and adolescent behavioral health, and more. Chris received his Bachelors of Music (emphasis in music therapy) in 2013 from UofL and completed his internship at UK HealthCare. In 2015 he received a Master's in Music Therapy from the University of Kentucky during which he served as a Fine Arts graduate teaching/clinical assistant. Chris is published in the Journal of Music Therapy, Imagine, has self-published an e-book guide for clinical ukulele lessons, and regularly presents at local, regional, and national conferences on various music therapy topics.
Chris' primary instrument is the guitar. He also enjoys playing the pedal steel guitar, banjo, and more. Chris and his family are excited to return to Louisville after serving as a music therapist in the greater Orlando area since 2015 at AdventHealth for Children.
Music Therapy Clinic Interns

Callie Cowart (UofL; May 2019 - November 2019; clinic focus) has served as Vice President of the Cardinal Music Therapy Organization for the past two years and has clinical experience with various populations, including infants in the NICU, early childhood, children and adolescents with ASD, older adults with Dementia, and varying diagnoses at UofL Hospital. Callie's primary instrument is voice, but she is also proficient in piano and guitar. Aside from music therapy, Callie enjoys singing in choirs, traveling, and sailing with her friends and family.

David Farsetti (UofL; May 2019 - November 2019; hospital focus) has served as an active member of the Cardinal Music Therapy Organization during his undergraduate coursework and is currently in his second term as President of the American Music Therapy Association Students. David began his love of music playing the flute, but added skills in guitar, piano, and singing thanks to his music therapy degree program. David has had clinical practicum experiences with populations across the life span, including time in the NICU, with adolescents with ASD, with adults with substance use disorder, and with older adults with dementia. David hopes his time with UofL as an intern will prepare him to further advocate for himself and for his profession. Outside of music therapy, David enjoys painting, hiking, and spending time with his puppy, Rhea! 
Lauren Yakel (Drury University; September 2019-March 2020) completed her undergraduate coursework in music therapy at Drury University in Springfield, MO where she also served as Fundraising Chair for their student music therapy organization for two years. During her time at Drury, she gained experience in working with various populations and diagnoses including Autism Spectrum Disorder, Down Syndrome, older adults in memory care facilities, children in crisis situations, and women rehabilitating from substance abuse. Her passion for music stemmed from her classical training on piano and cello, and was further extended to guitar during her music therapy coursework at Drury. In her free time, Lauren enjoys reading, hiking, and spending time with her friends and family back home in St. Louis, MO.
Support Staff
Brad Jopek  - Administrative Assistant  - Payments - Room LL03 - 502.852.5116 bradley.jopek@louisville.edu
Jill Mullaney - Director of Finance
Debby Kalbfleisch - Unit Business Manager