Faculty Ensembles
Louisville Brass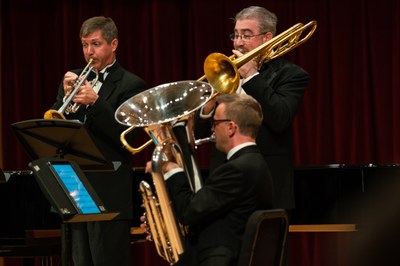 Bruce Heim, Horn
Brett Shuster, Trombone
Dr. Reese Land, Trumpet
Clinton McCanless, Tuba
Founded in 1993, Louisville Brass is the resident brass chamber ensemble at the University of Louisville School of Music. Comprised exclusively of School of Music faculty, Louisville Brass is committed to artistic performance and to the sharing of knowledge of literature and styles through clinics and master classes. The ensemble is well-versed in a wide range of styles, and the repertoire list ranges from the Renaissance to jazz. The members of Louisville Brass are Reese Land, trumpet; Bruce Heim, horn; Brett Shuster, trombone; and Clinton McCanless, tuba.
Louisville Winds
The Louisville Winds is the resident woodwind faculty ensemble of the School of Music. The ensemble benefits from decades of chamber music experience, its members having performed both nationally and internationally. They continue a tradition started in the 1970's of performing the standard quintet repertoire as well as commissioning and premiering new works. The members of the Louisville Winds are Kathleen Karr, flute; Jennifer Potochnic, oboe; Matthew Nelson, clarinet; Bruce Heim, horn; and Matthew Karr, bassoon.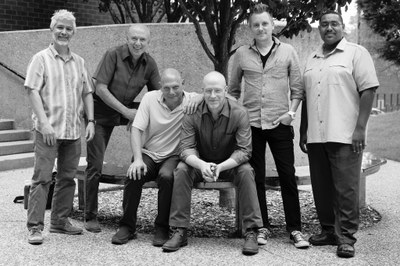 Faculty Jazz Ensemble
Michael Tracy, saxophones
Ansyn Banks, trumpet
Craig Wagner, guitar
Gabe Evens, piano
Chris Fitzgerald, bass
Mike Hyman, drums
 The UofL Faculty Jazz Ensemble actively performs on campus, regionally and internationally.   Its members have shared the stage and recording studios with jazz masters and emerging artists.  The Ensemble's repertoire features new compositions and arrangements written especially for the group by its members and other composers, as well as established literature from throughout the jazz idiom.   Master class, workshops and concerts have been presented at the Jazz Educator's Network and Kentucky Music Educator's conferences.    Argentina, Brazil, China, Colombia, Ecuador, Poland Republic of Georgia, Russia and the United Kingdom are a few of the counties where the faculty have traveled.  In addition, many of the faculty are longtime members of the Jamey Aebersold Summer Jazz Workshops.   The Ensemble recently released 'Beyond the Horizon', a CD featuring compositions and arrangements by faculty and jazz alumni.
String Quartet
Founded in 1946, the quartet has had many illustrious members, including Sidney and Teresa Harth, Paul Kling, Grace Whitney, Virginia Schneider, Michael Davis, David Updegraff, Guido Lamell, Guillermo Helguera, Susannah Onwood, Peter McHugh and others. Since its formation, the quartet has presented hundreds of performances for audiences of all ages. The quartet has quickly established itself as one of the finest ensembles in the region, receiving enthusiastic and critical acclaim. Listeners are overwhelmed by the quartet's energy, excitement, and youthful vigor. The freshness they bring to standard and new repertoire alike is truly unique, and their performances leave audiences uplifted and enthralled.