Jazz
 Louisville Jazz Workshop. Held this summer at the UofL School of Music, July 3 – 8, 2022.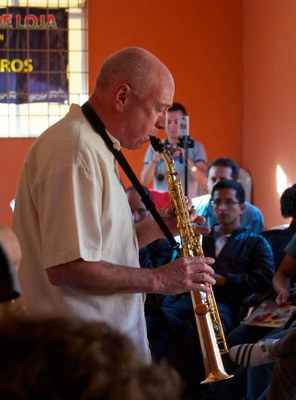 Established in 1985 The UofL Jazz Studies Program is recognized throughout the nation and world for its commitment to quality and innovative programs. Formerly know as the Jamey Aebersold Jazz Studies Program from 2000 to 2022. Additionally, the School of Music hosted the Aebersold Summer Jazz Workshops from1977 to 2019. 
Jazz degrees include a Bachelor of Music with an Emphasis in Jazz Performance. This degree will offer students a complete undergraduate jazz experience.  Our newest degree is a Bachelor of Music Education with a Jazz Track.  This one of a kind, highly innovative degree provides a comprehensive jazz experience while preparing the individual to teach in the public schools.   Our Bachelor of Music with an Emphasis in Music Therapy with an optional Concentration in Jazz is an excellent experience for any music therapy student who is interested in jazz.
We also have a Bachelor of Arts with an Emphasis in Jazz Studies. This degree is designed for the student interested in a diverse educational experience while developing their jazz skills Master's degrees include a Master of Music with a Concentration in Jazz Performance and Master of Music with a Concentration in Jazz Composition and Arranging. Each gives the student a focused jazz experience in the Master's setting. Scholarship assistance is available for graduate and undergraduate students wishing to focus their study in jazz.
The program features extended residencies by leading jazz artists, as well as a continuation of the exciting annual Jazz Fest every February, which features a multi-day celebration of jazz with concerts, workshops, and clinics.  Founded in 1992 as Jazz Week, Jazz Fest is an event that regularly features some of the biggest names in the jazz world.  Jazz masters who have performed and presented master classes include Dave Brubeck, Winton Marsalis, Elvin Jones, McCoy Tyner, Marian McPartland, Paquito D'Rivera, Michael Brecker, Christian McBride, Clark Terry,  The Heath Brothers, Ahmad Jamal, John Hendricks, Toot Thielemans, Lou Donaldson, Slide Hampton and many more.
The UofL Jazz Studies Program is active in international exchanges with leading institutions from around the world. Student and faculty groups, from a duo to more than forty, have toured and performed in numerous foreign countries:  Argentina and Australia; Brazil and Belize; Ecuador, Estonia and England; Colombia and China; Peru, Finland, Republic of Georgia, Russia are just a few.
Recognized as leading educator/performers, the prestigious faculty frequently presents clinics, master classes and performances at schools, universities, civic organizations and conventions throughout the United States. Please feel free to explore our web site for additional information on our students and faculty, classes and ensembles, degrees and residencies, national and international outreach.
 Follow us on social media 
Facebook
YouTube