About Us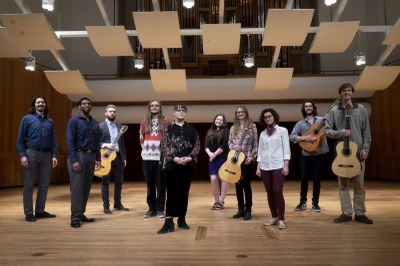 The University of Louisville classical guitar studio typically has 12-15 undergraduate and graduate students enrolled in BA, BME, BM, and MM degree programs. Guitarists may major in performance, composition, education, history, theory, music therapy, or minor in music.
University of Louisville guitar majors have done well in competitions during their studies in our program, winning top prizes in competitions at the Beethoven Club, the Eastern Music Festival, the University of Louisville Guitar Festival, and the University of Memphis Guitar Festival.
Alumni have done well with acceptance and awards to prestigious graduate schools or job placements in music. Our graduates have been awarded assistantships to masters and doctoral programs at schools such as Eastman; Florida State University; Peabody Conservatory; Shenandoah Conservatory; and University of Nevada, Las Vegas. Recent graduates hold teaching positions at Bellarmine University, Indiana University Southeast, Transylvania University, and the Youth Performing Arts School.