Sonja K. Bareiss, PT, PhD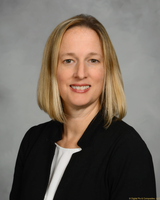 UofL Department of Neurosurgery - Kentucky Spinal Cord Injury Research Center
Gratis Faculty
Dr. Sonja Bareiss received a Bachelor of Science in Biology and a Masters in Physical Therapy from Rockhurst University. She completed her PhD in Anatomy and Cell Biology at East Carolina University. Dr. Bareiss was a faculty member at East Carolina University Department of Physical Therapy and Department of Anatomy before joining the Doctorate of Physical Therapy program at Bellarmine University in 2016. Her research focuses on elucidating the cellular mechanisms involved in the development and recovery from pain following central nervous system injury and disease. She is also interested in the neuroprotective effect of exercise and other pharmacotherapies to treat persistent pain post spinal cord injury.
Dr. Bareiss is an active member of the American Physical Therapy Association (APTA), Society for Neuroscience, American Pain Society, and the International Association for the Study of Pain. She has served as an elected member on local Society for Neuroscience chapters for many years. Dr. Bareiss has been internationally funded through the Craig H. Neilsen Foundation for her pain related studies and has presented her findings at national, state, and local meeting levels related to mechanisms and management of pain. She has been published in a wide variety of neuroscience, physical therapy, and pain journals related to her work on pain and plasticity following neurological injury and disease. She co-authored a book chapter in the 2nd edition of Kathleen Sluka's Mechanisms and Management of Pain for the Physical Therapist entitled Pain Associated with Central Nervous System Disorders: Central Neuropathic Pain. Dr. Bareiss recently received the APTA Jack Walker Award for her contributions to the association.
Currently, Dr Bareiss serves at an Associate Professor of Physical Therapy in the Department of Physical Therapy of the School of Movement and Rehabilitation Services at Bellarmine University in addition to her gratis role at UofL and KSCIRC.