Michal Hetman, M.D., Ph.D.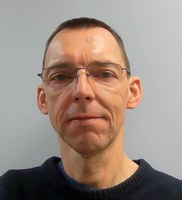 Professor
, Department of Neurological Surgery and Department of Pharmacology & Toxicology
Endowed Professor of Molecular Signaling
Laboratory of Neural Signaling
Telephone: 502-852-3619
E-mail Michal Hetman
---
Research Interests
There are no clinically-effective neuroprotective therapies for neurotrauma. In addition, post-traumatic neurorecovery is usually limited and various secondary complications may follow. Among them, chronic pain, depression or insomnia further compromise quality of life of neurotrauma survivors. Therefore, there is a great need to develop therapies to limit nervous tissue loss, enhance neurorecovery, and prevent complications.
The strategic goal of the lab of neural signaling is identification of candidate target molecules for such therapies. To achieve that goal, we study signaling cascades that drive brain- and/or spinal cord damage, limit neurorecovery and/or promote development of complications after neurotrauma. Our research findings may also be applicable for development of therapies against neurodegenerative disease including dementia.
Recent publications with greatest relevance to the current research in the lab:
1: Saraswat Ohri S, Andres KR, Howard RM, Brown BL, Forston MD, Hetman M,Whittemore SR. Acute Pharmacological Inhibition of Protein Kinase R-Like Endoplasmic Reticulum Kinase Signaling after Spinal Cord Injury Spares Oligodendrocytes and Improves Locomotor Recovery. J Neurotrauma. 2023 Jan 25. doi: 10.1089/neu.2022.0177. Epub ahead of print. PMID: 36503284.
2: Ugiliweneza B, Boakye M, Saraswat Ohri S, Whittemore SR, Hetman M. Associations between diurnal timing of spinal cord injury and its etiology and co-morbidities. J Neurotrauma. 2023 Jan 10. doi: 10.1089/neu.2022.0411. Epub ahead of print. PMID: 36628481.
3: Whittemore SR, Saraswat Ohri S, Forston MD, Wei GZ, Hetman M. The Proteostasis Network: A Global Therapeutic Target for Neuroprotection after Spinal Cord Injury. Cells. 2022 Oct 22;11(21):3339. doi: 10.3390/cells11213339. PMID: 36359735; PMCID: PMC9658791.
4: Hetman M, Slomnicki LP, Hodges ER, Saraswat Ohri S, Whittemore SR. Role of circadian rhythms in pathogenesis of acute CNS injuries: Insights from experimental studies. Exp Neurol. 2022 Jul;353:114080. doi:10.1016/j.expneurol.2022.114080. Epub 2022 Apr 9. PMID: 35405120.
5: Slomnicki LP, Wei G, Burke DA, Hodges ER, Myers SA, Yarberry CD, Morehouse JR, Whittemore SR, Saraswat Ohri S, Hetman M. Limited changes in locomotor recovery and unaffected white matter sparing after spinal cord contusion at different times of day. PLoS One. 2021 Nov 23;16(11):e0249981. doi:10.1371/journal.pone.0249981. PMID: 34813603; PMCID: PMC8610253.
6: Wei GZ, Saraswat Ohri S, Khattar NK, Listerman AW, Doyle CH, Andres KR, Karuppagounder SS, Ratan RR, Whittemore SR, Hetman M. Hypoxia-inducible factor prolyl hydroxylase domain (PHD) inhibition after contusive spinal cord injury does not improve locomotor recovery. PLoS One. 2021 Apr 5;16(4):e0249591. doi:10.1371/journal.pone.0249591. PMID: 33819286; PMCID: PMC8021188.
7: Saraswat Ohri S, Howard RM, Liu Y, Andres KR, Shepard CT, Hetman M, Whittemore SR. Oligodendrocyte-specific deletion of Xbp1 exacerbates the endoplasmic reticulum stress response and restricts locomotor recovery after thoracic spinal cord injury. Glia. 2021 Feb;69(2):424-435. doi:10.1002/glia.23907. Epub 2020 Sep 14. PMID: 32926479; PMCID: PMC8931742.
8: Slomnicki LP, Myers SA, Saraswat Ohri S, Parsh MV, Andres KR, Chariker JH, Rouchka EC, Whittemore SR, Hetman M. Improved locomotor recovery after contusive spinal cord injury in Bmal1-/- mice is associated with protection of the blood spinal cord barrier. Sci Rep. 2020 Aug 26;10(1):14212. doi:10.1038/s41598-020-71131-6. PMID: 32848194; PMCID: PMC7450087.
The complete bibliography can be accessed here - Full bibliography (link to NCBI)